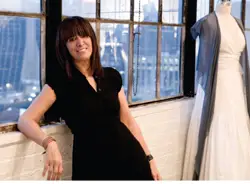 Liliana Casabal always knew she wanted to be a fashion designer. By age 16, when other girls focused on typical teenage issues, Casabal made clothes in her native Argentina. At the time, her parents encouraged a more traditional career path, so she studied law. Luckily for the rest of us, Casabal returned to her true calling and 26 years ago founded Morgane Le Fay. With several free-standing shops (including two in Manhattan) and a clothing line worn by everyone from Sarah Jessica Parker to Juliette Binoche, Casabal jokes that her parents are now convinced she chose the right career. We recently sat down with Casabal to talk about the birth of Morgane Le Fay and where she sees her creation headed in the future.

Q: Did you intentionally name your brand Morgane Le Fay after the sorceress in the King Arthur legend?
A: Yes. When I founded the company with my husband, it was never about myself. I always knew I wanted a mythological name. Morgane Le Fay really describes my idea of beauty, which is a little obscure. I wanted the name to conjure mystery and magic.
Q: What made you pursue fashion design?
A: I always wanted to be a fashion designer. Although I am not a great artist and don't sketch, I've always had a clear idea of what I want. But, in my native country, there wasn't a path to go to a fashion school and my parents wanted me to get a college education. I studied law, which I am grateful for because it shapes your way of thinking. If I had pursued fashion without a formal education, I wouldn't be able to sustain a company.
Q: How did you get started in the field?
A: I started as a teenager. If I had an idea, I'd find a seamstress to manifest it. My parents were against it and I did it secretly. I'd do something for me and then everyone would want it. I'd always do something dramatic.
Q: You hail from Argentina…how did you end up in New York?
A: I came 26 years ago and that is when I founded my company. Argentina is not really a fashion world per se. We are always looking outside our country to Europe or New York to try to adopt a trend. When I came to New York, it was such an amazing discovery that you could be an original and someone will appreciate that.
Q: What adjective best describes the style of Morgane Le Fay?
A: Timeless. My pieces are clothing I hope my clients will keep. . . clothing that will bring joy and comfort and a sense of well being. My client is a very independent woman who follows her own ideas and is not subject to limitations of trends.
Q: Where does the inspiration for your designs come from?
A: I don't always know what will inspire me, but whatever does is just the starting point and after that there are many influences that go into a collection. But, it is always important to have a focal point when capturing beauty. For example, the Spring/Summer 2009 line is inspired from the lotus flower. It came to me in a dream. The palette is rich in color with pinks and reds and blue and has a very happy, blooming effect. But, the lotus flower grows in the mud, so it is an obscure beauty. In contrast, my Fall/Winter 2008 line was inspired by a surrealistic French artist I've always admired, Annette Messager.
Q: What is one thing that has surprised you with the success of your line?
A: I never envisioned brides coming to me because I never envisioned doing a bride dress. Then I did a dress in ivory . . . that someone would marry in my dress, what a nice thing. I am so pleased.
Q: While plenty of celebrities already wear your clothes (including Goldie Hawn, Anjelica Houston and Brooke Shields), is there one person in particular you wish you could dress?
A: Kirsten Dunst. I think she is beautiful, elegant and mysterious.
Q: If we peeked in your closet, what would we find?
A: A lot of black. And, I'm not as neat as I wish. When I'm not wearing my own clothes, I have an extensive collection of vintage clothes and also buy recycled clothing.
Q: If you could give one fashion tip to the masses, what would it be?
A: To have a few pieces in your closet that you really love. Less is more.
Q: In what areas, do you still hope to expand Morgane Le Fay and what do you see for the company's future?
A: My dream is to do handbags. I would like to do shoes too. I have all the ideas and the drawings but to produce it, it must be done professionally . . . I won't settle. And, I hope to open more shops in Los Angeles and Miami. But, my ultimate wish for Morgane Le Fay is that it transcends me as a designer and a human being .. . that the brand will always carry on.