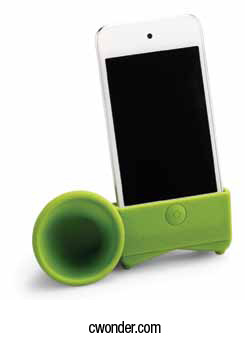 One of my new best friends is Dustin. Not as in Hoffman (I wish), but as in a gizmo from Brookstone, the catalogue company that brings us every device and gadget designed to help us do things better, faster, smarter. My Dustin is a little $20 disk-cleaner for the screen of a smart phone and an electronic reader. He's the size of a Brillo pad and is equipped with both terry and microfiber cleaning cloths to whisk away nasty, greasy blotches and pesky finger prints (and paw prints for when the dog purposefully circumnavigates the living room just so he can step on the iPad).
You may have some new best friends, too: In the process of freeing yourself from the physical desk, you've probably acquired an arsenal of ancillary widgets and appliances (not to mention the new iPad Mini). Technology has untethered us on the one hand, but on the other, it's opened the market up for us to buy—and need!—all kinds of novel, sexy, fun equipment and contraptions. In the words of Shari Gibons, the COO of BuQu Tech, a division of Battery-Biz, Inc., the leading U.S.-based manufacturer and distributor of rechargeable batteries, adapters, and chargers for portable electronic devices, "Technology today allows for cordless connection and our mission is to help extend that power option so as you stay on-the-go longer with all your mobile devices."
BuQu Tech's latest whiz-bang device is Magnetyze, a protective case, desk stand, car charger, wall charger, and multi-bay docking station all in one, which is presently available for the iPhone 4 (other models coming) and is, in a word, a wonder, especially at $69.99.
There are other marvels on the market, even for the aforementioned dog, including Tagg—The Pet Tracker from Snaptracs, Inc. ($99.95, plus a monthly service fee), which is a system equipped with GPS and wireless capabilities (that connect via mobile device/phone/computer) enabling pets to remain in touch with their owners (sans barking) and gives fresh meaning to the command "stay."
There are, as you'd expect, however, more smart devices for bipeds than quadrupeds: From Triple C Designs are fashion-oriented charging pads (the Power Mate Plus) and phone cases that match; an origami-style iPad case th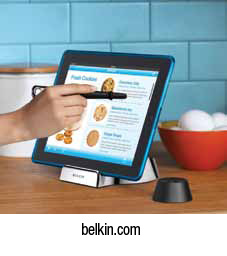 at reconfigures itself into more positions than the Flying Wallendas; and a simple phone easel to allow for hands-free talk. An even more useful device for your digits to firmly hold your phone is the HANDeBand from Ribbed Tee Designs, created for use with one or two fingers in the grip.
And speaking of body parts, there are all manner of new-shaped earphones from Denon (many models about $350), too, for maximizing your iTunes experience, including the Exercise Freak earphones (about $150). Also for gym rats is Belkin's EaseFit Plus armband, ideally suited to cradle your smartphone while you work out. For chefs there are Belkin's kitchen accessories for the iPad 2, which include fridge and cabinet mounts and a stand and stylus for the cook.
A "space-age" pen that will knock your socks off is the Livescribe pen (two models, the Echo and the Sky, from $119.95 to $249.95), just released to the marketplace; it is a little wizard that records audio tied to your handwritten notes (which you need to take on the company's "dot" paper). It is sheer genius, with a camera loaded into the pen. For the not-so-advanced, simple styluses abound and the Virtuoso Metro Stylus and Pen ($17.99) from Kensingto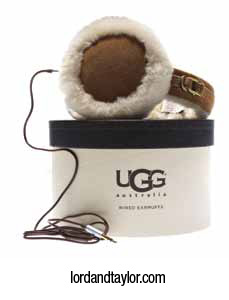 n is a well-designed, comfy one. Kensington has been a leader in computer security for some thirty years, and also manufactures countless accessories. Two must-haves are its ClickSafe Keyed Laptop Lock ($44.99), indispensable if you travel, and the clever, all-encompassing accessory for iPads, the KeyFolio SecureBack protective case with keyboard and lock built in ($119.99).
For those inclined to skip all the bells and whistles and just get a functional and fun e-reader case, there are models from everyone under the sun, from a fuchsia, faux leopard-print Diane von Furstenberg number to a furry case from another Seventh Avenue big name, designer 3.1 Philip Lim; leather goods firms like Bottega Veneta, Hermès, and Gigi New York (sold at Bergdorf Goodman) produce cases in a rainbow of hues and textures. Phone cases are even more pervasive and varied: The handsome deer-skin models ($95) from the Neue Galerie are elegant, while Cygnett makes hefty, shock-resistant models in silicone called the WorkMate Pro ($19.99), sold with a screen protector and microfiber cleaning cloth. The Candy Shell cases (Speck Products, with prices ranging from $20 to $40) are a favorite with a hard outer shell and soft rubbery center, in trendy color combos and in several configurations, including cases with a spring-loaded compartment to hold credit cards.
Whatever your preferences, whether you want to have every gadget under the sun, or strip your technology to the lean and mean, heed the words of Bryan Hynecek, Design Director at Speck Products, who cautions that you may well have only one device in the future: "Regardless of the number of devices you have—PDA, cell phone, digital camera, and so on—we're heading toward consolidation down to one device that acts like your personal butler, with more things that will transfer out of your pocketbook and wallet and into the phone as apps, and soon you'll have less stuff to carry around."