"Dazzling" comes to mind when you enter the imposing, just-opened Corinthia Hotel off Trafalgar Square. Grandeur with a touch of modernity. The lobby lounge features a "Full Moon" Baccarat chandelier with 1,001 crystals. The award-winning international company ESPA partnered with the hotel to create a spa that will truly take your breath away-- 35,000-plus square feet spread out over four floors, each more splendid and divinely designed than the next: A suspended fireplace, aubergine-velvet sleeping nooks, lavish marble, sparkling crystal, and sports-minded hydrotherapy.
The jewels here are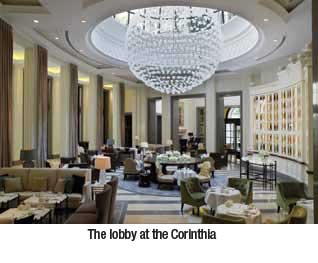 the well-appointed, gracious guest rooms-your every caprice is anticipated. Even the night tables next to the bed have built-in master light switches, discreetly labeled. The chocolates on the pillow at night are from William & Suzue Curley Ltd, London's hot, new chocolatier; in the lobby is a little outpost (the only one in London) of Harrod's.
Eating here is an adventure in culinary magic. Afternoon tea-a lavish, three-act-event-is punctuated by petites delices so precious, you'll want to take a picture of them before you dive in. And dinner at Massimo is a meal you'll relive mentally. Renowned chef Massimo Riccioli has crafted a spectacular restaurant/oyster bar where seafood reigns: Native lobster with Muscat wine, olives, spinach, and vegetable spelt. End with, as I did, the hot zabaglione, that was so memorable, I am still hallucinating about it. But even more remarkable are the seven suites, the most dee-vine of which is the Royal, with its nearly 700-square-foot terrace overlooking le tout London. If only...
For more information, visit corinthia.com
To view the pages in pdf form, click here.