On the evening of June 18, 1962, 10 children of United Nations delegates stood on the stage of the newly minted Delacorte Theater in Central Park and delivered Hamlet's "To be or not to be" speech in their native tongues—a moment in time that officially celebrated New York City's annual free Shakespeare in the Park festival's new (permanent!) 2,300-seat amphitheater home.
With Belvedere Castle rising regally in the distance, the dedication ceremony—interlaced with a benefit preview of The Merchant of Venice starring George C. Scott, James Earl Jones, and William Devane—included the reading of a congratulatory telegram from First Lady Jacqueline Kennedy by founder/director Joseph Papp and a speech by Mayor Robert Wagner, who described the festival as "a memorial to [Papp's] persistence and his belief in Shakespeare."
And so it was.
The Delacorte, the supreme brick-and-mortar coup o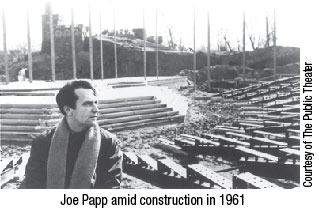 f Joe Papp's theatrical legacy, was built upon a tempest-tossed, four-year prelude of acrimonious "slings and arrows" launched at Papp (who thankfully gave as good as he got) by Parks Commissioner Robert Moses. At the core of the dispute was Moses's insistence that instead of "free" Shakespeare, Papp should charge a dollar or two for tickets to compensate for "soil erosion" caused by the destructive patter of assorted theatregoer feet on park grounds. (Prior to the Delacorte, starting in 1954, Papp's nonprofit troupe performed in various park settings during the summer, including a 35' trailer truck that transformed into a 35 x 30 foot stage.)
Fortunately, in 1959, after Papp took the matter to appellate court—resulting in Moses being dubbed "arbitrary, capricious, and unreasonable"—it was the Commissioner himself who approached the City Planning Commission requesting $250,000 to begin construction on the future Delacorte Theater, marking a détente that ultimately ended the Moses-vs.-Papp "turf war."?
Observes Public Theater/Delacorte Artistic Director Oskar Eustis: "The fact that Joe Papp was able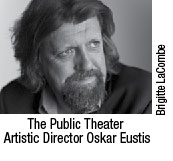 to create—basically from inspiration, spirit, and willpower—one of the most beloved and first-rate American institutions for producing Shakespeare is amazing. That it has endured for 50 years and will continue to do so is, to me, a miracle."
Eustis, an incredibly likable and innovative successor to Papp (two artistic directors removed), helms all things Public Theater alongside Executive Director Patrick Willingham. That said, it's clear the artistic director's seasonal plunge into the Delacorte pool holds a special place in his heart. Plus, his birthday falls on July 31st—smack in the middle of Shakespeare in the Park's season. "I can honestly say the happiest day of my life was my 50th birthday, [which] fell during the run of Hair in 2008," Eustis says, recalling that at the end of the show, as performers and audience are dancing to "Aquarius," "...the cast hoisted me over their heads and carried me around the stage. It was really a child's dream come true!"
At the moment, though, Eustis, along with everyone associated with the Public, is caught up in another dream come true: celebrating the Delacorte's 50 years of groundbreaking theatrical moments and memories, beginning with a 50-years-to-the-day (June 18, 2012) gala honoring Al Pacino and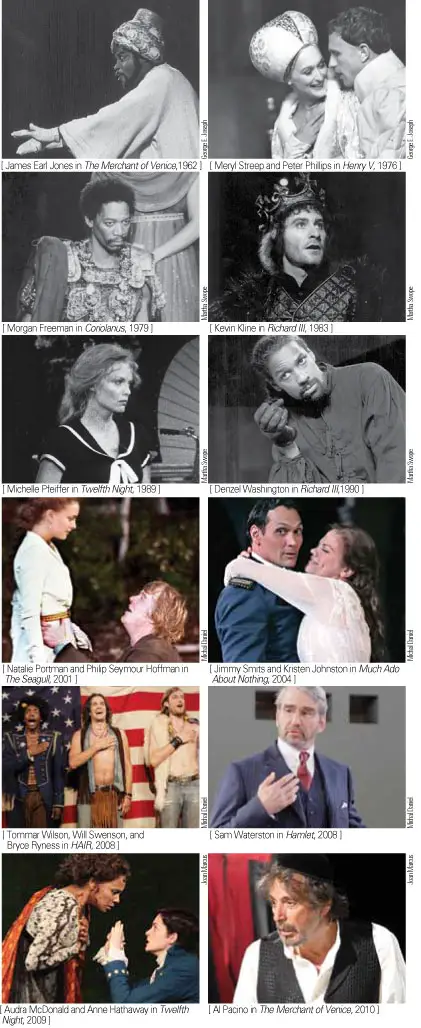 featuring a once-in-a-lifetime performance: Kevin Kline and Meryl Streep in the title roles of Romeo and Juliet. (The play will be preceded by cocktails and a lavish dinner served outdoors around the Delacorte grounds.)
The gala leads up to the Delacorte's 2012 dynamic duo of a season, beginning with As You Like It (directed by Daniel Sullivan, who dazzled last year with The Merchant of Venice both in Central Park and on Broadway). This summer's company includes Lily Rabe as Rosalind (see our Celebrity Profile on page 44), Andre Braugher as Duke Senior/Duke Frederick, and Oliver Platt in the role of Touchstone. And, in keeping with Sullivan's setting (rural Dixie circa 1840), Emmy- and Grammy-winning actor/comedian/author/(pause for breath)/musician/composer Steve Martin has composed a score of catchy-twangy tunes to be played by a live bluegrass band throughout the show. (Previews begin Tuesday, June 5; closing night is Saturday, June 30.)
The second and final production of 2012's anniversary season is Stephen Sondheim and James Lapine's fantasy-infused musical Into the Woods, directed by Timothy Sheader (with co-direction by Liam Steel). And, in case you hadn't heard, the mega draw for this irreverent fairy tale collective is Tony winner Donna Murphy, who plays The Witch. She is joined by three-time Oscar nominee Amy Adams who, interestingly, has plans to produce and star in a film adaptation of Steve Martin's novel An Object of Beauty.
Fête accompli!
Delacorte trivia by the numbers

The amphitheater's total price tag was $400,000, with $150,000 contributed by George T. Delacorte Jr., president of the Dell Publishing Company.

On opening night, the acting salary scale was $100, $75, and $45, based on the importance of the role. (When Papp started Shakespeare in the Park, take-home pay for performers was zilch.)

Of the stellar actors who have performed at the Delacorte, Kevin Kline has appeared 11 times (including his 2012 Gala performance as Romeo this June) with Sam Waterston a close second at 10, his debut being the Delacorte's first production of As You Like It in 1963. Third place is a tie between Raul Julia and Emmy winner Tom Aldredge (eight appearances each), as is fourth place with James Earl Jones and Jay O. Sanders both banking seven appearances. Equally notable are Meryl Streep and Liev Schreiber's five star turns each (counting Streep's Gala Juliet).

Including the 2012 season, the Delacorte has mounted a total of 113 performances of Shakespeare's plays (okay, two of them were the musical version of Two Gentlemen of Verona), as well as 21 works—musicals and straight plays—by other noted artists.

Of this number, Joseph Papp directed a total of 14 works by the Bard, starting with 1962's Merchant of Venice* opener and concluding with King Henry IV, Part I with Tony Shalhoub and Donald Moffat in 1987. (Papp passed away on October 31, 1991 at the age of 70.)

Measure for Measure has been seen at the Delacorte six times, giving it multiple performance seniority, with Twelfth Night next in line with five. As You Like It will tie the latter once the 2012 season takes off.

Amazingly, two of Shakespeare's most well-known works have been mounted at the Delacorte only once: Julius Caesar (2000 with David McCallum) and Macbeth (2006 with Liev Schreiber).

In 1962, Papp shared directing duties on both Merchant and King Lear with Gladys Vaughn.
[ tickets & such ]
Tickets to Shakespeare in the Park are FREE and are distributed, two per person, at the Delacorte Theater in Central Park on the day of the show. The Public Theater also offers free tickets through their Virtual Ticketing lottery on the day of the show at shakespeareinthepark.org.