Post-summer solstice, prime real estate in Manhattan is best measured by one criterion: Does it have an outdoor oasis? Park views and high ceilings play second fiddle to terraces, rooftop grills and sprawling private gardens. Forget the Hamptons, the charm of these properties is that a cool cocktail can be savored under the stars and just a few feet away from the comfort of your own home.

History with a View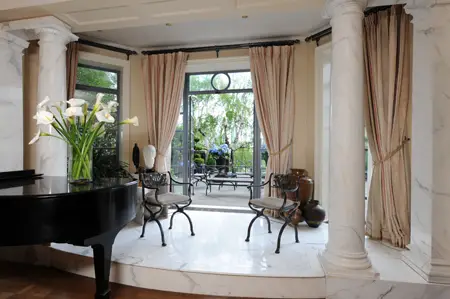 At 1 Beekman Place, the co-op's lush private gardens are only a few steps away from the living room

If homes with a little history pique your interest, look no further than the Grand Maisonette at 1 Beekman Place. Built by John D. Rockefeller in 1929 as a guest house and club for his friends and family, the space has been transformed into a co-op occupying the first and second floors in a white glove building with townhouse appeal. The original club retains its heated swimming pool, fitness center, men and women's changing rooms and basketball and squash courts. For many years, the home looked as if it hadn't been touched since the 1920s, but a previous owner had the space completely renovated by architect Stanford White's great grandson.
For those looking to escape the buzz of the city, the maisonette is an ideal buy. "Beekman Place is great because it is very private," says Sotheby's senior managing director Roger Erickson. "There is very little traffic, and you would only end up there if that were your intended destination." The space is also surrounded by townhouses, condominiums and other co-ops as well as Luxembourg's embassy, where security is a top priority.
At approximately 5,200 square feet, this secluded prewar apartment boasts a beautiful grand entrance through the lobby as well as a private street entrance. A gracious living room and connected riverfront terrace overlook the gardens, which are available exclusively to the building's co-op owners. A kitchen and breakfast room are complemented by a formal dining room, and a curved staircase connects the two floors. The master bedroom suite has a view of the East River and includes a dressing room and one of three wood-burning fireplaces in the apartment. A separate wing houses three additional bedrooms and a door can be closed to afford guests additional privacy. Perhaps the most interesting part of the home, however, lies in the library. Among the bookcases, one deceptively innocent section obscures a door to a safe room that was used during the Prohibition era to hide illegal beverages (and those consuming them) during police raids. Today, the space has been converted into a bar that overlooks the aforementioned gardens.
Landscaped Living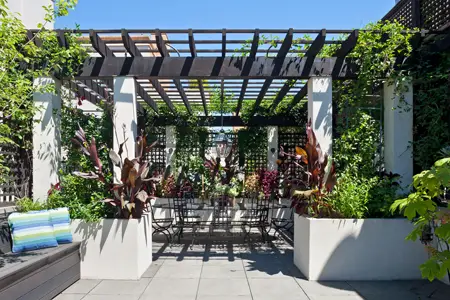 Holly Parker / Douglas Elliman Photography

Located in Tribeca's West Historic District, the Trophy Penthouse sweeps across two buildings: 39 and 41 North Moore Street. The expansive space inside the apartment is mirrored in the 2,300-square-foot landscaped rooftop terrace complete with "a wet and dry bar, outdoor Lutron lighting, a Savant entertainment system, outdoor kitchen outdoor seating and fabulous city views." The penthouse can also be described as a duplex loft with prewar details throughout, including arch windows and a grand staircase with cast iron rails. For those who love to wine and dine their guests, the home contains two kitchens—one with state-of-the-art Miele and Gaggenau appliances and rosewood cabinetry—and another with three Sub Zero wine refrigerators and space for casual dining. Four generous bedrooms, three-and-a-half baths (and a separate storage closet and private storage room) mean guests can stay the night and enjoy an outdoor brunch on the terrace the next morning.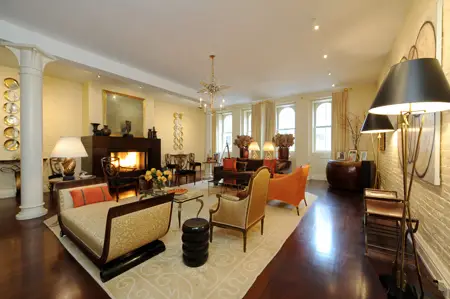 Robin Hudis / Douglas Elliman Photography

Just as exciting as the home itself, however, is the neighborhood. A top spot for celebrities and socialites of old-world wealth, Tribeca epitomizes lavish living. "With its beautiful cobblestone streets and converted warehouses, 39-41 North Moore Street is located on the best block in Tribeca," says Douglas Elliman agent Robin Hudis. "This one-of-kind condominium duplex is near stylish hotels, chic and trendy restaurants including Locande Verde, Tribeca Grill, Nobu and Mr. Chow and the home of the Tribeca Film Festival. It is just a short walk to Pier 25 and 26, The Hudson River Park with mini golf, beach volleyball and more." The property is listed at $16,950,000.
A Club, a Deck and a Pool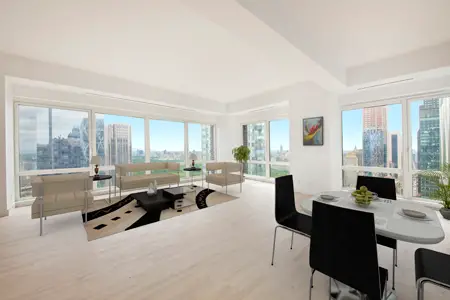 Breathtaking views complement an open layout living room in the 57K penthouse at The Sheffield

Renters looking to score big on a luxurious summer penthouse with access to a divine deck and outdoor seating area, will fall in love with PH57K in The Sheffield at 322 West 57th, available in late July. This space includes three bedrooms, floor-to-ceiling windows, high ceilings and a huge living room that is more than 400 square feet. The master bedroom is equally large at approximately 432 square feet, and enormous closets allow for maximum storage. A peek out the window reveals Central Park, the George Washington Bridge and the Hudson River below. "The view is magnificent," says Halstead Properties' executive vice president Dorothy Somekh. "It is the first thing you see when you enter the apartment." The apartment is on the rental market for $19,975.

But the view gets even better as you step up into the building's club and out onto the deck. Complete with a grill and plenty of seating, the deck offers a well-maintained space for sharing a bottle of Bordeaux on a warm summer evening. Residents at the Sheffield also have access to two lounges for parties, a pool with an outdoor section and two fitness centers, one with equipment and the other that hosts free exercise classes. A drive-thru area allows guests to drop off luggage and receive Fresh Direct preferred delivery. All this is available right in midtown among the eclectic restaurants on 9th Avenue and extravagant shopping right around the corner. As Somekh puts it, "57th is the new 5th Avenue."