Shockingly, during my five-day journey on The Royal Scotsman train, not once did anyone—not the conductor, not the train manager, not the travel host—intone that much ballyhooed rail incantation: "All Aboard." Maybe it was because my twenty-some-odd traveling companions and I were usually eager to return to the lavish, nine-car train that whisked us around the heartbreakingly exquisite Highlands of Scotland, and we certainly didn't need any prodding to lure us away from loch-lollygagging.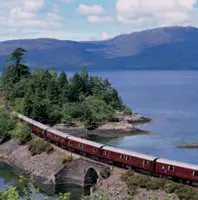 Or, maybe it was the welcoming libations proffered by a steward standing at attention on the platform—a fine, unblended Scotch whisky, a Kir Royale, a concoction of fruit and I-don't-know-what. It hadn't taken long for us—from the time we boarded the train, led by a tartan-garbed bagpiper through Edinburgh's Waverley Station—to realize that we were about to luxuriate for the next five days. After all, somewhere amongst The Royal Scotsman's literature, I had read that the train calls "at all stations between the finest things in life and sheer, unabashed pleasure."
And, oh, in between "finest things" and "pleasure" there were trips to castles, palaces, farms, quaint villages, and distilleries, as well as opportunities to fly fish, clay-pigeon-shoot, or take a boat ride to view local seals and catch a glimpse of the famed Isle of Skye. My journey was in early September, when, I was told by those in the know, that the heather would be spectacular. (It was.) But I cannot imagine any of the train's voyages that would not present pitch-perfect panoramas.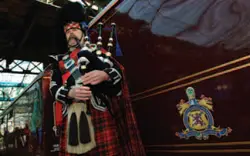 We pulled promptly out of the station, as our schedule declared, at 13:27. Most of us unpacked immediately so that we could gather in the Edwardian-styled observation car, the train's central nervous system. Everything on board, as on a ship, is tidy and trim. The cushy, feather duvets on the two built-in beds in my stateroom were cloaked in tartan. There were lots of other built-ins in rich mahogany wood; in the clothes cupboard, comfy slippers and a robe, of course. And nestled in a small, covered porcelain jar, were petite candies, each imprinted with "The Royal Scotsman."
Afternoon tea was served as we readied ourselves and our cameras for the view of the celebrated, late-nineteenth- century Forth Bridge, a cantilever bridge overpass which is considered an architectural triumph. Our train, we were told, is most likely the only one in Scotland to have an outside observation deck, and that is where many of us went to enjoy this vista and countless others.
In the evening, we had a jolly treat—a ceilidh (Gaelic, pronounced kay´-lee), which basically means a big social hoo-ha, and as a friend in the States advised me, is likely to involve "Scotch whisky, kilts, fiddlers, and dancing." Our ceilidh was held at Strathisla Distillery, the home and heart of Chivas Regal, so you pretty much knew that the "Scotch whisky" part of the equation would be no flight of imagination. We learned to dance a popular folk number, "Strip the Willow," with local musicians supplying the beat—and by the witching hour, we were all best friends forever. Every evening we enjoyed singular entertainment, whether music or a fascinating Scottish story-teller. Two repasts during our trip were black-tie events, so many male passengers, whether "MacCohen" or "MacSanchez" had rented formal kilt attire, replete with Bonnie Prince Charlie jackets and accessories. Mealtimes were festive and merry; menus often featured dishes with names like "cullen skink" (haddock) and "cranachan" (a traditional Scottish dessert).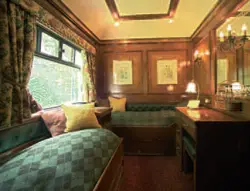 Overnight, the train is stabled so that passengers can enjoy a peaceful eight hours with Morpheus, sans the rickety-rackety rocking that accompanies movement. Breakfasts were served by the always-eager staff, and were as hearty as you desired. (I was one of those who usually cautioned, "Hold the haggis.") On the second morning, we steamed towards the Kyle of Lochalsh, along what is often considered the most scenic route in Scotland. Surely, years ago, this is what Kodacolor film was invented for: Verdant, velvet-blanketed hills; untamed swaths of pale-lavender heather; jagged, rocky outcroppings; majestic, shimmering lochs.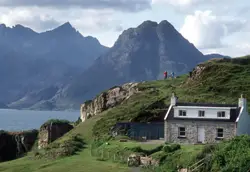 After a visit to the Dalmore distillery (during our trip, we passed another distillery, Tormore, where colossal topiaries were coaxed and trimmed into the shape of stills and the clock chimes Scottish tunes every quarter- hour), we headed to the picturesque village of Plockton, on Loch Carron. This tiny hamlet of less than 400 has been used periodically as a cinematic backdrop, and perhaps most notably, in the popular Inspector Alleyn Mysteries TV series. The sign above the doorway of the local newspaper, the Press and Journal, advises charmingly, "…because every day is different."
During our trip, we had a chance to visit Eilean Donan Castle, one of Scotland's most iconic (and a scene-stealer in the recent film, Made of Honor); Ballindalloch Castle, home to the Macpherson-Grant clan, and one of the few privately owned castles that has been continuously inhabited by its original family to this day; and Scone (pronounced scoon) Palace, where innumerable peacocks roam the grounds, and where there is a massive maze, built from 2,000 copper and green beech trees (which actually create a botanic tartan effect). Scone is also home to a magnificent, towering Douglas fir, planted from a seed sent from America in 1826 by David Douglas (born in the village of Scone), and for whom the fir is named.
Regardless of where we visited, we were often greeted with "ceud mile failte" (a hundred thousand welcomes) and we were always told, "Haste ye back." After a journey as exhilarating as this one, you'll be eager to haste ye back to glorious Scotland.

For more information:

Royal Scotsman train: royalscotsman.com/Orient-Express operates the train mid-April through October. Routes cover eastern and western Scotland, from two to seven nights; 2009 prices, $3,610 to $10,680 per person.
Edinburgh/Scotland travel: homecomingscotland.com
Caledonian Hilton: hilton.co.ukl/caledonia
British Airways: ba.com


Edinburgh: Extending Your Excursion
If time permits before or after your train excursion, do not merely glide through Edinburgh. It's a charming, architecturally appealing city (its "new" town was built in 1767), the second-most visited destination in the UK after London, and well worth a few extra days. It's chockablock with picturesque Medieval and Georgian structures, and some striking 21st-century edifices, like the recently completed (and controversial) Parliament building.
I chose the centrally located and posh Caledonian Hilton on Princes Street, the main drag, which is bookended by Waverley Station to the east and the "The Caley," as it's known, to the west. The hotel, built from stunning rose-colored sandstone, was officially opened in 1903, and initiated a new era of urban luxury. Originally the destination hotel for the city's former railway station, The Caley has served as the home away from home for the likes of Judy Garland and numerous luminaries—even Roy Rogers and Trigger ascended the hotel's imposing staircase. Don't miss a meal at the hotel's gorgeous Pompadour Room (spectacular views of Edinburgh Castle); my extravagant repast included a delicious Buccleugh beef with parsnip purée, asparagus, and red wine jus.
Along Princes Street are local stores like the esteemed Jenner's, Scotch whisky shops, and tartan tourist traps. The south side of the street is the lovely Princes Street Gardens, with its lush, grassy expanse broken by the towering (200 feet high) monument to Sir Walter Scott. On this side, too, are the cultural institutions, the National Gallery of Scotland (with magnificent Impressionist and Old Masters collections) and the Royal Scottish Academy.
The 250th anniversary of Robert Burns' birth (Rabbie Burns, a national treasure to Scots, is affectionately dubbed "The Bard") will occur in 2009, and there will be a year-long celebration and special events, promoting Scottish creations that light up many a countenance—like golf and Scotch whisky!
I attended the closing ceremony of the celebrated Edinburgh Festival, the always sold-out Fireworks Concert. This year, the Scottish Chamber Orchestra played Dvorák's Slavonic Dances. It was an hour long, with 100,000 fireworks and four tons of explosives, which required six days to set up. The colossal light display, choreographed to the melodies, cascaded waterfall-like, downward, off the ramparts of the castle. I watched from the Holyrood Suite of the Balmoral Hotel, where I dined lavishly in restaurant Number One, proud holder of a Michelin star. (A savory, sure bet: Perthshire partridge with Parmentier potatoes and savoy cabbage in a rich sherry sauce.)
For shopping, visit quaint Victoria Street in the Grassmarket area of Old Town. It's a crook-of-an-elbow of a street, with picture-postcard-looking shops. Serious brand-conscious shoppers will want to hit George Street, with Penhaligon's, Church's, and Molton Brown, among the many luxe names. For more touristy shopping, there is the traffic-free Royal Mile, that stretches from the Castle to the Palace of Holyroodhouse, where the Queen stays when she visits.

STYLISHLY HOPPING ACROSS THE POND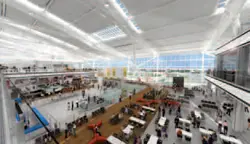 Years ago, when the Metropolitan Transportation Authority encouraged travelers to get to JFK Airport via public transportation, its advertising mantra, set to a catchy tune, was: "Take the train to the plane."
Well, Gotham residents who are planning on vacationing on The Royal Scotsman can counter with their own slogan: "Take the plane to the train." That is precisely what we did, in comfort and style, with British Air Club World (business class). The seven-hour flight to London (and then the short hop up to Edinburgh) is a breeze on BA (oh, those flat beds and cozy, quilted comforters!), given that the airline has nearly a dozen flights daily (and the same number for return trips) from the Metro area's airports.
British Air's newest hub at London's Heathrow is known as T5 and it's five times larger than Terminal 4, BA's former center of operations for "long haul" flights; the modern, soaring structure (130 feet high) is actually a quarter-mile long and is the largest single-span building in the UK. The entire project, built for an eye-popping £4.3 billion, has plenty of bells and whistles to show for that tariff. Ingeniously and simply laid out, gates are never more than a six-minute walk from security, despite that vastness. (At capacity, T5 is equipped to handle a staggering 30 million customers a year, and to help do that, there are nearly 100 selfservice check-in kiosks and almost as many fast-bag drops on the departure level.)
Six lounges offer pampering for BA's premier customers (First Class, Club World, Executive Club, and Club Europe), including two Elemis spas (try the Flight Rehydrator). Amenities include plentiful food, beverages, computers, and concierge services…not to mention private shower facilities.
T5 also provides shopportunities to rival a Dallas Galleria. With 200,000 square feet of retail, there are the expected, upmarket retailers and services, but there are also lots of unexpected emporia—including the only duty-free Tifffany shop in the world. When you are done shedding pounds (buying stuff), you can acquire some pounds (eating stuff): The colorful Gordon Ramsay offers up Plane Food and there are also British standbys, like Carluccio's, Wagamama, Prêt à Manger, and Café Nero. (The latter's American counterpart, Starbucks, is there, too, if you must.)