Fabulous Faberge
When it comes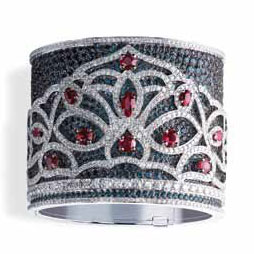 to stunning objets de vertu, "nobody did it better," to paraphrase Carly Simon, than the fabled House of Fabergé with its master jewelers and brilliant artisans. Whether it was the Imperial Easter eggs, petite picture frames, delicate etuis, or jewelry and tiaras, the legendary Fabergé jewelers were nonpareil in the world of the Romanovs. And their bejeweled and enameled treasures still command top dollar. (In 2007, a legendary Rothschild egg sold at Christie's London for £8.9 million.) Sadly, during the First World War, the workshop was forcibly nationalized. But, through a relatively new alliance, two of Peter Carl Fabergé's great-granddaughters are now involved with the Fabergé Heritage Council, formed to guide the new incarnation of Fabergé's eponymously named new company in its pursuit of Fabergé's core values, philosophy, and spirit—and open a boutique. (Dr. Géza von Habsburg, one of the world's leading Fabergé experts, serves as Fabergé's curatorial director.)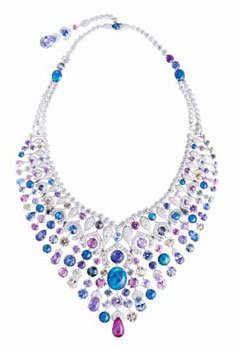 The bijoux at this new Fabergé emporium is simply show-stopping; the jewels are all meticulously handcrafted in Paris, and it includes countless one-of-a-kind pieces and multiples. Among the remarkable collections are Les Fabuleuse (and they are fabulous, indeed) and Saisons Russes, evocative of Russian heritage, and Les Fameux de Fabergé, magnificent, one-of-a-kind egg pendants. Also look for a superb collection of watches, Fabergé Horlogerie. Prices start at $5,000. 694 Madison Ave. (62nd/63rd Sts.); 646-559-8848; faberge.com
Perrin Paris' NYC encore
Michel Perrin's great-grandfather grew up in Saint Junien-Haute Vienne, the historic capital of French glove-making, and in 1893 he founded a business making—what else?—exquisite gloves. Today, fourth-generation Michel presides over the design and production of the company's handsome leath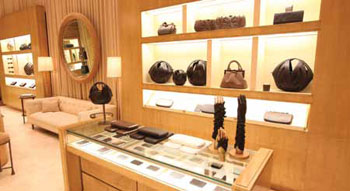 er goods. With the mothership in Paris, and an American flagship in Los Angeles, the company is primed to open a boutique in Gotham at the end of the month. But, it's a nostalgic touchstone and homecoming, really, as Perrin had a chic, prosperous shop here in the 1930s.
The new Perrin Paris boutique is airy and jewel-box-like, awash in blonde tiger maple, and soothing earth tones. On display are the most sensational gloves, of course, but also retro sunglasses ($395 to $695), and the newest addition to the company's glamorous lines, handbags (about $600 to $9,000 or so). Notes Perrin, "It is a French tradition to make structured bags, finished with great detail—lik
e our very fine stitching. Our handbags are iconic." The company's most celebrated bag is the "Attelage" (center), a lady-like purse with a double strap, gathered material, and a decorative frame; it is constructed in countless materials—crocodile, woven goat hair, ostrich, lambskin, pony, Rex rabbit, and so on. Another classic from Perrin is the spherical "Ball" bag (right), constructed from wide strips of leather, forming a classic ball shape, with the handle built right into the orb. Le "Martha," from the Jet Set line, is a wallet-style clutch for a busy, on-the-go woman with places for all one's documents, credit cards, and foreign currencies. Bon voyage with Perrin!
987 Madison Avenue (76th/77th Streets) at The Carlyle Hotel; perrinparis.com
To view the pages in pdf form, click here.