The fabr
ics of spring fashion usually herald gaiety-explosions of bright, happy colors, and peppy, predictable prints, like polka dots, florals, stripes, and geometrics. Those expected textile treatments seem to always appear in addition to extensions of, or reworkings of, the themes and trends that have preceded the season-echoes of fashions past, translated into fresh, evolving interpretations for the new seasons. And so it is-more or less-with this season, except the predictable prints are virtually nowhere to be found. Oh, there are prints, but they are making their mark with a distinctive, fresh look: Rainbows of abstract splashes of color, unidentifiable as lines, graphs, dots, or flowers-strokes worthy of Jackson Pollack. And gargantuan flowers or blots of color like a Rorschach test, or giant birds...or anything else, save dots and stripes. The rejiggered trends of past seasons are definitely identifiable in this season's offerings, only they are reworked, updated, and ready to spring forward into-and capture-the new decade.
All the glitz and glamour from the past few seasons is still present for spring 2010, with fabrics that have hints of metallic Lurex; or expanses of not-so-subtle, sparkly sequins; or shine and dazzle in an opalescent fabric-and there are lots of mixtures, like a denim shirt (Ralph Lauren showed lots of denim) with a glittery short, thigh-skimming skirt. The neutrals are still in full force, and the canvas that so readily embraced ivory, vanilla, cream, beige, and tan, has now extended to slightly darker, or even charcoal-y neutrals-stunning tones like fawn, mushroo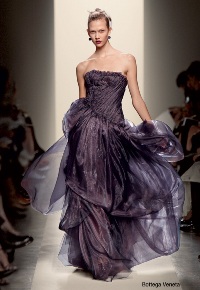 m, taupe, chocolate, and chestnut.
What was a hint of bare a leg last season, with some very cool shorts (from Chloé, for example), is now going full throttle-naked to the thigh-this spring, with gams bare, bare, bare. So start getting those quads ready for spring's finery, as short shorts are among fashion's commands, with Miuccia Prada leading the parade. And last season's single bared shoulder and asymmetric necklines are still present, just updated-some sedate, some wacky. Suits and interesting ensembles with mix-and-match potential also reign, but they are not your mother's lunch-club suits, that's for sure. Look for iconoclastic pairings of trousers, toreador pants, shorts, and skirts, all topped off with a trendy jacket of some sort-et voilà-suddenly, a suit! And it will be assuredly "suitable" for your cheerfully-toned, look-of-the-moment spring wardrobe.