When Linda Lavin was very, very little she stood up in her crib and sang "God Bless America." "I've known I wanted to perform ever since," she says, backed by a résumé that proves that her powers o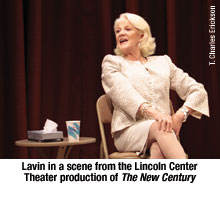 f prediction were eerily accurate during her toddler days.
In fact, should you feel inclined to rev up your preferred search engine, you'll find multiple sites tracing Lavin's career from her fledgling years as a child performer (she started around age five) to her 1962 Broadway debut in the musical A Family Affair to her nearly nine-year run in the hit sitcom Alice (1976-1986) to her most recent Broadway appearance last spring in Donald Margulies's Collected Stories which, not surprisingly, spoke volumes about her ability to mesmerize theatergoers. So much so, that in his review of her performance in Collected Stories, The New York Times critic Charles Isherwood felt obliged to pay homage to her left eyebrow, writing: "At one point... Ms. Lavin raises said eyebrow by perhaps half an inch. She says nary a word, and doesn't move any other muscle, but still communicates with this minimal gesture more than a lesser actor might squeeze from a long monologue."
And Lavin is a master of the small details. As the title character in Charles Busch's hit Broadway comedy, The Tale of the Allergist's Wife (2000-2001), for example,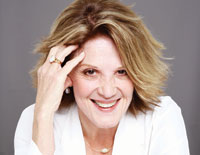 you never for a second believed she was anyone but a West Side matron/intellectual: every nuance, every quirk, every facial expression was right on the money.
A graduate of The College of William and Mary - which just last year honored her with a doctorate of arts degree - Lavin is currently back at one of her favorite stamping grounds: Lincoln Center's Off-Broadway Mitzi Newhouse Theatre, where she's costarring with Stockard Channing, Stacy Keach and Elizabeth Marvel in Jon Robin Baitz's latest work, Other Desert Cities. (Her last project at the Newhouse was The New Century in 2008, for which she won a Drama Desk Award).
"I became involved in Other Desert Cities when Andre Bishop [Lincoln Center Theatre's artistic director] called me," Lavin explains, citing as a key selling point the show's director, two-time Tony Award winner Joe Mantello (Assassins; Take Me Out). "He's someone I've always wanted to work with."
She found herself equally intrigued by Baitz's strong script, filled with what she calls "truths that are magnetic in their honesty." And then there was the opportunity to spend time in the apartment she bought near Lincoln Center while starring in The New Century - "So I can walk to the theatre," she says with a pinch of pragmatic pride.
The play's storyline follows a family - the Wyeths - of Palm Springs, California, whose novelist daughter's Christmas homecoming turns incendiary when it comes out that her new book centers on her brother, an anti-war activist who committed suicide. Marvel has the role of the daughter, Channing and Keach her parents, while Lavin plays Channing's sister, a role she describes as "a straight shooter, fresh out of rehab."
"Great comedy comes from pain and people correcting and poking at each other," notes Lavin who is clearly fascinated by the myriad layers Baitz has bestowed on his cache of characters - including the relationship she shares with Channing. "I'm sure sisters will identify with it," she asserts.
As for Lavin's other big news, it's official: on Monday, January 24th, she'll be inducted into the Theater Hall of Fame alongside actors Brian Dennehy and Fritz Weaver; director Michael Blakemore; playwright Caryl Churchill; conductor/music director Paul Gemignani; director-librettist James Lapine; and, posthumously, director-playwright Joseph Chaikin.
"I received an email from a friend congratulating me on the award and my response was 'Huh?' It came out of the blue," Lavin says, surprise and awe still in her voice. "I'm over the moon about it!"
Random notes

Her mother, Lucille Potter Lavin, was a professional opera singer who sang on radio and TV and had a radio show in Portland, Maine, where Linda grew up.

On her role models: "They've changed over the years, as has the color of my hair." She did confirm a definite quartet of some of her idols: Linda Darnell, Ava Gardner, Judy Garland, Jessica Tandy... "And on and on and on..."

Before landing the role of waitress Alice Hyatt on Alice, Lavin had a recurring role as a police officer during the first two seasons of the sitcom Barney Miller.

She won a Tony in 1987 as the lead actress in Neil Simon's Broadway Bound.

To date, she's been nominated for an additional four Tonys, two as Featured Actress in a Play (Last of the Red Hot Lovers and The Diary of Anne Frank), and two as Leading Actress in a Play (The Tale of the Allergist's Wife and Collected Stories).

She met her husband, actor/drummer Steve Bakunas, in 2002 while they were appearing together on Broadway in Hollywood Arms. They married in 2005 and in 2007 opened the Red Barn Studio, a 50-seat theatre in Wilmington, N.C. They perform and direct whenever their schedules allow. The couple costarred in the theatre's first production, John Patrick Shanley's Doubt.

Lavin, a favorite performer at New York's premier live music venue Birdland, has booked a one-night-only show on Monday, Feb. 21. Her musical director? The legendary Billy Stritch. And on drums, Steve Bakunas. Mondo bonus: Lavin will release her new CD, Possibilities, at the performance. birdlandjazz.com

There's a good chance Lavin and Charles Busch (author of The Tale of the Allergist's Wife and current star of the Off-Broadway hit Divine Sister) will team up for a new show this summer... you heard it here first!