The overarching subject of all museum collections is time. And now that the Metropolitan Museum's priceless array of art from ancient Greece and Rome has been fully installed in sparkling quarters, visitors will find that time gallops backwards and forwards in completely unexpected ways.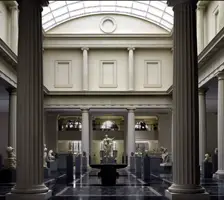 It's not only that so many of the objects embody ruin: an emperor's crumbled marble nose mocking his ambition; a perfect replica of a sandaled foot separated for all time from its leg. For just as many of them—maybe more—represent survival against all odds: a little glass bottle shaped like a fish, waiting to be filled with sauce; a Pompeii bedroom, black as the midnight sky, that could be slept in this evening.
   It's more that everywhere you turn, the history of the museum itself is entwined with these relics. Bright light and Roman sculpture have replaced the tired old restaurant, which replaced the cafeteria, which replaced the original restaurant designed in 1954 by the society decorator Dorothy Draper. What was in the space before the restaurant? Why, a gallery for Roman art, designed in 1912 by McKim, Mead and White—the architectural firm that brought Europe's Beaux Arts classicism to some of the finest buildings in the United States (the Brooklyn Museum, the Villard Houses and the Manhattan Municipal Building are among several examples scattered around New York City).
  
Over the past dozen or so years, in stages, the Met has more than doubled the space devoted to its Greek and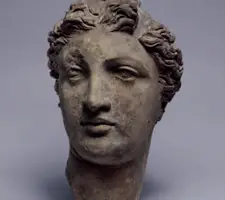 Roman art—a collection more than a century in the making. The very first object acquired by the newly founded Metropolitan Museum of Art, in 1870, was a Roman sarcophagus. Of course. It was an age when it was inconceivable that a museum would ever display an African mask or an Australian shield as anything but a curiosity. It was an age that saw Western civilization in general, and American democracy in particular, as the apogee of a continuum of human progress that began with the Greeks and the Romans.
   Museums are no longer so parochial. In fact, work from Africa and Australia is on display just paces from the New Greek and Roman Galleries, as the rededicated space—some 60,000 square feet of it—is officially called. But a stroll through this museum-within-a-museum, which spans the years from around 900 B.C. to around 300 A.D., will help visitors from anywhere see why the West clings so tenaciously to its love affair with antiquity.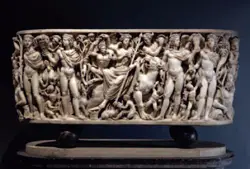 Greek statues from the Archaic period, with their calm smiles and formal posture. Vase paintings of drunken revels, athletic contests and young men leaving their parents to go to war. Venus. Apollo. Herodotus. Augustus. You want to pinch the chubby arm of a sleeping bronze Eros from the Hellenistic period and to speak to the lifelike Roman heads—they look as if they could answer. And you want to shop, smitten by a slender Etruscan candelabrum that would look right at home in place of the floor lamp at the hotel, or a 2000-year-old colored glass bowl that could be used to serve olives.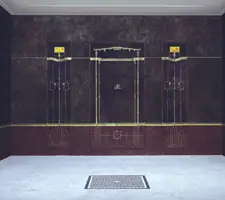 The rest of the museum serves as a counter-argument, of course, but it's easy to begin thinking here that maybe there is nothing new under the sun. Then you find yourself on the mezzanine level, where a study area holds case after case of formerly hidden treasures—and wall-mounted computer screens that allow visitors to access information about what's on view.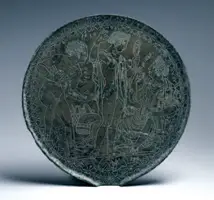 There's something dizzying—and magical—about looking at an ancient stucco fragment delicately painted with a songbird and then turning to a computer link for its label. And if the bird doesn't interest you, you can click on a giant vase. Or a terra-cotta oil lamp. Or a tiny engraved gem. There are more than 5300 choices, all of them time capsules.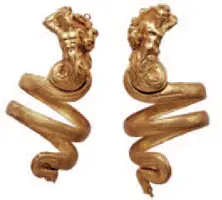 The one thing you can be sure of when you visit these new galleries is that one of those time capsules will get you. A piece of stone or metal or gold. Maybe the chariot. Maybe the silver spoons. Or, maybe, suspecting nothing, you will pause to read the translation of an inscription on a monument. And without warning you will find yourself hurtling backward through the centuries—through the kings and the emperors, through the vagaries of taste and style—to find yourself face to face with the raw grief of the man who dedicated it, some time around 95 AD, to his "most chaste and loving wife, who lived 27 years, 11 months and 28 days."


 
The Met is open Fridays and Saturdays from 9:30 a.m. to 9:00 p.m.;
Sundays, Tuesdays-Thursdays, 9:30 a.m.–5:30 p.m.
Closed Mondays (Except Holiday Mondays); closed Jan. 1, Thanksgiving and Christmas Day.
For more information call 212 535-7710 or www.metmuseum.org.