Tony Shalhoub is a worrier. "A consummate worrier," he maintains. "I'm very good at it."
This natural ability to panic at a moment's notice has stood him in good stead throughout his Emmy-winning eight-season run as OCD-afflicted detective Adrian Monk - and it's proving beneficial as he tackles his first stage role since hanging up his Monk alter-ego last December.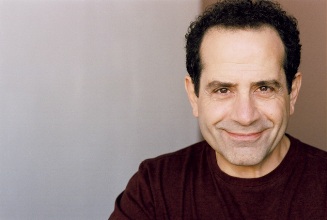 In the revival of Ken Ludwig's delectable farce Lend Me a Tenor, Shalhoub plays Cleveland Opera Company general manager Sanders, a tightly wound businessman constantly on the verge of a coronary. Unprepared to deal with the onslaught of the high-maintenance theatrical types that overrun his world in the hours leading up to a gala fundraiser production, Sanders goes from mildly flummoxed to hysterically unhinged. "He's a lot like me in that he lives with the idea that something will go wrong at every turn," says Shalhoub.
In reality, while cautious, Shalhoub is far from pessimistic. His career - a seemingly endless stream of brilliant and challenging character roles - and his personal life - an 18-year marriage to actress Brooke Adams and two adored daughters - is enviable. (He met Brooke in 1989 when they appeared together on Broadway in The Heidi Chronicles.)
A native of Green Bay, Wis. (yes, he is a Packers fan/season ticket-holder), his introduction to performing came at age six when an older sister (he has nine siblings) recruited him for her high school musical, The King and I. "I think I must have gotten a little bit of the bug then, but nothing major," Shalhoub recalls. "Where I grew up, professional acting didn't seem like an option."
It became viable, however, once he entered the University of Southern Maine in Portland, and took off at Yale's prestigious Graduate School of Drama, where he studied with Robert Brustein, founder of the Yale Repertory Theatre and afterwards, the American Repertory Theatre (ART) in Cambridge, Mass.
Fast forward to 1991: A West Coast transfer finds him in his breakthrough role as cabdriver Antonio Scarpacci on the sitcom Wings, which opened the door to other TV roles and films, including the Coen brothers cult classic, Barton Fink, starring John Turturro, who would one day play his agoraphobic brother, Ambrose, on Monk.
And this brings us to one of Shalhoub's most prominent professional pluses: his magnetism, not only to fans (who can recite scary amounts of Monk trivia), but to an uncanny number of celebrity friends and admirers. His Lend Me a Tenor director, for instance, is actor/director Stanley Tucci, whose history with Shalhoub began in 1989 in a Yale Rep production Moon Over Miami and went on to include the films Big Night (1996) and The Imposters (1998), and an unforgettable 2006 turn by Tucci as an actor channeling Monk for a role based on the quirk-plagued detective.
According to Shalhoub, a key perk during Monk's run centered on his role as producer - guest casting in particular. (Brooke appeared in five Monks and he brought in former Wings costars Tim Daly (as himself) and Steven Weber (as a villain) in separate episodes. Still, he considers his biggest casting coup the landing of one of his idols, Gena Rowlands, who appeared in "Mr. Monk and the Lady Next Door."
"For me, working with her was the thrill of a lifetime. After that episode I felt I could retire," he says, noting that Rowlands received an Emmy nomination for her performance.
As to his current return Broadway - in which his costars include his wife and Anthony LaPaglia - Shalhoub reflects, "It feels just right. It's what I needed to bring closure to my years on Monk." With the slightest a tinge of emotion, he adds, "When Monk ended it left a little bit of hole in my life... Lend Me a Tenor is the perfect antidote."
To view the pages in pdf form, click here.