The slogan on the poster for one of Broadway's most-buzzed-about new musicals isn't hype. "Glass slippers are so back." Catchy, but even better than that -- it's true!
Rodgers & Hammerstein's Cinderella opened at the Broadway Theatre in February, just as the transparency trend was getting into full swing. You'll find clear or see-through shoes in chic designer boutiques from the Upper East Side to Tribeca.
The pair taking center-stage each night at the Broadway Theatre -- created by high-end designer Stuart Weitzman -- are PVC (that's polyvinyl chloride) pumps, adorned with 10,000 Swarovski crystals and sporting a comfy two-and-a-half-inch heel. (Hey, Laura Osnes, who plays Cinderella, has gotta dance in these babies eight times a week.) But why should Cinderella have all the fun?
Ladies who'd like a pair of their own see-through dazzlers have got plenty of options, from flats to spikes to sky-high platform wedges. Here are some of our favorites. (Alas, princes sold separately.)
MANOLO BLAHNIK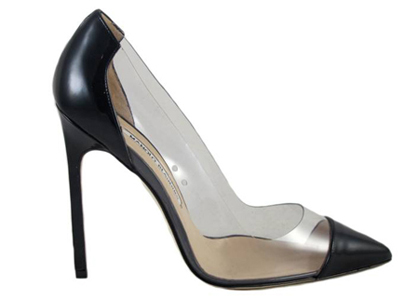 Proper, streamlined and sophisticated—the Pacha Clear PVC Patent Pump, $645. 31 W. 54th St. (between Fifth and Sixth Avenues), 212-582-3007; manoloblahnik.com
LANVIN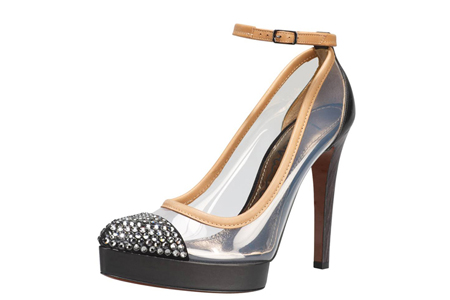 Jeanne Lanvin set up her millinery shop in Paris in 1889, on the Rue du Faubourg St.-Honoré, and the fashion house that sprang from the shop is still in business. And no wonder—here, the Crystal-Cap-Toe Clear Pumpin clear vinyl, sleek calfskin trim and faceted crystals. $1590. Bergdorf Goodman, 754 Fifth Ave. (between W. 57th and W. 58th Sts.), 800-558-1855; bergdorfgoodman.com
NINA RICCI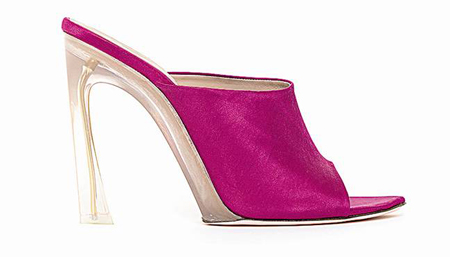 The French couture house famed for its L'Air du Temps perfume dreams up another sure-to-be classic—the Boudoir 100mm Pump, $695. Barneys New York, 660 Madison Ave. (at E 61st St.), 212-826-8900; 2151 Broadway (at W. 76th St.), 646-335-0978; 236 W. 18th St., 212-593-7800; 116 Wooster St. (between Prince and Spring Sts.), 212-965-9974; barneys.com
SIMONE ROCHA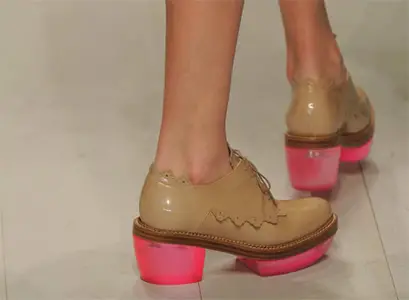 The Dublin-born designer has a way with brogues—here, her Midi Brogue in patent leather with Lucite heel, $1,365. Jeffrey New York, 449 W. 14th St. (between Ninth and Tenth Aves.), 212-206-1272; jeffreynewyork.com
STUART WEITZMAN
His see-through selection includes, pumps, glitter-bowed flat jellies and this Sin City t-strap, in rose aurora specchio, navy satin, and clear trim, $385. Stuart Weitzman, 675 Fifth Ave. (at E. 53rd St.), 212-759-1570; 625 Madison Ave. (at E. 59th St.), 212-750-2555; 10 Columbus Cir. (at W. 59th St.), 212-823-9560; 2151 Broadway (at W. 76th St.), 212-873-0983; 118 Spring St. (between Mercer and Greene Sts.); stuartweitzman.com
ERIC RUTBERG TRANSPARENT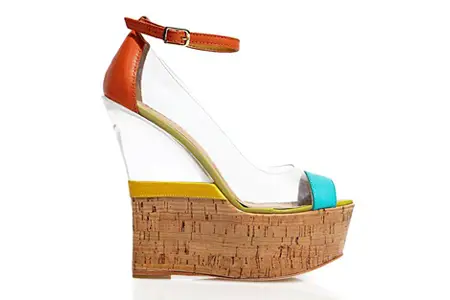 Inspired by his grandfather's footwear business, Eric Rutberg first created shoes for tony labels like Bebe, LAMB, Badgley Mischka and Betsey Johnson, and now has launched his own Eric Rutberg Transparent collection of vibrant-hued, bohemian beauties, like this Fae Lucite and cork wedge, $350. Lord & Taylor, 424 Fifth Ave. (between W. 38th and W. 39th Sts.), 212-391-3344; lordandtaylor.com
MM6 MAISON MARTIN MARGIELA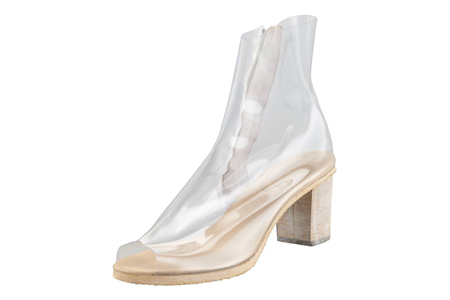 Flaunt your downtown attitude in an airy PVC Ankle Boot, $455. Bergdorf Goodman, 754 Fifth Ave. (between W. 57th and W. 58th Sts.), 800-558-1855; bergdorfgoodman.com
KORS MICHAEL KORS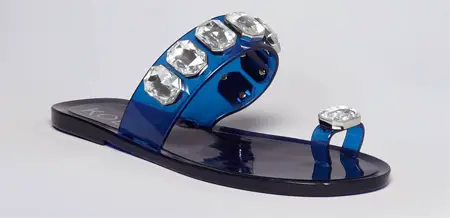 KORS Michael Kors Jelly Flat Sandals – Malaya, in clear, sheer blue and black PVC with toe-ring slide, rubber sole and rhinestone embellishment. $125. Bloomingdale's, Lexington Avenue at E. 59th St., 212-705-2000; 504 Broadway (between Spring and Broome Sts.), 212-729-5900; bloomingdales.com
CHRISTIAN LOUBOUTIN
Walk on the wild side with Manovra Translucent & Studded Patent Leather Slingback Pumps, in PVC, patent leather and don't-mess-with-me spikes. And, always, that signature red sole. $945. Christian Louboutin, 965 Madison Ave. (at E. 76th St.), 212-396-1884; 59 Horatio St. (between Hudson and Washington Sts), 212-255-1910; christianlouboutin.com
LOEFFLER RANDALL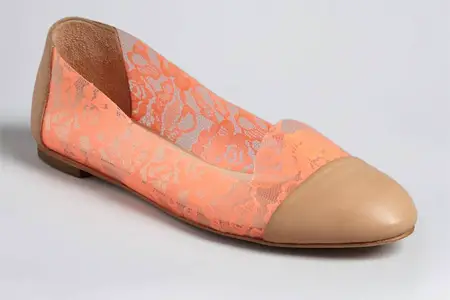 The comfortably classic Cap Toe Jelly Smoking Flats – Beckett in lace PVC with leather cap toe and heel. $250. Saks Fifth Avenue, 611 Fifth Ave. (at E. 49th St.), 212-753-4000; saks.com