I was psyched for an escapade. Slathered in mosquito repellent, I was embarrassingly dressed like a Glamour magazine "Don't." The goggles and the helmet guaranteed that I wasn't winning a spot on any Best Dressed List.
I was in Malaysia, about to enter the jungle on an ATV. Our guide warned us that the previous night's rain would have left the jungle floor pockmarked with deep mud troughs, and with wild, untamed vines poking about. First, though, we had a pedagogical workout on the beach—stop, start, turn, get out of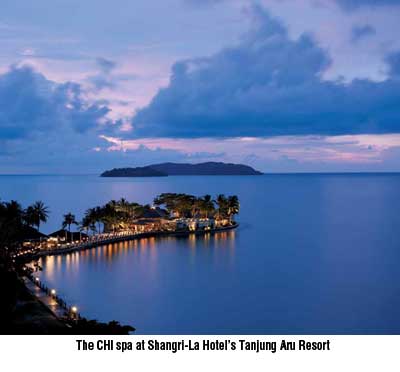 a stall, rev up. And then the electrifying exploit—the jungle! "Thrilling" comes to mind...and well worth it.
And "well worth it" could also describe this trip halfway around the world for this experience, and countless others. Malaysia was particularly intriguing to me; my neighbors had just returned from the very resort I was planning to check out—Shangri-La Hotels' cossetting Rasa Ria, and after a stay there, on to her sister property, the indulgent Tanjung Aru, a stone's throw apart on the island of Borneo. (Instant gazetteer 4-1-1: The island of Borneo is home to the larger part of the two main geographic areas comprising culturally diverse Malaysia—about 140 local dialects are spoken here—and the other part of the country is located on a slice of the mainland peninsula, shared with Thailand.) And as an aside for the geographically challenged, two other countries—Brunei and Indonesia—are also on Borneo.
Once you land, start your re-entry to terra firma as I did: outdoors on the massive terrace of your room, with a stunning view of the South China Sea.
The aesthetician-magician from the Dalit Bay Spa offered me a refreshing,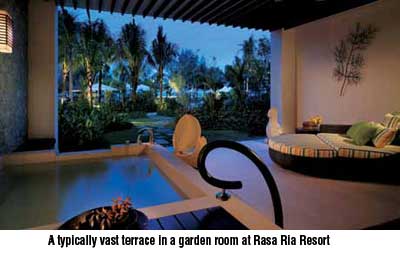 revitalizing foot treatment that began with deep sole-kneading, then fragrant soaking, all followed by a blissful "marinating experience" in my two-person outdoor tub. This mini-swimming pool was redolent with peppermint, sea minerals, rose petals, and whatever else this Estée Lauder of the Lanai had cooked up.
Shangri-La's Rasa Ria is nestled on Pantai Dalit beach in Sabah, the northern tip of Borneo. It is surrounded by 400 acres of lush, tropical vegetation—wilderness, truly—including a unique nature reserve. (The exotic pitcher plant is carnivorous!) There is sublime bird-watching—a graceful, exquisitely colored peacock might saunter by while you're dining al fresco. But the biggest draw here is the extraordinary Rasa Ria Nature Reserve, established with Sabah's State Wildlife Department. It is home to orphaned orangutans, who must be taught to fend for themselves so that they can ultimately survive in the wild, upon "graduation." After an early-morning hike—with a view of the highest peak in Southeast Asia, Mount Kinabalu, as the backdrop for sunrise-cu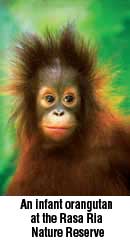 m-breakfast—we visited three young female orangutans, Willan, Katie, and Cina.Willan willingly jumped in my arms and posed for a photo op!
Sunbathe if you must, but there is so much more to do—jungle, forest-garden, and nocturnal animal walks and "safaris," and a stirring canopy walkway some 30 feet up in the treetops; there are also water sports (kayaking, jet skiing, wind surfing, deep-sea fishing, etc.), golf, tennis, croquet, and horseback riding. The nearby extraordinary Orchid de Villa showcases 50 hybrids and over 300 wild Borneo orchids! You can even while away an afternoon with a Malaysian cooking class with the one of Shangri-La's gifted chefs, Anthony Yih, who introduced me to palm sugar, a thick, chocolaty-auburn brick that you shave.
And if you're interested in just eating, not cooking, the food is delicious at the hotel's Teppanyaki restaurant, where the chefs prepare a meal in front of you on sizzling slabs and the local delicacies are just that—delicacies. In the more upscale eatery, Coast, you can begin with a panko crab cake and end with a lemongrass crème brûlée, and in between enjoy all that the sea can offer. And the resort's Naan-Flavours of India restaurant serves up supremely authentic, tasty Northern Indian and Goa cuisine.
After Rasa Ria, it was on to Tanjung Aru, where guests are warmly greeted in the open-air lobby by a native musician playing the kulintang, a traditional instrument comprised of a series of graduated, metal pots. When struck, the sounds are so melodious, you'll feel joyous. I was even cheerier after the seafood luncheon feast at the hotel's fabulous Coco Joe's waterside restaurant. (Tanjung Aru has, improbably, an Italian restaurant, Peppino's, that is meraviglioso). An afternoon in town at the local craft market made me even happier (my cache: a vibrant batik sarong and a woven-straw tote). Bliss became Nirvana after returning to the resort and succumbing to a sybaritic treatment at the CHI Spa, where each guest has a huge, private treatment-villa. Water sports also abound at Tanjung Aru, and include everything from scuba and snorkeling, to parasailing and banana boat rides.
To experience the local, intriguing culture, I took an evening sojourn to the nearby Mari Mari Cultural Village, where the ingenious architectures of traditional-style homes of diverse Sabahan ethnic communities have been reconstructed by tribal descendants. There are also demonstrations of blowpipe-making, fire-starting, tattooing, and it's all topped off with a traditional meal and a dance presentation.
I also took an enrapturing nighttime lepa lepa (native-style, roofed boat) ride on the Tambalang River, into the dense mangroves, where fireflies magically electrified the midnight-blue sky. The Tungku Abdul Rahman Marine Park (five local islands) are also nearby and worth sailing to. The locals picnic here (which we did in grand style, courtesy of the hotel staff), and enjoy the preserve, natural habitat, the animals, and water sports.
So, yes, in a word, it's assuredly worth a trip around the globe to experience this enchanting country.
[ the details ]
shangri-la.com; sabahtourism.com; sepilok.com
Dublin Days
The staff at Dublin's five-star Merrion Hotel must truly love this historic, grande dame establishment, taking personal pride working here. As I sidled by an elegantly liveried houseman on a ladder polishing brass fittings on the ceiling, I saw him smile when the metal gleamed. When I left a heap of cosmetics and hair what-nots on a vanity table outside my sumptuous marble bath, I was pleasantly surprised at how carefully the housekeeping staff had organized the jumble, each item placed just-so on a starched, linen serviette.
Indeed, the staff should feel esteem in calling the Merrion their second home. The hotel's five Georgian buildings are Grade I Listed townhouses (there is also a conte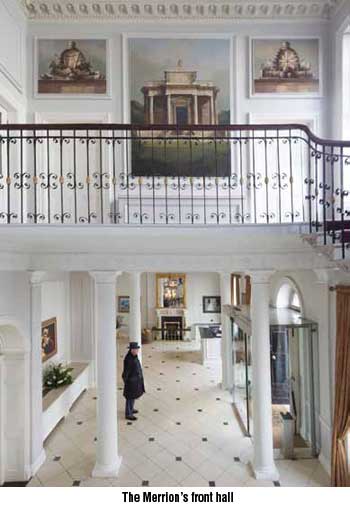 mporary garden wing, created around two private, period gardens that are enchanting) built in the 1760s by one Lord Monck; the Earl of Mornington (who was, among other things, the first professor of music at the renowned Trinity College) lived in No. 24 in 1769, and it was the birthplace of Arthur Wellesley, the 1st Duke of Wellington.
Dublin is imposing, with its sedate homes, dotted with colorful doors, and its gracious, wide streets, the result of astute planning in 1757 by the Commission for Making Wide & Convenient Streets; Upper Merrion Street measures a shocking 102 feet wide! Of Dublin's five remarkable, exquisite Georgian Squares, Merrion is arguably the finest.
On an extended, leisurely walking tour of the city with the extraordinarily knowledgeable Neil Hogan, a local guide who can educate you on political and historical details of this island country (occupying about five-sixths of the territory it shares with Northern Ireland), it was virtually impossible to pass a street without a shrewd, cunning tidbit from Hogan, edifying me on what writer lived where and when—and whom he married, who sued him, what bon mots he uttered upon garnering (or losing out on) a prize. The minute we left the hotel, Hogan began: At No. 82 Merrion Square, William Butler Yeats lived from 1923 to 1928; at No. 46 the door is considered the most photographed Georgian door in Dublin, but in truth, Hogan allows slyly, it's Edwardian, a new door having been installed 1907 for a visit by King Edward VII; at Harcourt Street, we saw the home of Edward Carson, the lawyer retained by the Marquis of Queensbury to defend him against the libel suit brought by Oscar Wilde, who lived at No. 1 Merrion Square as an infant; at Westland Row, we saw Wilde's birthplace; as we reached Lower Hatch Street, we saw No. 1, where a young George Bernard Shaw lived.
And if sharing history with Hogan doesn't encourage reading, then surely a visit to the Trinity College Library (established in 1592 and the permanent home to the illustrious Book of Kells) will. It is Ireland's largest libr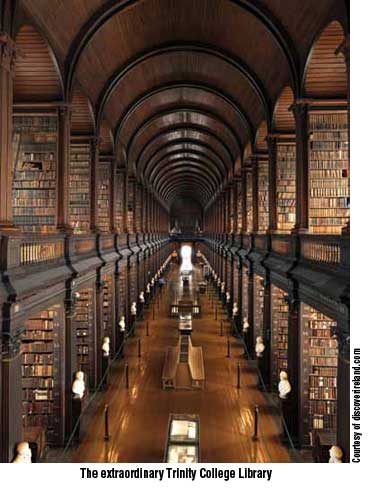 ary and is truly majestic with its 5 million books.
Other activities should include a tour of the Guinness Brewery; the National Gallery; Temple Bar; Dublin Castle (1207); and the striking churches, including St. Teresa's, the first Dublin Catholic church authorized by Parliament after the passing of the Catholic Relief Bill in 1793.
All that walking made me famished, and it was with great anticipation that I dined at Restaurant Patrick Guilbaud in the Merrion; the eatery is Ireland's only two-Michelin-starred restaurant and I must say, it deserves three! But save at least one night for The Cellar, the hotel's proprietary restaurant; the chef served up the best calf's liver I have ever had. And do not pass up the "Art Tea" in the Merrion's charming drawing room. The hotel has a fine collection of 19th- and 20th-century paintings adorning the hallway walls, and the pastry chef has painstakingly interpreted many of these œuvres with sugar, flour, and eggs; the results are not only delicious, but so clever, so whimsical, so well parsed, you'll feel guilty eating a slice of art (and artistry). n
[ the details ]
merrionhotel.com; discoverireland.com/us; neilhogan1@gmail.com
=====
Ashford Castle
Yet another superb tea, dubbed "Lady Adilaun's," awaits you at the award-winning Ashford Castle, served in the estate's massive great room with its 20-foot-high ceiling and walls of rich Irish oak. Ashford is truly one of Ireland's most luxurious castle-hotels. A mere 45 minutes from Galway, it's snugly situated in C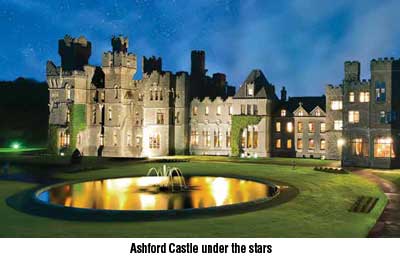 ounty Mayo on the shores of Lough Corrib and the River Cong, sequestered among verdant woodlands and rolling mountains; there are spectacular vistas out of virtually every one of the 83 guest rooms, all appointed with remarkable antique furnishings, luxe textiles, and a crystal decanter of velvety sherry. (The castle was the backdrop for John Ford's 1951 film, The Quiet Man, with John Wayne, and over the years, the estate has hosted countless major league celebrities, from Bob Hope to Brad Pitt.)
Ashford was built in 1228 by the Anglo-Norman de Burgos family as a monastery, and in 1855, Sir Benjamin Lee Guinness (yes, those Guinnesses) acquired it to use as the family's "little" country getaway, which it remained for nearly a century until it was purchased to be transformed into a hotel, proffering a menu of lordly, leisure-time activities, including just about the finest brown-trout fishing in Europe, extraordinary falconry, horseback-riding, golf, clay-pigeon-shooting, archery, cycling, and so on. (The charming local village of Westport is not far, and worth a look-see as well.)
You cannot stay here and not have a falconry lesson. I did a "Hawk Walk" around the palatial grounds with an experienced handler, Aureille O'Sullivan, and "my" Harris Hawk, an infant named, appropriately enough, Wilde—as in Oscar. I donned the giant, protective, suede glove and learned to release Wilde and then call him back, observing him swoop magnificently for a pitch-perfect landing on my hand. It was exhilarating. I spent another afternoon horseback-riding on a gentle, old mare through the backwoods, and it was serene and blissful.
And, of course, you must not overlook the hotel's outstanding dining room, the George V, with its 11 Waterford Crystal chandeliers and glorious appointments. It is the place for a formal, elegant meal and it does not disappoint. For a more laid-back experience, head to Wilde's (this time, not Oscar, but Sir William Wilde, the founder of Dublin's first eye-and-ear hospital) at The Lodge (on the estate's grounds), a more casual, youthful hotel and eatery. Start with the game terrine of local venison, chicory, and roasted almonds and finish with the nutmeg-scented hazelnut soufflé with blackberry sorbet...and then ask the staff to roll you home to your chamber at the castle.
From start to finish, just as your meals will captivate you, so will all of Ireland enrapture your spirit and soul.
For more information, visit ashford.ie
To view the pages in pdf form, click here.