"I hate fashion," the couturiereValentina once announced to a reporter. "Fashion is a tyrant."
    Which brings to mind the old schoolyard refrain,  "It takes one to know one."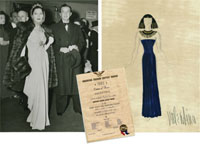 Tyrannical, but also beautiful, mysterious and daring, the designer-cum-diva cut a swath through New York's social and theatrical scene for three decades, attaining something like the celebrity of her most famous clients: Greta Garbo, Katherine Hepburn, Marlene Dietrich, Merle Oberon and various Astors, Vanderbilts and Whitneys, to name a few. That she harnessed her flair for designing to some more dubious traits—a gift for autobiographical hooey, for example, and a laser-sharp eye for cultivating the rich and famous—gives her life story a certain edge.   
  Long out of the limelight, the designer, who died in 1989, has gotten her first retrospective in  "Valentina: American Couture and the Cult of Celebrity," at the Museum of the City of New York.  "Everybody loves a success story," said Phyllis Magidson, the museum's curator of costume and textiles and the co-curator of the show.  This one, she said, features "a beautiful, clever heroine who totally created her own reality of success—and in New York, the epicenter of dreams."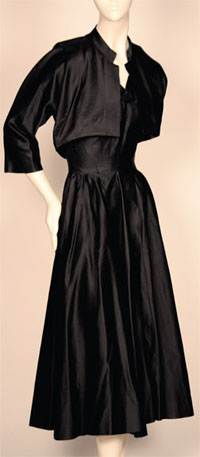 The exhibition, which runs through May 17, displays original couture gowns, coats, ensembles, hats and accessories, some created for her clients, others, never exhibited before, from her personal collection. Perhaps as interesting to non-fashionistas will be the original silver and platinum photographs of Valentina by such well-known photographers as Cecil Beaton and Horst P. Horst.
  It's a wire-service print, though, that seems to capture her essence: Entering a theater with her dapper husband,  she stands hip thrust forward, her svelte yet flowing gown seemingly held together mostly  by the brooch at her breast. Her cape is  made of skunk. ("Mink is for football," she famously said. So why not skunk for nights out?)  And she stands out from the crowd.
   "She was the first American celebrity designer," said  Kohle Yohannan, who served as the exhibition's co-curator and has written a book with the same title as the show. "Valentina had completely honed and designed this marketable magic called Valentina—she's one of her own creations."         
      Who, exactly, was this "creation?"She was born Valentina Sanina in the Kiev region of the Ukraine in 1899, or possibly 10 years earlier  (for Valentina, facts were mutable).  Though hardly the aristocrat she made herself out to be, she probably was educated in a convent, certainly had dance and theater training, and performed as a dancer–all of which influenced her fashion sense. Fleeing the Bolshevik Revolution with her family, she wound up first in Paris, then in New York, acquiring a husband, George Schlee, along the way (though they may never have formally married).  
     By 1928, drawing on old theater and dance contacts, she had opened her first solo shop. Soon, the elite were clamoring for the Valentina look: Minimalist lines, wrap-and-tie designs, bias-cut gowns inspired by the draped statuary of ancient Greece and Rome.  The clothes in the MCNY exhibition show off her cleverness as a designer: using lightweight fabrics, for example, that allowed freedom of movement; or avoiding sewn hems that would have weighed down the garment.      
   Dictatorial to her clients (if they wanted extra froufrou, they could just go elsewhere), she urged them to disdain the changing fads that so often propelled fashion: "Fit the century, forget the year," she said.
  If the world of fashion eventually moved on from Valentina's heyday, that still seems like pretty good advice—even coming from a tyrant.
The Museum of the City of New York is at 1220 Fifth Ave. (at 103rd Street).  Open Tues.-Sun., 10 a.m.-5 p.m, www.mcny.org.