Crystal Cruises' daily shipboard gazette, Reflections-distributed to staterooms on the regal Serenity each evening-heralds the next day's happenings, functioning as a maritime town crier. On Wednesday, June 30th, it billboarded the "Oceans 20" luncheon buffet, promising "culinary highlights," which would be available "for picture-taking at 11:30 a.m.; chefs presented at 11:50 a.m.; and d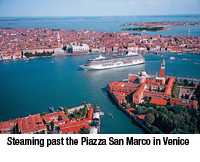 ining begins at 12 noon...."
What? Let's just say that any dining extravaganza for which management has actually set aside 20 minutes for picture-taking is a gastronomic gala I am compelled to plunder. Before continuing to read, however, a health warning: Knock back a statin, because what follows is a mere trifle (O.K., the pun is intended) of the groaning board of desserts alone offered that day:
Norwegian wedding cake, caramel flan, Valrhona chocolate mousse, vanilla cream swans, puff pastry cornets, berry compote with heavy cream, chocolate-dipped coconut macaroons, Viennese delight, vanilla bean crème brûlée, pecan pie, sacher torte, tiramisù, bread pudding...a sampling of cakes: Malakoff, imperial, paradise, black forest, Spanish vanilla nut, carrot, a few sugar-free... and ice creams, fruits, cheeses, caramelized nuts, and a cascading fountain of molten chocolate for dipping. Given that this is but a portion of the desserts, just envision the rest of the food fest. Three hours later, if your stomach is growling, there's a formal tea service in the panoramic Palm Court. (Not to mention there are a half-dozen dining venues besides the main salon; among them, the Silk Road, featuring mouthwatering delicacies on a menu created by the legendary Nobu Matsuhisa.)
Of course, this gustatory celebration was painstakingly prepared, artfully presente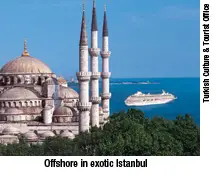 d, and scrumptious. But then anyone who has ever cruised with this luxury line knows that everything on board is always beyond five-stars. With a guest:crew ratio of 1.65:1, the staff know about details: Guests can even order pillows from a printed pillow menu that features feather-and-down offerings plumped to perfection. My wonderful, I'll-know-what-you-need-before-you-know-you-need-it butler Saša Minic saw to countless of those details.
This "Byzantine Odyssey" was a journey from Venice to Athens, with three at-sea days. Those are the mornings you wake up languidly, pondering, "How shall I amuse myself today? "
There is never a paucity of activities on board a cruise ship, and Crystal's staff of enrichment educators and guest lecturers do not disappoint. Fitness activities? There are early-morning and evening classes, even Pilates; table and paddle tennis; sophisticated golf clinics and practice areas for driving/putting, not to mention a carefully outfitted gym and indulgent spa. The University@Sea offers computer favorites; tickle the ivories of a Yamaha keyboard in Passport to Music; pick up a paintbrush; habla Español; explore Bridge; demystify casino games; learn to cha-cha or merengue. There are lectures galore, including many on the history and culture of the ship's ports of call; a library with well over 3,000 books and DVDs; on-board shopping; nighttime entertainment in multiple venues; and ship tours round out the docket.
Take the galley tour, for sure. It's a stainless steel universe unto itself, a hotbed of staff (180) and rou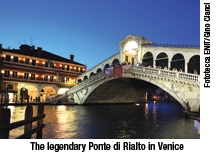 nd-the-clock bustle. The logistics of planning, ordering, and actually obtaining foodstuffs to be transformed into star-worthy repasts is a thorny ballet orchestrated by culinary masterminds. For a 12-day cruise, enough food has to be stocked for 10,000 dinners-representing over 150 choices of entrees. On a typical cruise, the ship blasts through 50 pounds of caviar, 4,000 pounds of fresh fish, 30,000 eggs...and on a daily basis, meal prep consumes 200 pounds of butter and 500 pounds of flour! And don't even ask about the laundry! On a cruise such as this one, 126,000 pounds of laundry are done daily, including 2,400 napkins and 450 plush, striped beach towels used poolside.
It is at the pool, perhaps, that the level of sumptuousness delivered by a Crystal vessel is apparent. Just how gracious and spacious the 820-foot-long Serenity (at capacity, she holds 1022 guests and is serviced by a crew of 655) and her sister ship, the Symphony are, is embodied in a mystifying number, expressed as a space ratio in ship argot, and here it is 64.4, considered one of the highest in the luxury cruising arena. What it means, in practical terms, is that you'll never feel cramped, never lack a chaise longue for loafing.
But, with an itinerary as compelling as this one, you won't really want to be a pool potato. Naturally, Crystal offers a vast assortment of shore excursions at each port, priced from as little as $42 for a basic scenic bus tour, to more interesting adventures: Discover Rhodes in a 4 x 4 ($206); windsurf in Bodrum ($235); in Corfu, investigate grottoes and caves ($183) b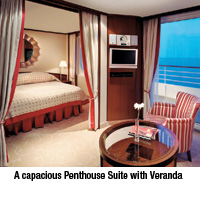 y boat; go for broke in Mykonos and charter a private yacht to navigate hard-to-reach coves ($3,447).
Ravenna, the western capital of the Roman Empire for three centuries, is a trove of art and history. The city boasts eight World Heritage sites and is perhaps best known for its stunning mosaics, but here you will also find Dante's tomb, lit by a lamp fueled with oil from Tuscan olive trees. The three Greek isles we visited might all be described as having quaint ancient towns, cobbled streets, charming stalls and nooks for (ahem) mercantile prospects, striking churches, and remarkable history, all punctuated by ruins of civilizations past. But the similarities end there; each could not be more diverse, with a different flavor, a distinct vibe. Corfu, mentioned in Homer's Odyssey, has a picturesque promenade and an impressive cathedral. Mykonos looks like what a set designer would create given the direction to fabricate a Greek isle-a dreamlike, whitewashed village, set against the cerulean sea. The walls of the old city around Rhodes are redolent with bougainvillea and inside that perimeter is a ferment of shops and sites, including a superb archaeology museum. Perhaps one of the most visited island attractions here is the lovingly restored Kahal Shalom synagogue, the oldest temple in Greece; it has a fascinating museum, and is well worth a visit.
Ah, Istanbul-that exotic mixture of East and West-offers so much, two days don't even cross off a page in a guide book. Musts: The Hagia Sophia, the most glorious Byzantine structure, and for 1,000 years, the largest cathedral in the world (subsequently it became a mosque, and today is a museum); the Blue Mosque, so named because of its resplendent, indigenous blue tiles; the Topkapi Palace, formerly the home of the sultans, which now guards the crown jewels; the Grand Bazaar, with its 4,000 vendors. I spent two hours in Galeri Kayseri (it just reads "Bookshop" outside), poring over massive tomes (at least $1,000 each) by the publisher Ertug + Kokabiyic, specialists in Byzantine and Ottoman art and architecture. I ended my stay in Istanbul with an evening observing the religious trance-dances of the famous Mevlevi Whirling Dervishes, and a drink at the Çiragan Palace Kempinski Hotel, waterside on the Bosphorus.
And, alas, back to the ship, signaling the end of my whirling adventure. But like so many people I met on board-including a woman who lives on the ship, a couple who have taken over two dozen journeys with Crystal, and another traveler who sailed around the world with Crystal-I will be back!
[ the details ]
For a 12-day cruise like this one, fares start at $6,465 per person, which includes round-trip airfare and a $1,000 per person on-board ship credit; additionally, many travel agents sweeten the package by pre-paying on-board gratuities for their clients. Further information: 888-799-4625; crystalcruises.com