Sky-High Opus Operandi
Civilized travel via intimate charter flights is no longer "the stuff that dreams are made on" (apologies to Mr. Shakespeare) - at least where OPUS Hotel Vancouver is concerned. The upscale bouti
que property recently joined forces with OPUS Aviation to offer private flights to guests traveling from New York City and Los Angeles. Dubbed OPUS Opulence, this ultra-exclusive door-to-door service was launched this past summer and is already attracting select flyers who appreciate the optimum in service, cuisine, and comfort.
Aviation buffs be advised: the OPUS corporate jet is the Dassault Falcon 50EX, accommodating eight guests in lounge-style seating, while ground transport (ready and waiting upon arrival in Vancouver) is a BMW 7 Series luxury sedan - chauffeur-driven, naturally. Post-flight bonus: Once you've settled into your state-of-the-art suite, you'll be privy to VIP access at OPUS' 100 Nights, Vancouver's premier restaurant/lounge, boasting a "mega-hot" rating from regulars and newcomers alike. opushotel.com/vancouver.html
Power Play
How cool is this: a smack-down turndown service wrapped in (dare I say it?) down! Okay, maybe not down per se, but certainly a suitably fluffy filling for the 30 tiny silk pill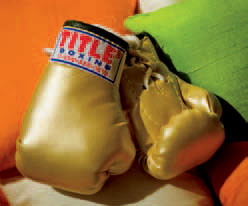 ows included in The Ritz-Carlton, Palm Beach's Pillow Games. Resurrecting the madcap spirit of the classic take-no-prisoners pillow fight, this awesome amenity arrives with miniature boxing gloves, a collection of game options, and a CD (to set the right musical "ambiance").
And because potential combatants fall into more than one category, the masterminds behind Pillow Games have come up with two versions: The Family Pillow Fight for "good-natured sibling rivalry or parents vs. kids," which comes with milk and cookies, as well as A Passionate Pillow Exchange for couples, served up with a feather (for tickling), champagne, and chocolate. Let the games begin! $60 and up from Guest Relations. ritzcarlton.com
Whimsy at 40,000 feet
Even the poshest slipp
ers handed out in first-class cabins don't stack up to the capriciously comfy footwear known as Check-It Slippers available on Mackenzie-Childs' website. Guaranteed to a) provide luxe cushioning for your travel-weary feet, and b) make you smile, thanks to their playful design combo of green velvet, checkerboard fabric, and cheerful flower appliqués!
And, to ensure unequivocal fashionista satisfaction, there's even a matching companion "jellyroll" - i.e., jewelry roll - perfect for keeping your necklaces, bracelets, and assorted baubles tangle-free as you jet off to Monaco, Bali, or Palm Springs. Check-It Slippers ($45) and Check-It Jellyroll ($38) available at mackenzie-childs.com
Cooking With Class
Talk about your Epicurean A-teams. The InterContinental Hong Kong, home to a celebrated triumvirate of showcase eateries - Spoon by Alain Ducasse (1-Michelin star); Yan Toh Heen's Nobu InterContinental Hong Kong (1-Michelin star); and The Steak House winebar + grill - have been sharing their haute cuisine expertise with sophisticated foodies since last March through their Cooking Class Series 2011: "A World of Fine Tastes" led by an all-star cast of handpicked-chefs.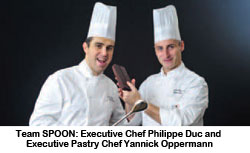 A success in its debut year, this singular program featuring demonstrations ranging from classic and modern cooking techniques to the secrets of specialty dishes, will be continuing indefinitely at the five-star hotel and include a welcome Continental breakfast, lunch with wine pairing, cooking class recipes, an apron and official certificate. Held Saturdays from 10:30 am to 2:30 pm, the classes are limited to 10 individuals. (USD$165.50/HK$1,288 per person, varying according to currency conversion rates.) hongkong-ic.intercontinental.com; Restaurant Reservations Hot Line (852) 2313 2323.
To view the pages in pdf form, click here.