Breakfast During The Royal Wedding: An Invitation
Prince William and Kate Middleton may be taking their vows in Great Britain, but two of Manhattan's most majestic hotels are making it possible for un-commoners like ourselves to celebrate the nuptials live amongst fellow Anglophiles via giant-screen TVs while dining on five-star breakfast cuisine.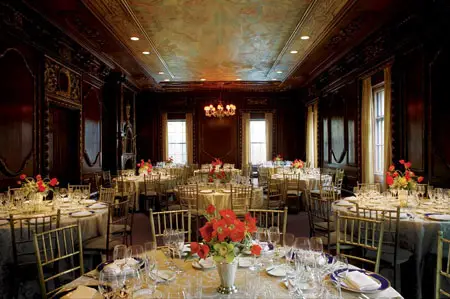 The Drawing Room at the New York Palace
On the East Side, the aristocratic backdrop is the New York Palace Hotel, sister property to The Dorchester in London where Prince Philip held his bachelor party prior to marrying William's grandmum, Queen Elizabeth II.
Six-plus decades later - on April 29, 2011, to be exact - guests of the Palace will gather in The Drawing Room, housed in the hotel's historic Villard Mansion, for a traditional British breakfast of scones with marmalade, kippers, fried eggs and bangers. (Service begins at 6am to correspond with the wedding's 11am London start time. The festivities will end with a champagne toast at 8am.)
The $150-per-person price includes a commemorative wedding favor: a scented glass candle embossed with a crown logo. And, to ensure guests are suitably cozy throughout, pillows, blankets and slippers will be available upon arrival. newyorkpalace.com.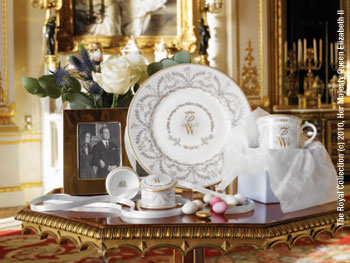 Across town, New York's other palatial breakfast comes wrapped in a brilliant single-night package: The Trump Royal Wedding Experience. Hosted by Trump International Hotel and Tower New York (Central Park & Columbus Circle), it includes a luxurious night in a guest room designed by Ivanka Trump followed by breakfast (starting at 5am) at the internationally acclaimed Jean Georges restaurant. While watching William and Kate exchange rings, guests will toast the happy couple with sparkling mimosas as they dine on scrambled eggs with caviar, mini-French toast, and pains au chocolat.
The package, priced at $1,075 for a City-view suite and $1,425 for an executive Park-view suite, comes with a most coveted take-home keepsake: a piece of official Royal Wedding china commissioned by The Royal Collection. trumpnewyorkhotel.com.
The Speakers Corner
Barely the size of a book, this sleek Portable Speaker System rates high among travelers who prize technology that's a) compact and b) can multi-task.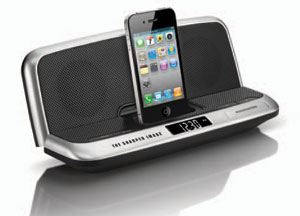 This particular docking device for iPods and iPhones definitely fits the bill with two powerful built-in speakers and dual-alarm and snooze functions allowing you to kick back and listen - or wake up to - your favorite music tracks. Adding to its allure is the way the speaker system folds down for easy packing. A top-of-the-line Sharper Image product, this compact must-have is $79.99. sharperimage.com
The Gold Standard for In-Room Pets
While hotel perks for pampered pets are growing in popularity, most vacationers find themselves unable to share their travels with their feathered, finned or furry friends. Thinking outside the box (and inside the fishbowl), the upscale Kimpton Hotel Group has come up with a charming and sophisticated solution: in-room goldfish.
Fift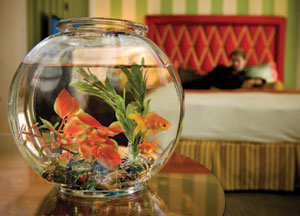 y-one of Kimpton's 55 boutique hotels across the U.S. offer Guppy Love, a unique and whimsical program allowing guests to request a live goldfish to share their suite throughout their stay. (Hotel staff takes care of feedings and daily upkeep.) Kimpton - already known for its hosPETality, designating all pets welcome in their hotels regardless of size, weight, kind or breed - embraced goldfish companionship after research was released indicating "watching colorful fish swim gracefully to and fro actually calms nerves, reduces anxiety and lowers blood pressure." A fish story with a happy ending. fourseasons.com/lanai/