The marriage between two of the world's most exclusive Italian companies-design superstar Missoni and Bric's, renowned for fashion-forward luggage and accessories-has resulted in this season's highly coveted travel collection, all in Missioni's iconic "Zig Zag" pattern.
Introduced last September in Milan, the two lines (PVC and nylon) include soft travel bags, wash bags, a rolling duffle, a PC holder, several "trolleys," shoulder travel bags, a vanity bag, and a folding shopping bag. Each style is available in four colors: blue, brown, black, and pink, and is (as one would expect!) fitted with handsome I.D. details such as chic leather logos and engraved metal zippers.
To procure one or more objets d'travel from the MISSONI for BRIC's collection in Manhattan, stop by Bric's Madison, NYC's first freestanding store. However, should your jet-setting schedule be too, too full, don't despair and go to brics.it.
Danish Delight

Centuries before Hans Christian Andersen spun his beloved fairy tales, his ancestors were busy erecting Egeskov Castle, Scandinavia's celebrated Renaissance water castle replete with moat, drawbridge and timeless treasures. Indeed, when it comes to "castling," this 16th-century palatial masterpiece offers en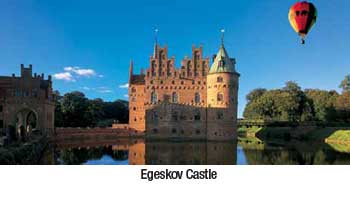 dless enchantments, from its moat and drawbridge to its peacock-populated gardens and four amazing mazes, to its staggering collection of museums, including one dedicated to motorcycles that houses a 1913 Henderson, 1929 Harley Davidson, and 1936 Nimbus (with sidecar).
Still, for the fantasy-inclined, it's Titania's Castle-dubbed "the planet's most magical doll's house"-that reigns supreme with visitors. Located on the castle's first floor, the diminutive masterpiece took 15 years to complete and boasts 3,000+ components, including a collection of miniature art treasures from around the world. egeskov.dk/en/praktisk-information.
"Leveraged" Collectibles: Pull and Possess
Just as Se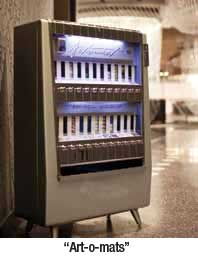 x and the City turned the Cosmopolitan into the Millennium crossover cocktail, The Cosmopolitan of Las Vegas is setting new standards in contemporary art appreciation along the Vegas strip. Barely a year old, this upscale resort casino has blazed an unprecedented path with "an art program that every guest can touch, feel, hear, and experience."
The most novel installations? "Art-o-mats"- a cross between oversized gumball prize dispensers and an art collector's dream toy. Created from vintage cigarette vending machines, Art-o-mats-which have been displayed at such revered institutions as the Smithsonian and Whitney museums-offer small pieces of artwork (procured from more than 400 artists from 10 countries) for a mere $5 a pop. Notably, The Cosmopolitan (which houses six Art-o-mats) is the only casino resort to offer these ultra-unique/eco-friendly/retro treasure troves. cosmopolitanlasvegas.com.

Zen and the Art of SushiSKool
Clearly Loews Hotels' Master Sushi Chef Osamu "Fuji" Fujita has been thinking outside the bento box to come up with SushiSKool, a hands-on class in sushi-making that encourages junior Top Chefs to flex budding culinary muscles, indulge in chopstick hocus-pocus, and turn their favorite sandwiches into awesome sushi rolls.
Offered exclusively at Loews Miami Beach Hotel and Loews Lake Las Vegas Resort, the hour-long tuna tutorial has slightly different ground rules at each site, but an equally tasty outcome. In Miami, the class taught in the hotel's Sushi SoBe restaurant every aturday afternoon is complimentary and caters to the entire
family; in Vegas, the once-a-month event is for ages five through teens and comes with a gift bag featuring an apron, Chef Fuji's "Guide to Sushi," chopsticks, a discount card for dinner, and costs $20 per participant. Loewshotels.com/Miami-Beach-Hotel; loewshotels.com/en/Lake-Las-Vegas-Resort.