Spring fashions usually erupt with bright, peppy colors-explosions of gaiety on fabric-and glorious, but pred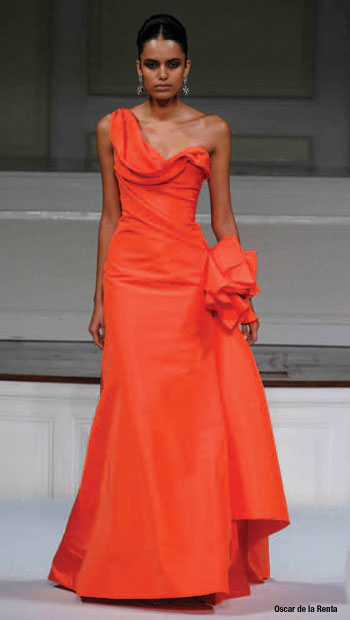 ictable prints, like polka dots, florals, stripes, and geometrics. But this season, the usual suspects are in hiding-the polka dots, stripes, delicate flowers are all under wraps. It's not that there were no prints this season, but they were not the expected blossoms. At Stella McCartney, patterns were ablaze with a citrus-inspired theme: lemons, oranges, limes, and grapefruit! And Miuccia Prada championed bananas!
And it's not that there was no color this year. But the bold colors you'd expect with spring's silhouettes were not all-pervading. Orange found its calling in almost every collection: It burst upon the fashion scene with a vengeance in all the runway shows three years ago, and it just does not want to slink back into a Pantone color chart and hibernate. Even designers who showed no head-to-toe ensembles in ginger offered a flash of carrot here (like a ribbon on a shoe), or a dash of poppy there (as in an unexpected splash in a model's tresses).
There were "costumes" on the runway. "Biker chic" looks-edgy, asymmetric, with tough-girl sass-even at places like Hermès and Bottega Veneta. Ralph Lauren and L'Wren Scott featured a Western cowgirl flavor, Erin Fetherston offered a safari theme, and there was a decidedly Korean influence at Carolina Herrera, where the sensational runway looks were accessorized with high-crowned, flat-brimmed hats, and garments sporting ethnic-inspired Dorae knots and classic Korean bow-sashes.
Hemlines took a dip this season, starting just at the knee and plummeting from there. In contrast, last spring, bare legs ruled the runway, with mini-dresses and short shorts leading the leggy parade. Perhaps it's gam-backlash, but this spring's frocks are more prim and "ladylike," skimming the knee and the calf...except for the dresses with irre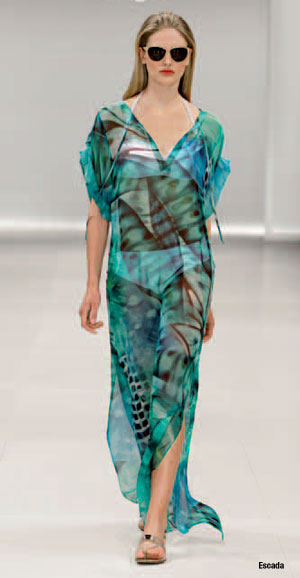 gular hemlines, and those with a fishtail sweep that offer a peek-a-boo glimpse of a knee, and then cascade down to a mermaid flourish in the back.
Expect to see a palette of neutral tones and white, white, white. Lace and see-through macramé made a comeback, and many permutations of a lace-look were visible-slashed fabrics, laser-cut sleeves, and diaphanous sheers. And as if those treatments were not gossamer enough, the bedroom inspired a host of lounging pajamas, caftans, negligee looks, ethereal goddess dresses, and at-home ensembles-including cutesy-pie, Lolita-look baby-dolls. The '70s disco ethos resurfaced, and if you think Saturday Night Fever when getting dressed, you'll have the look down to a T, which only underscores that everything old is new again-that is to say, when creating the look is in the hands of the fashion geniuses who know how to reinvent and drape a bolt of cloth.