T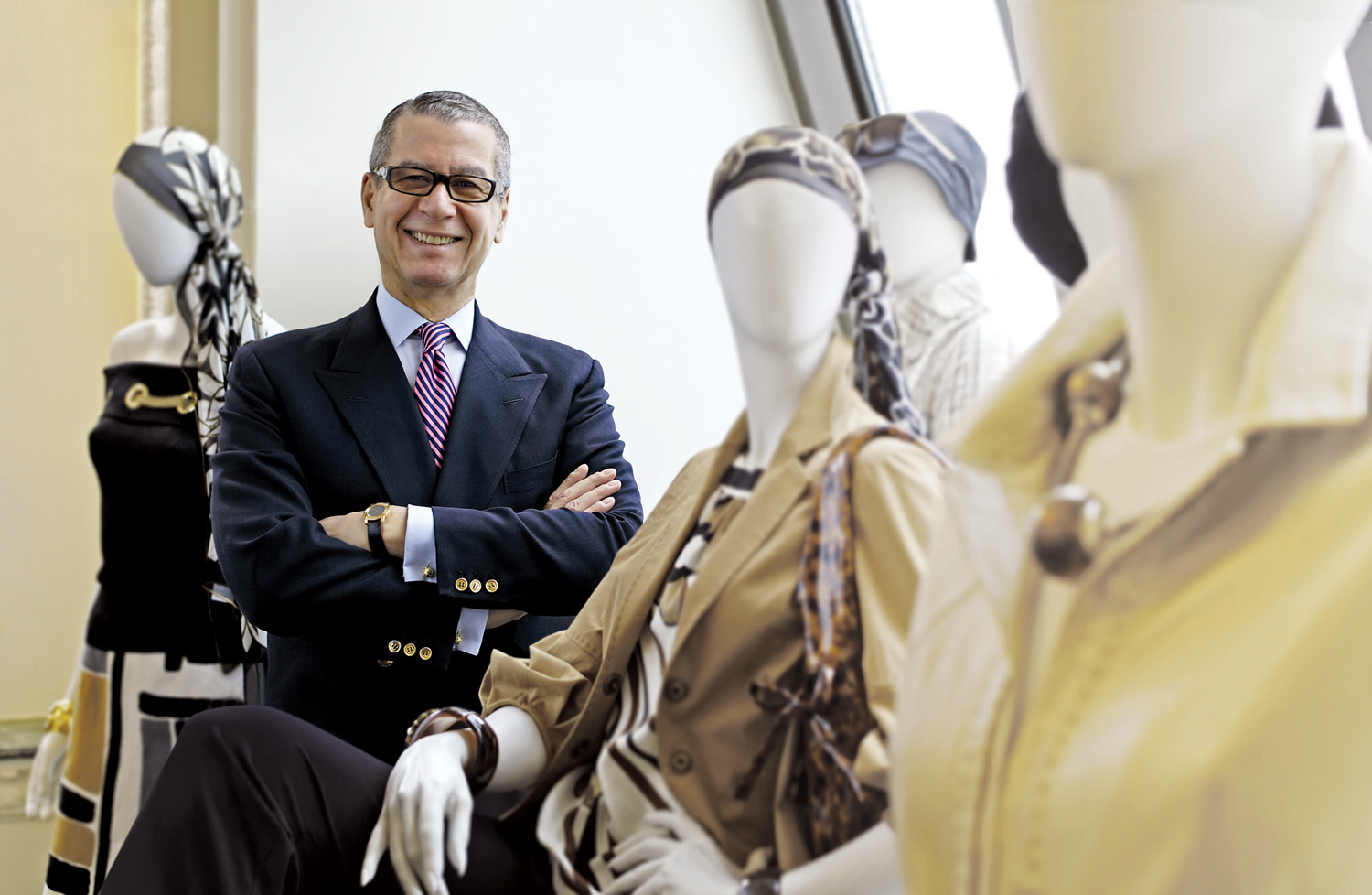 he Carlisle Collection is an ultra-luxe purveyor of women's wear with classic style, but behind the label is something quite unique. "With our processes, quality level, and attention to detail, we really run like a couture house," said founder and CEO William Rondina. The stage for Rondina's empire is set the moment the elevator doors open on offices and showrooms that are comprised of green silk walls and gold accents amidst gilded wood columns and interior trim. Antique furniture abounds, matched by museum-quality paintings. A round room has a library adorning its walls, and wait - is that a leopard skin rug? It is indeed, just another accoutrement of the stunning interior crafted by Robert Denning of the legendary design firm Denning and Forcade.
The ever-charming Rondina is a student of the world, apparent far beyond his taste in interior decorators. His philanthropic nature led him to found Fabric of Hope, a charitable partnership with Susan G. Komen for the Cure, and through this program The Carlisle Collection has donated over $1.7 million to the fight against breast cancer. He is also a patron of the arts, who is just as comfortable talking about Monsieur Gauguin as the next trends in women's wear. And he is pretty sharp when it comes to cloth. An idea to produce design samples in-house rather than sending a drawing and fabric to the manufacturer, made him an innovator in the fashion industry. "We send a completed garment to our factory in Hong Kong where I've had the same technical inspector, Kathy Cze, since I first began the company. They then reproduce the garment before I green-light full scale production."
His direct-selling model was another innovation that worked like a charm (think of it as a really upscale Avon without the door-to-door sales). Founded in 1978, The Carlisle Collection was doing brisk business by the early 80's -to keep growing, it needed a bigger sales force. Rondina began networking with the Junior League in an attempt to gather well-bred young ladies to the fold. "It was a different time and there weren't as many options for women in the business world...I saw a chance to give intelligent, driven women the opportunity to be entrepreneurs and it worked out pretty well." Rondina expanded from 97 consultants to a nationwide network that is now comprised of over 3000 Carlisle Collection representatives. "Every season we send everyone a trunk show with the new collection. Most of them sell right out of their homes and they call, fax, or email us the orders. We have the inventory custom-tailored on premises to their specifications and voila; a woman in Austin, Texas has a package on the way!"
Ever the entrepreneur, Rondina's newest line, Per Se, was launched in 2005 as a complement to The Carlisle Collection, designed to appeal to younger and broader audiences. It is also available at Carlisle showrooms. 16 E. 52nd St. 16th Floor, (Madison/Fifth Aves.), 212-751-6490; showroom@carlisleny.com; carlislecollection.com