Just what is it about handbags that makes women go a little over the top, or become - shall we say - downright loopy? What is it about pocketbooks that can spawn an article like the one in The Wall Street Journal a few years back entitled, "The Psychology of the $14,000 Handbag?" Or that elicits the "need" for websites such as purseforum.com (which boasts nearly 300,000 members in its "baggy" comm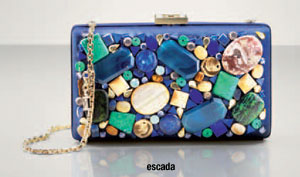 unity) bagsnob.com, and the most wonderful site of all (a sort of e-lending-library that could be considered the Netflix of pocketbooks), bagborroworsteal.com. (Don't get tricked into going to the "poor" stepsister site, bagstealorborrow.com). At bagborroworsteal.com, those whose personal wardrobes and wallets are handbag-challenged can, for a modest $32 for a week (there is a nominal monthly membership fee, as little as $5), rent a desirable Gucci "GG" canvas bag, or for a somewhat more hefty $325 a month, tote around a coveted Chanel Rue Cambon-logo bag. (You could actually rent a different bag every week and turn all your co-workers into green-with-envy voyeurs.)
Karen Galland, a fashion-forward consumer who for more than 20 years has been producing private-label clothing for some of the city's major department stores and swanky boutiques, considers a handbag the most important accessory a woman can carry. "For men, it's shoes and a watch, but for women, it's a handbag," she observes. "I do believe that if you are walking into a restaurant, your bag has to precede you." (And, it might even get you sea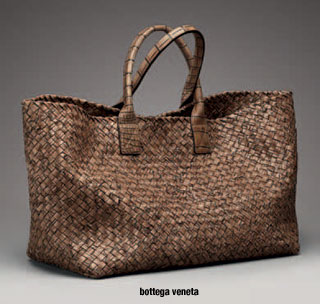 ted at a better table, she notes with a wink.)
And speaking of handbags and restaurants, celebrity chef Alain Ducasse, while chided at first, supplied gloriously upholstered petite, velvet, tableside stools for women's purses at his much-anticipated debut Manhattan eatery at the Essex House. And while the press smirked, women were delighted-so much so that although Ducasse decamped from Central Park South, at his new chic watering hole, Adour, he still offers women discreet, pull-out "shelves" for their bags. (Fairway, take heed: I recently observed a woman asking for napkins to put on the floor, where she was resting her handbag.)
Fashion-industry pros aren't alone in their passion for handbags. Maryjane Kevlin, a 20-something public relations executive, has been obsessed with bags since she was a tot. She remembers that her grandmother always had the most elegant purses, and she thought, "It's just part of being a girl. Bags were always in my life; I carried a bag to school, even when I was little and I still remember one of my favorites-it had a unicorn on it and it was blue with yellow polka dots." Kevlin ultimately graduated to Coach as a teenager, and fondly reminisces, "I remember my first bag from that time-a classic print, with the Coach logo, hobo style. I loved that bag." Today, Kevlin has so many pocketbooks that they are stored not only at her home, but also at a friend's. At any given time, she says, she might own 150 bags (she is always attracted by "interesting" hardware) and it's not unusual for her to change handbags a few times a day, depending on her outfit and activities. Galland says that she could easily change bags three or four times a week, depending on her appointments and her clothing.
What do women want in a bag? Santiago Barberi Gonzalez, president of Nancy Gonzalez, a luxe line of bags priced from about $700 to $20,000, available at luxury vendors like Bergdorf-Goodman and Neiman Marcus, observes that today, "We have to make a creative, beautiful object that is both exciting and functional. We don't let anything out of the factory unless it's highly practical-and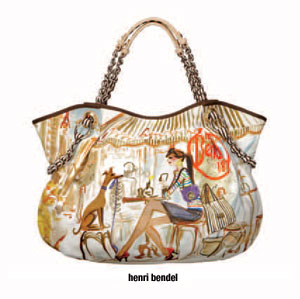 gorgeous. Bags have to be lightweight, have various cell phone and make-up pockets, convertible straps, and they have to be easy to 'pack up.'"
He underscores that Gonzalez' designs are often perennials. The company was founded by his mother, who first walked into Bergdorf's some 12 years ago with a mere seven styles. Today, Gonzalez produces three collections a year, with 115 styles per collection (available in something like 300 colors!), most often marrying exotic skins like bison, ostrich, and python to Gonzalez' designs. "At the end of the day, our bags function because clients have asked for something."
Colleen Sherin, Women's Fashion Director at Saks Fifth Avenue (most bags here range from about $1,000 to $3,000, although there certainly are models that are a few hundred dollars), knows all too well what it is to please customers and stock inventory that will sell. "Useful details-anything that can make gadgets and necessities more readily available-are becoming more important." She notes, "For spring, the most popular style has a flap, but it's not as deep as a messenger bag; there is a bit of '70s inspiration, some structure." She stated that this style was prevalent among many designers' collections-Fendi, Marc Jacobs, Valentino, Prada, and elsewhere. She also underlines that some lines transcend fad: "Chanel is always timeless."
And so it is, flashy trends may come and go, but a classic Hermès Kelly or Birkin, a perennial Chanel 2.55 bag, or one of Tomas Maier's Cabat intrecciato totes, will always stand you in good stead. One woman interviewed, who admits to spending a "fair amount" on bags, allows that if she really loves a purse, price is no object. Perhaps, however, she'd draw the line at-despite the fact that it's aspirational and to-die-for-Bottega Veneta's $80,000 Cabat. Alas, if I had that princely sum, that very bag would be in my closet!