Even with Valentine's Day in the rearview mirror, if you didn't score at that time with fragrance, flowers, or fantasy, now is your chance to make it up to your sweetheart. And if there is no sweetie to lavish a gift upon your doorstep, just purchase it yourself...you will not regret it!
When it was timely, a few weeks ago, I did underscore that a lovely fragrance gift, such as Hermès' Eau de Merveilles, would go a long way in scoring brownie points. Being a fragrance worshipper myself, such as it is, I have extolled the merits and marvels of some of my other favorites (here and here) in the pages of Promenade, our quarterly magazine.
Now it's time to praise yet another group of heady and delicious scents from our friends at Acqua di Parma, an LVMH company. Let me start by saying, when I was in Scotland last year, my guide (female) exuded a heady scent! I kept sniffing around her, smelling her fragrance each day until I finally I asked her on day three what in the world she was wearing, as it was soooooo dee-vine. It turns out it was Acqua di Parma's Acqua Nobile Iris; I was a little confused, as I wear, and treasure, Acqua di Parma's Iris Nobile. I asked her to check the name—was it mine, the fragrance I already owned and had left in New York? But, no, she said the next day, it was, indeed, Acqua Nobile Iris, and it was a new fragrance, hot off the proverbial press and a gift from, of all people, her mother-in-law!
So, the following week, when I was in London, I went to Harrod's to sniff about in the store's newly redesigned fragrance hall (and what a hall it is!), and sure enough, there were three fragrances, all from the Iris Nobile Collection. I am here to tell you, you need them all. (Well, that is to say, if you are drawn — in the least — to florals.)
The trio of scents is: Acque Nobile Gelsomino (a pale celadon in color); Acque Nobile Magnolia (white, or clear-ish); Acque Nobile Iris (lavender). Each is $170 for 4.2 ounces, and presented in a tall, hand-carved, Art Deco bottle, very different from the Iris Nobile I have favored for a few years. These three scents are fresher (if that is possible), a little "younger," and a bit more modern, yet all are packaged in Acqua di Parma's signature "hatbox"-style box. (The bottom rim of the package is color-coded, so if you tend to keep the bottles in those petite boxes, you can always tell which one you're opening.)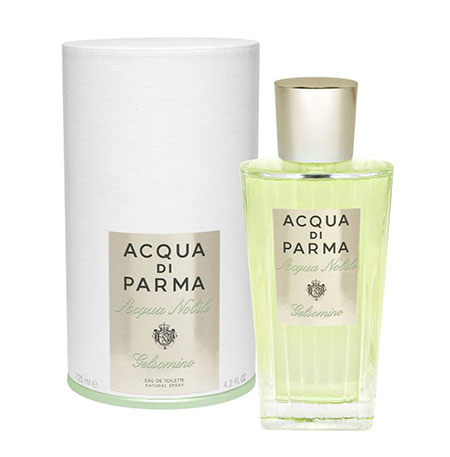 The Gelsomino: Top notes are Italian bergamot and mandarin essence, pink pepper. The heart, or middle notes, are Calabrian jasmine, Italian neroli essence, Italian petit grain citrus essence, and the base notes are musk. The entire "recipe" delivers a heavenly aroma.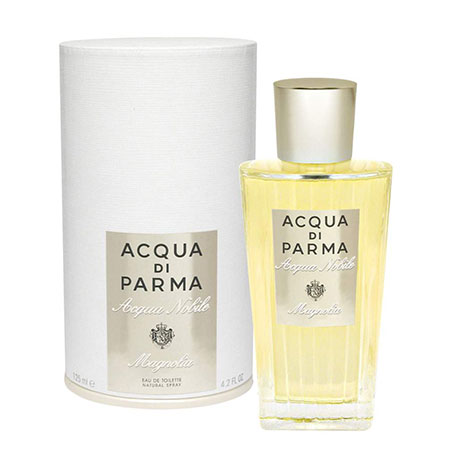 The Magnolia: Top notes are again Italian Bergamot and mandarin essence, with Italian lemon essence, and Italian neroli essence; the heart notes are jasmine sambac absolute, lily of the valley, freesia, magnolia, and orange flower; the base notes are patchouli, vanilla, and musk. I think this one is the most floral, but then, again, the scent's perception is in the eyes, or rather the nose, or the beholder.
The Iris: Top notes are Italian mandarin essence, Italian citron essence, grapefruit essence, Italian neroli essence, and violet leaves; the heart notes are iris padilla concrete and orange flower absolute; base notes are vanilla and musk.
Even if you don't know what any of these flowers is (iris padilla?), you'll love sporting these scents. They are perfect for spring, which is, indeed, just around the proverbial corner...please, let it be around the corner!