Late afternoon, mid January: Alan Cumming is in his Manhattan office dutifully surrendering to one of what will likely add up to hundreds of interviews—in-person, online and by phone—all involving (or at the very least touching upon) his return to the role of Emcee in the revival of Oscar winner Sam Mendes' Goth-flavored Cabaret.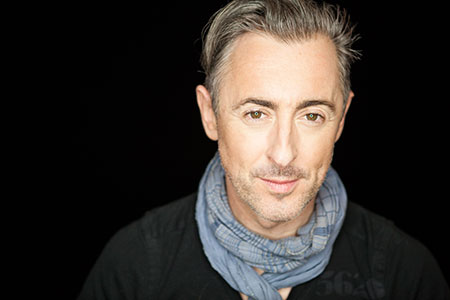 Kevin Garcia

The current Studio 54 mounting mirrors the celebrated 1998 version that ran close to six years with serial celebrity cast changes along the way. Still it was Cumming—packing an arsenal of androgynous sexuality and puckish guile (that smile, those dimples!)—who set the template for his "Willkommen… bienvenue…" successors while earning himself a Best Actor in a Musical Tony for his Broadway debut.
But not every actor would gravitate to a role they not only played, but redefined, 20 years earlier. (Before Cabaret arrived in America, the musical earned its stripes at London's Donmar Warehouse, opening in 1993 on the heels of a rehearsal period Cumming describes as "intensely collaborative.")
Nevertheless, when Mendes broached the idea, Cumming was intrigued enough to hop onboard without hesitation.

Leenya Rideout, Cumming and Michelle Pawk in the 1998 production of Cabaret. Photo: Jeremy Daniel

As for the challenges of reprising the Emcee—a character who opens the show in what amounts to a bow tie, abbreviated trousers and body-hugging suspenders wrapped suggestively around his torso—Cumming isn't really concerned about the outer trappings per se, or co-director/choreographer Rob Marshall's physically demanding dance numbers.
"In the original I was working with my peers. Now, with the ensemble much younger, I see myself in a more fatherly role," says the Royal Scottish Academy of Music and Drama graduate. "It seems so long ago I should go to the library to check the video."
"What made the idea interesting to me was the contrast: where the world was, and where I was, in the '90s as opposed to today," he contends, acknowledging that while he's a different man now and progressive strides have been taken since the late '90s, we're still dealing with the kinds of oppression that parallel those of Nazi Germany illuminated in Cabaret. "It makes this production, if anything, even more relevant by highlighting the dangers of complacency," notes Cumming, a passionate advocate for gay and human rights.
Indeed, passion seems to infuse every part of Cumming's life and career, especially when it comes to the characters to whom he gravitates. On Broadway alone, in addition to the charismatically menacing Emcee, he's starred as underworld kingpin Mack the Knife in The Threepenny Opera (2006), and just last season gave a stunningly virtuoso performance of Macbeth, embodying a mental patient whose madness transforms him into the characters in Shakespeare's "Scottish play." I could feel how much the audience was caught up in it," he says, noting there were parts of the play where he sensed theatregoers fearing for his physical safety.
In film and on television as well, he savors straddling the risk-taking fence and listing to the dark side. His talent at playing the provocateur has been especially front-and-center in his Emmy-nominated role of Eli Gold on CBS' hit drama The Good Wife.

Alan Cumming with Julianna Margulies in a scene from The Good Wife

As Gold, he plays the campaign strategist/spin doctor for politico Peter Florrick (Chris Noth) and gets to flex his "suit" muscle—and play an entire deck of manipulation cards from episode to episode. He is called upon to drop his Scottish brogue for an American accent—Chicago-friendly, as that's where the series is set.
Those of us enchanted by his native Scottish lilt (he was born in Aberfeldy, Perthshire, Scotland on January 27th, 1965), however, can satisfy our lust to hear him roll out his native accent thanks to another ongoing TV job as the host of Masterpiece Theatre on PBS.
And though it seems that between TV, film and the stage Cumming's plate is nicely overflowing, don't kid yourself. He exists in a one-man, non-stop creative universe that never stops expanding. Directing, producing, recordings, photography, books, cabaret shows, magazine articles, audiobooks, talk shows, charity functions, commercials, comedy specials, his own cologne… and there's always something – sometimes literally – waiting in the wings. But the best part is that almost every aspect of Cumming's career and world view has been compiled on what is probably the best personal website ever.
Even if alancumming.com didn't go beyond its splash page—a 40-headshot collage interspersed with staccato marginalia—it would still be an internet A-lister. Once you click on, however, you are privy to a wealth of videos, photos and Cumming commentaries.
And in case you were wondering, he's also a dedicated Tweeter who reported his most recent trans-Atlantic jaunt with: "I am flying to NYC in a camouflage onesie. I hope it works!"— accompanied by a peek-a-boo selfie channeling South Park's Kenny.
Twitter is also a good place to see recent postings of his and husband Grant Shaffer's adored and pampered companions, Leon the Chihuahua and Honey, a collie-shepherd mix who gracefully tolerates being subject to the occasional fashion accessory. Plus, you can bet there will be plenty of current postings about Cabaret, The Good Wife, and whatever other projects he has percolating.
"I like doing everything," Cumming concludes, "but I guess if I had a gun to my head my first choice would be theatre—for the immediate reaction."
---
Previews begin March 21. Visit www.cabaretmusical.com for tickets and more information.