Sometimes, art happens by accident.
Alexei Ratmansky, the gifted Russian choreographer who regularly creates new ballets for American Ballet Theatre as its Artist in Residence, originally intended his Symphony #9 to center on three couples: Simone Messmer and Craig Salstein, Polina Semionova and Marcelo Gomes, and Misty Copeland and Herman Cornejo. But before they could begin work, Copeland sustained an injury, and Herman Cornejo was left partnerless.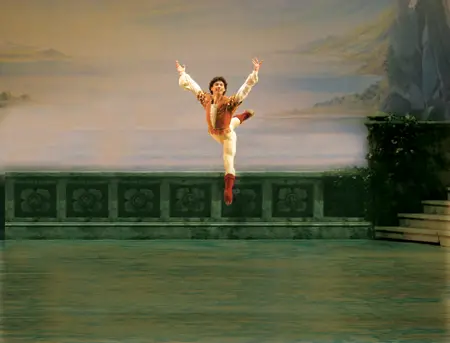 Cornejo in Swan Lake. Photo: Rosalie O'Connor

The Argentina native, whose bravura technique and soulful dancing have made him an ABT audience favorite, was in limbo. "It was a little stressful," he admits in his faint Spanish accent. "Alexei wasn't sure if he wanted to cast another girl or just give me another part. I would be sitting and watching the rehearsal, and maybe in the last five minutes, he would come up with an idea for me."
Not that Cornejo is complaining. "He's so musical, and so precise about the things that he wants," he says of Ratmansky, "that it's very easy to understand. You do it right away." And in the end – the last five or so days of rehearsal – he essentially made Cornejo the star of the work. When Symphony #9 opened last fall, Alastair Macaulay, the New York Times critic, suggested that Cornejo represents "the genius of the place, the force of history."
Ratmansky has said that the work is plotless, but, Cornejo admits, in the studio, they tried "to pull out some kind of little story from something very abstract." He approaches dance from the standpoint of an actor, he says. And it helps him to see his character in the ballet as "the angel who kind of protects the other couples."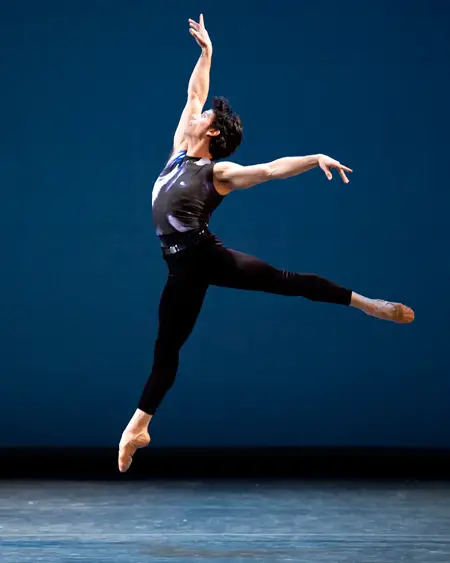 Symphony #9. Photo: Gene Schiavone

But Symphony #9 is just one section of an evening-length trilogy set to music by Dimitri Shostakovich, and Cornejo doesn't know what happens in the other two parts of the ballet, Symphony No. 1 and Chamber Symphony for Strings (Op. 110a). The work, the centerpiece of ABT's eight-week spring season at the Metropolitan Opera House (May 13-July 6), will be seen in full for the first time ever on May 31. (There will be three additional performances on June 1 and 3).
At 32, Cornejo is at the peak of his career, and he is so busy working on the other ballets he's performing this season that he hasn't had time to check out any of the other works-in-progress. Although he's done the role with other companies, he'll be dancing his first ABT Prince Siegfried in Swan Lake, with Royal Ballet star Alina Cojocaru (June 21). He makes his debut in Frederick Ashton's arcadian romance Sylvia with former Bolshoi ballerina Natalia Osipova (June 27). And his ardent Romeo will again be courting Xiomara Reyes' Juliet (June 12). He's also performing in ABT's new production of Le Corsaire, the Pirates-of-the-Mediterranean action-movie of a ballet complete with abductions, gunplay, a pirate ship, and a poisoned flower (June 4, 5, and 8).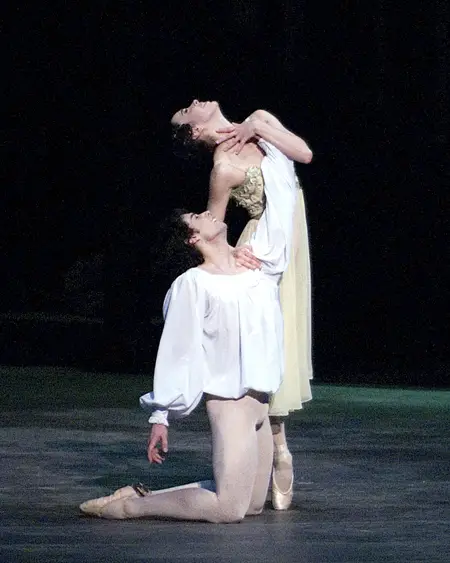 Herman Cornejo with Xiomara Reyes in Romeo & Juliet. Photo: Gene Schiavone

"It's nice to have some changes once in awhile in Corsaire, which is bravura and funny," Cornejo says. "I won't say the same thing if we have to change Romeo and Juliet."
The new Corsaire sets and costumes come from Teatro Colón, in Buenos Aires, where Cornejo began training at the age of 8. "I'm very lucky," he says. "We did Bournonville, we did tango, we did modern. So since I was little, I was trained to do different things. That gave me the ability to create new things with my body, not just the basic classical steps."
He's been dabbling a bit in choreography, and his first piece is a seductive mix of those basic classical steps with slinky tango moves, to the music of tango-master Astor Piazzolla. But right now, his main focus is dancing the works of others, which he does with as much skill and soul as anyone performing today. And that's no accident.

Sylviane Gold has written about the arts for The New York Times, The Wall Street Journal, USA Today and Dance Magazine. Her last piece in Promenade was on the New York City Ballet's American Music Festival.