A few years ago, Kathy Curry and Esther Adler, assistant curators at the Museum of Modern Art, began to organize an exhibition of American works of the first half of the 20th century.
What they found as they researched the museum's collection surprised them both.
The two curators are based in the department of drawing and prints, and "were aware of the wonderful holdings" in those media, says Adler. What surprised them, she says, was "how much else there was," often in storage, across the spectrum of American paintings, photographs, and sculptures of the period.
Now, all these media are represented in American Modern: Hopper to O'Keeffe, a show of more than 150 works dating from about 1915 to around 1950.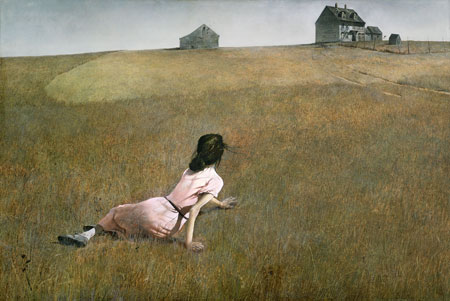 Andrew Wyeth (American, 1917–2009). Christina's World. 1948. ©Andrew Wyeth

The exhibition, which runs through January 26, features more than 50 artists, including Edward Hopper, Charles Burchfield, Charles Sheeler, Stuart Davis, photographer Alfred Stieglitz, Georgia O'Keeffe, Jacob Lawrence, and Andrew Wyeth. (Yes, that means Wyeth's 1948 Christina's World; reproductions of the painting are among the ten most popular in the museum shop.)
This early-to-mid-20th-century American art is not what MoMA — whose opening show in 1929 was called Cézanne, Gauguin, Seurat, Van Gogh — was initially known for. In fact, the museum was frequently accused of having a Eurocentric bias, especially before the Abstract Expressionists burst on the scene.
But Adler and Curry found a more nuanced story. The museum's first show may have been devoted to European artists, but its second, in 1930, was called Paintings by Nineteen Living Americans. MoMA's record in acquiring and exhibiting modern American art, they concluded, has always been stronger than critics charged (a subject that Adler explores in an essay in the accompanying catalogue for American Modern.)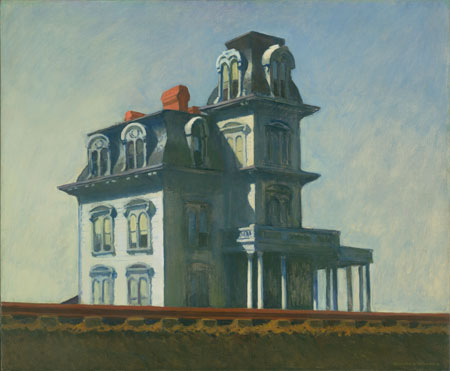 Edward Hopper (American, 1882–1967). House by the Railroad. 1925. © The Museum of Modern Art, New York, Digital Imaging Studio

In fact, the first painting to enter the museum's collection, in 1930, was Hopper's 1925 House by the Railroad, an image of a large Victorian home whose base seems almost cut off by the railway track traversing the bottom of the canvas. (The work is among about a dozen Hopper paintings, drawings, and prints in the show.)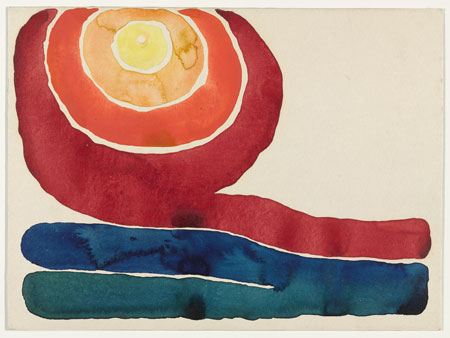 Georgia O'Keeffe (American, 1887–1986). Evening Star, No. III. 1917. © 2012 The Georgia O'Keeffe Foundation / Artists Rights Society (ARS), New York Digital Image © The Museum of Modern Art, New York, Digital Imaging Studio

Not only are MoMA's 20th-century American holdings broad, they often run deep. "You can really trace an artist through different media," says Curry. "For example, with Sheeler, there's photography, prints, drawings, and paintings. We can trace O'Keeffe through paintings and drawings." (Those most familiar with O'Keeffe's later work—some of which is also on hand—may find themselves beguiled by such pieces as the 1916 watercolor-and-pencil Train at Night in the Desert, with its billowing pouf of whitish smoke, and the 1917 watercolor Evening Star, No. III.)
American Modern is arranged thematically, often around subjects of societal change, and the clash between modernization and an idealized, largely rural America: Themes include the growth of the city — especially New York; the development of industry, and the remaining landscape — or, in Adler's words, "what's left behind."
"These themes are in many ways relevant to us now," Adler says, as technology and the landscape continue to change. "Our excitement, but also apprehensiveness, about this is something we share with past generations."
The themes allow for contextual groupings that include both well-known images and what Glenn D. Lowry, the museum's director, describes in the catalogue foreword as "little-seen works" the curators have "pulled" from storage to be looked at with a fresh eye.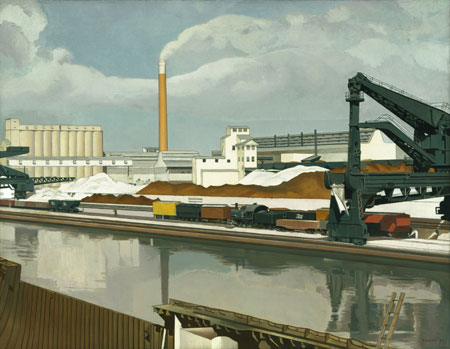 Charles Sheeler (American, 1883–1965). American Landscape. 1930.

For example, the curators said before the show's opening, Sheeler's 1930 American Landscape — a painting of a Ford Motor Company plant — would be viewed near a 1928 lithograph of a looming industrial crane, by Louis Lozowick.
Lozowick "was engaged in very much the same exploration as Sheeler, but his name doesn't have the same resonance," Adler says.
And Stuart Davis's rhythmic, semi-abstracted 1921 oil Lucky Strike would be juxtaposed with a 1929 photograph of a billboard advertisement for Lucky Strike cigarettes by Ralph Steiner. Steiner "was certainly very active and acknowledged during this time, but is not as well known today," says Adler. "It's interesting to see two different artists in two different media responding to commercial advertising."
So, did the curators have any personal favorites among the less-known, or less-displayed, works?
One that spoke to Curry was Woman at the Piano, a witty wood sculpture from the early 1920s by Elie Nadelman. "I, personally, am interested in folk art," Curry says, and the Nadelman piece (he was himself a folk-art collector) "very much has that feel — a naïve quality — which I appreciate."
Adler was especially drawn to George Ault's 1945 New Moon, New York, a somber-hued painting, except for what could be two glowing street lights, and that sliver of a moon. "I find it lovely and haunting," she says. "As someone who has lived in a city her whole life, the fact that it's somewhat dark and threatening appeals to me, in a way. I understand how a dark city street can feel that way."
---
Karin Lipson, a former arts writer and editor for Newsday, is a frequent contributor to The New York Times. Her last article in Promenade was on "The Civil War and American Art" at the Met.
To view the pages in pdf form, click here.