Lubov Azria, brand designer and ambassador, embodies the very name of the company, which is Parisian slang for "good style, good attitude."
European sophistication and American spirit exemplify the companies of the BCBGMAXAZRIAGROUP, which the eponymous Azria—founder, designer, chairman, and chief executive officer—created in 1989, after years of designing for other fashion lines in both Paris and Los Angeles. Lubov Azria, chief creative officer of BCBGMAXAZRIAGROUP and Max's wife, joined the company as a designer in 1991 and was named creative director in 1996.
The collections, which include the esteemed Hervé Léger fashion house (which the group acquired in 1998 and relaunched in 2007 as Hervé Léger by Max Azria), Max Azria, and BCBGMAXAZRIA, are shown at Fashion Week, and, in fact, in the fall of 2008, all three lines were presented on the catwalk, an event that marked the first time an American designer has ever produced three distinct fashion shows during one New York Fashion Week.
"Our women do it all and need chic, easy options that match their fast-paced lifestyles."

Today, the company helms 533 stores worldwide—in countries as far flung as Greece, Bahrain, Japan, Russia, Chile, and Portugal—with 175 on American soil alone; the firm also sells within prestigious department stores, including Bergdorf Goodman here in Gotham, and internationally in such legendary emporia as Harvey Nichols in London, Lane Crawford in Hong Kong, and Takashimaya in Singapore.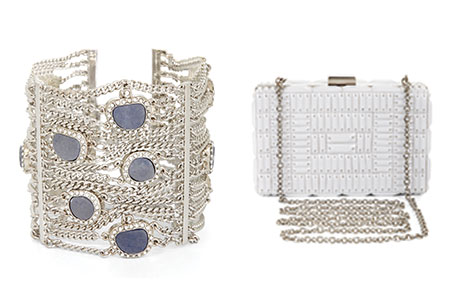 Left: the natural-stone, draped-chain bracelet; right: the Lexi large, beaded, box clutch

Recently, Promenade sat down with Lubov Azria, who was born and raised in the Ukraine and studied fashion in the former Soviet Union, to take a peek behind the brand's doors and to plumb her design philosophy—and to even take a fun look into her handbag.
Q. Have you always wanted to be a designer?
LA: My earliest passions were the arts, particularly the ballet. While living in Russia, I danced for what is similar to the Kirov today. I enjoyed my time as a ballerina, but found myself increasingly drawn to the costumes. I got my first job in the industry with a recommendation from a friend and I worked as a pattern-maker right out of school.
Q. How do you begin to plot out the future season's lines?
LA: Typically, I start with color, but ultimately the overall process is the same; yet the lines/collections are completely different. It begins with a vision each season and that vision translates into colors, prints, silhouettes, and finishes/details that continue the story. I always like texture and natural fibers as well as beautiful saturated tones for color. The biggest challenge I face is letting go and being done with an item.
Q. How many pieces do you design each season? How many seasons each year?
LA: Each season is unique, but we typically have 30-35 looks for fall, resort, and spring collections for each line.
Q. What is the division of labor between you and Max?
LA: Max is the visionary and I focus on the details and the designs of pieces.
Q. Describe your typical customer for BCBG and HL.
LA: Our focus has always been to make women look and feel fabulous while keeping the process of getting dressed effortless. Our women do it all and need chic, easy options that match their fast-paced lifestyles.
Q. Whom would the company love to dress and who is your style icon?
LA: I would love to dress Cate Blanchett. She has classic, sophisticated style and embodies all aspects of a confident woman. [The company's fashions have been seen on countless celebs, including Kate Winslet, Victoria Beckham, Alicia Keys, and Catherine Zeta-Jones.] Jane Birkin is my style icon. She exudes cool nonchalance, and was an effortlessly chic style icon in her 20s 'til now. She's not afraid to live life to the fullest, doing what she loves.

Q. Who are your favorite designers? If you had to wear someone else's clothes, whose clothing would you select?
LA: Rei Kawakubo, [designer, founder, and head of] Commes des Garçons, and Junya Watanabe [former protégé of Kawakubo and currently a designer in his own right under that brand's aegis] are true innovators in the industry. I admire designers like Maison Martin Margiela, who can truly look outside of the box and create an art piece that is ahead of our time.
Q. What are you always going to find in your wardrobe? In your pocketbook? Bedside table?
LA: A chic black dress; my iPad; travel magazines.
Q. Tell us a something—a little about your life outside designing—that we don't know.
LA: I just completed my first marathon in LA and it was an unbelievable experience! The running culture is so cool. I love to relax with my family and a great pleasure is flea-market shopping.
Q. Is there such a thing as a typical day for you?
LA: Every day is so unique. I don't know about you, but I can't even remember what I had for dinner yesterday!
Q. Where do you see the company in 5 years, in 10 years?
LA: Growth! What defines a successful brand to me is a brand that has passion, vision, and innovation, and we want to continue to develop that connection.
---
BCBGMAXAZRIA 461 Fifth Avenue; 168 Fifth Avenue; 20 Main Street, East Hampton; www.bcbg.com
Hervé Léger by MaxAzria 804 Madison Avenue; www.herveleger.com