We're going to get graphic here. No apologies. We've no choice, given the virtual explosion of cashmere in recent years, as mass market brands like Uniqlo are suddenly selling fabric once reserved for luxe labels. Consumers are left wondering…how much should I really pay for cashmere? And…what is it, exactly?
Two words (are the children out of the room?): Goat underwear.
Shocking, but true. (Well, essentially.) The fabric of kings, woven into plush, light-weight but super-warm sweaters, scarves, blankets and more, comes from a goat's soft, downy fur undercoat—a layer of ultra-fine wool fibers beneath a coarser outer coat—that provides insulation. Like long-johns. Cashmere goats are raised in India's Kashmir region, plus China, highly prized Mongolia and other parts of Central Asia, where winters are frigid; summers, hot.
At least three goat undercoats are needed to make a sweater, according to the Cashmere and Camel Hair Manufacturers Institute. Cashmere fibers are about one quarter the thickness of human hair. Higher-priced cashmere can be finer, and long—thus less likely to pill—compared to thicker, shorter cashmere fibers that wind up in cheaper (scratchier) garments.
So top-tier cashmere remains an investment. But it pays dividends in elegance and classic appeal. Keep the moths away, and those dividends can last a lifetime. Here is a list of Manhattan's best sources for the finest cashmere.
---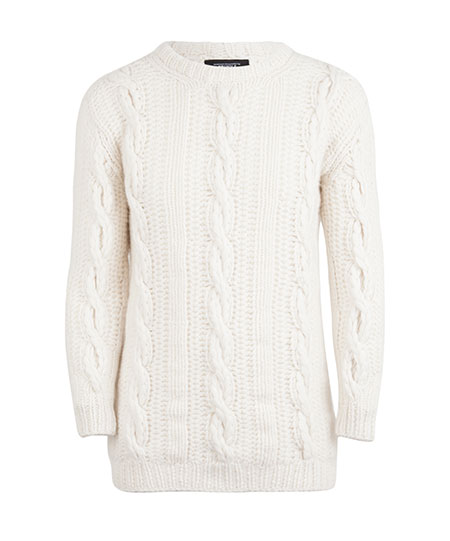 Pringle of Scotland, founded in 1815, is one of the earliest luxury knitwear makers. Their women's wear runs from classic shells and crews to trompe l'oeil twinsets and twist-front knits (around $295 to $1,295), menswear leans to classics like the Knitted Round Neck ($1,695 and 40 hours to hand-knit). Barneys New York, 660 Madison Ave. (at E. 61st St.); 212-826-8900; barneys.com
---
Loro Piana, an Italian family-run business for six generations, is the largest single buyer of fine wools, serving men, women and children. (This women's cable-knit scarf, $2,650.) Bergdorf Goodman, 754 Fifth Ave. (between W. 57th and W. 58th Sts.); 800-558-1855; bergdorfgoodman.com
---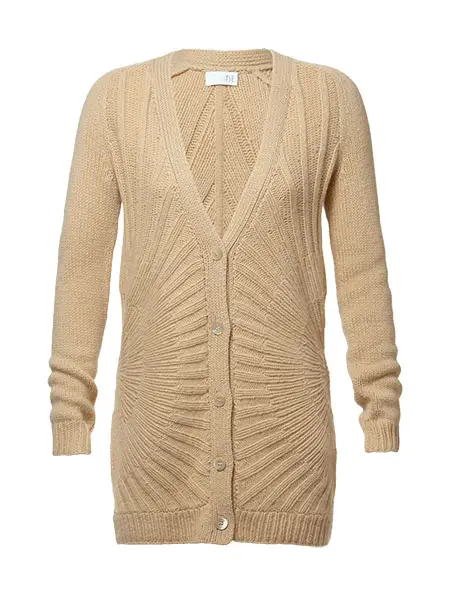 TSE debuted the first collection of new creative director Tina Lutz (formerly of her cult knitwear brand Lutz & Patmos). Expect unusual textures for women—cables, "Starbeam," and "Wave" stitching (or this Cashmere "Circle Movement" Cardigan, $1,395). Guys kick back in a cashmere hoodie ($695) and sweatpants ($635). You're gonna sweat in those? 120 Wooster St. (at Prince St.); 212-925-2520; tsecashmere.com
---
Brunello Cucinelli, named for its Italian founder, offers men's and women's designs that are colorful, sumptuous, Italiano. Prices rise to four figures (this "diamond" cashmere/silk cardigan, $3,195), but funds are generously reinvested—the firm is restoring roads and buildings in the medieval Umbrian hamlet where BC is based. 683 Madison Ave. (near E. 62nd St.); 212-813-0900; 379 Bleecker St. (near Perry St.); 212-627-9202; brunellocucinelli.com
---
Christopher Fischer, raised in England, learned his trade in Scotland, where they take cashmere seriously. While traditional cashmere tends to the conservative (crewnecks; solid, neutral shades), Fischer jazzes up his knitwear for men, women and children with unusual silhouettes and clever prints (his Rock Legends sweaters, $495, bear faces of John Lennon and Jimi Hendrix). 1225 Madison Ave. (near E. 88th St.); 212-831-8880; 80 Wooster St. (near Spring St.); 212-965-9009; christopherfischer.com
---
Sofiacashmere is all about the drama—opulent throws, travel sets, capes. Ohhh, those fur-trimmed, make-an-entrance capes (around $1,595 and up) straight outta "Valley of the Dolls." Bergdorf Goodman, 754 Fifth Ave. (between W. 57th and W. 58th Sts.); 800-558-1855; bergdorfgoodman.com
---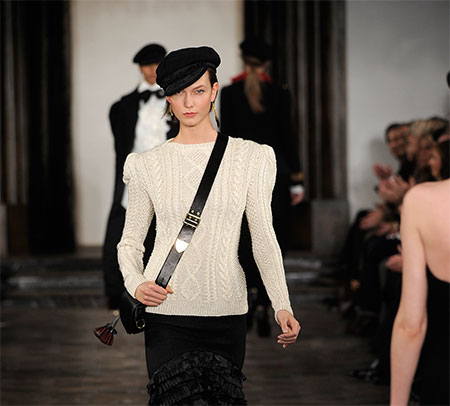 Ralph Lauren delivers the distinctive Purple Label collection for men (with the perfect white fisherman's knit, $1,295) or Collection and Black Label for women (the Hand-Aran-Knit Crewneck, $1,550, takes an artisan 60-plus hours to complete). 867 Madison Ave. (at E. 72nd St.); 212-606-2100 (men's); 888 Madison Ave. (at E. 72nd St.); 212-434-8000 (women's and home); ralphlauren.com
---
Brooks Brothers continues its collaboration with designer Thom Browne, whose Black Fleece collection for men and women turns tradition on its head—here mixing vintage collegiate stripes with a modern shrunken cut in a men's cable-knit turtleneck ($1,200). 346 Madison Ave. (at E. 44th St.); 212-682-8800; for other locations, brooksbrothers.com
---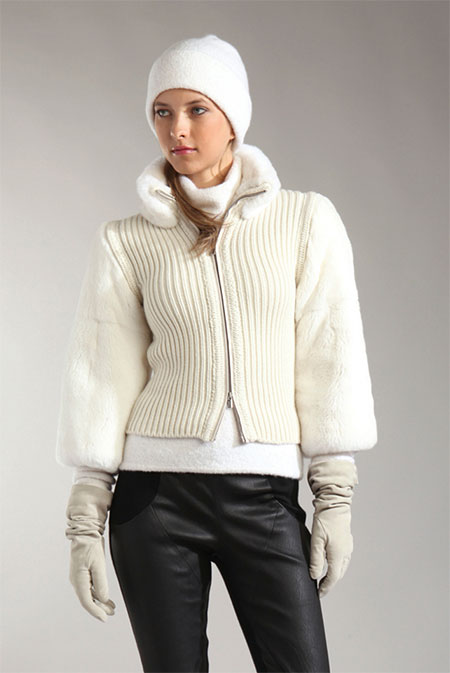 Manrico scores with a sporty vibe for women—body-skimming dresses, reversible vests, plus hats, gloves, more (this leather-trim rex cashmere jacket, $2,600; hat, $240). For guys, it's more basics. They also do special orders (anything you want in cashmere) and e-commerce launches in 2014. 922 Madison Ave. (at E. 73rd St.); 212-794-4200; manrico.com
---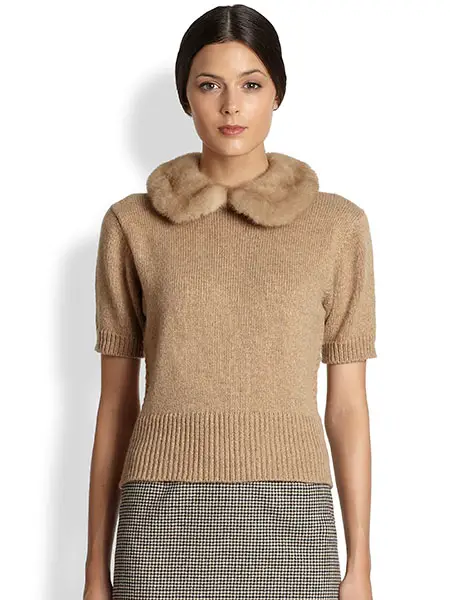 Marc Jacobs provides everyday, wearable staples in luxe fabrics—like his cashmere sweatshirt hoodies for guys, or polo sweaters for women (here, with mink collar, $1,800). Saks Fifth Avenue, 611 Fifth Ave. (at E. 49th St.); 212-753-4000; saks.com