The height of summer is upon us and we're truly (and quite happily) ensconced in the dog days of the season. This is exactly when your plans should consist of hours spent poolside, perhaps lunch in-between, and then right back to lounging.
There's only one item suitable for this type of behavior: the cover-up. It's as essential as your swimsuit, and can be found in an assortment of styles, from favorite tried-and-true designers to new favorites.
Oscar de la Renta's floor-skimming kaftan is a thing of exquisite (and useful) beauty, while Clover Canyon's worldly shorts are comfortable and clever. Now that we've rounded up some of the coolest cover-ups, it's up to you to get to the ocean, pool, or even a grassy patch and embrace summer.
---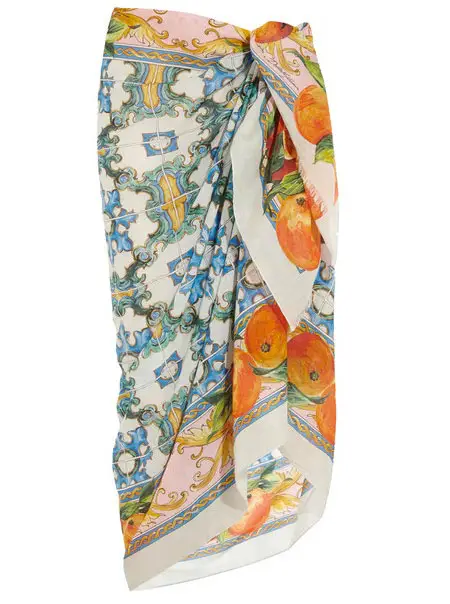 Dolce & Gabbana's cotton-voile wrap can be worn as a sarong, or draped around the bodice as a halterneck dress. The semi-sheer print is inspired by Sicilian ceramic tiles and will look lovely worn over an ocean-blue bikini. $575. 825 Madison Avenue (68th/69th Streets); 212-249-4100; dolcegabbana.com
---
Since its inception, the Tory Burch label has been lauded for its tunics. This summer the company has introduced the Baja, inspired by an archival micro-floral print. Added details, such as braided trim and front pockets make this a must-have. $295. 257 Elizabeth Street (Houston/Prince Streets); 212-334-3000; toryburch.com
---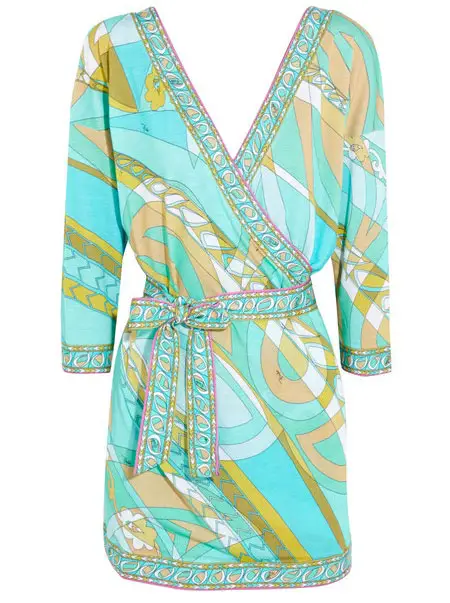 Made from lightweight jersey, this wrap dress by Emilio Pucci is worthy of being a standalone addition to your swim wardrobe. A removable belt helps nip you in at the waist, and we adore the V-neck at the back. $950. 855 Madison Avenue (63rd/64th Streets); 212-752-4777; emiliopucci.com
---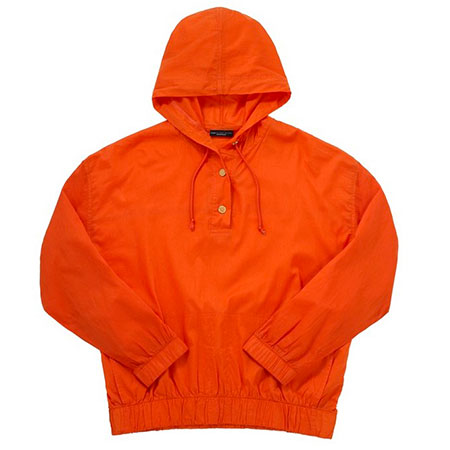 Fit for surfer girls and beach bums alike, this lightweight cotton voile pullover by Marc by Marc Jacobs comes with a cozy hood. The jacket comes in a variety of shades, but we recommend the crisp, bright tomato-red hue. $173. 403 Bleecker Street (11th/Bank Streets); 212-924-0026; www.marcjacobs.com/marc-by-marc-jacobs

---
The white-and-black crocheted cotton on this kaftan by Oscar de la Renta adds to the cover-up's sweeping glamour. Butterfly sleeves and a draping fit make this piece worthy of a Greek goddess. $3,290. 772 Madison Avenue (66th/67th Streets); 212-288-5810; oscardelarenta.com
---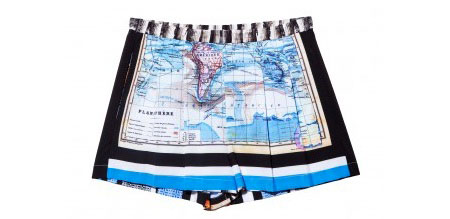 Useful on the boardwalk and also anywhere your summer excursions may take you, these stretch waistband shorts by Clover Canyon are printed with a vibrant world map. Slip these on over a scoop-back one-piece and pool slides, and you can take this look to the rooftop pool at Soho House or the sandy shores of Rockaway Beach. $225. 121 Greenwich Avenue (Jane/Horatio Streets); 212-229-9424; otteny.com
---
NYC-based designer Mara Hoffman is known for her vibrant, '60s-inspired prints. For summer the designer has us lusting after her poncho, featuring swirling kaleidoscopes of color and a tie underneath the bust. $260. 504 Broadway (Spring/Broome Streets); 212-729-5900; bloomingdales.com
---
One would be hard-pressed to find a more chic and more vacation-apropos piece than Eres's Maracaibo halter dress. Silk-crepe georgette pleats add to the fluid flow of the style. $1,225. 660 Madison Avenue (61st/62nd Streets); 212-826-8900; eresparis.com
---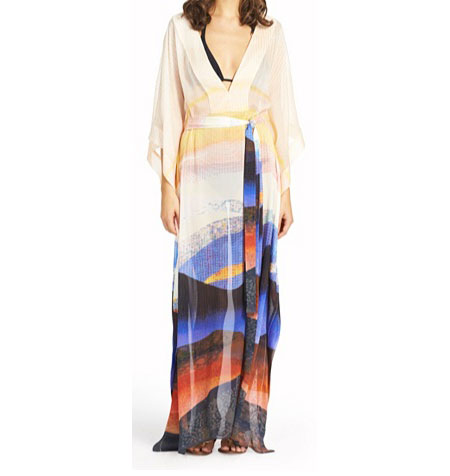 Fashioned from silk chiffon, Diane von Furstenberg's maxi kaftan has layers of rich color along the bottom and loose cream kimono sleeves up top. Wear with a solid suit, as this piece makes enough of a statement on its own. $545. 874 Washington Street (13th/14th Streets); 212-741-6607; dvf.com
---
This crochet knit poncho, part of Missoni's swim line, utilizes woven, rainbow threads that simultaneously cover you up and let your skin breathe. We recommend wearing with one of the label's matching, knit two-pieces. $630. 1009 Madison Avenue (77th/78th Streets); 212-517-9339; missoni.com