Good sheets can be hard to find — and apparently it's been that way for centuries. The Egyptians, we know, took pains to wrap their mummies in fine linen. And the Greeks, it seems, were fond of bed sets with a nice thread count.
Flip through a classic like Homer's Odyssey, for example, and you'll find the saga interrupted — several times — by discussions of bedding. We hear of Helen of Troy's fine purple blankets, and of Penelope weaving — then unweaving — a shroud each day. And when Odysseus returns from the Trojan War disguised as a beggar, he's trying to sneak up on his wife, Penelope, to see if she's been faithful to him (nice, huh?). She proves herself a gracious hostess by offering him a bed "with quilt and rugs and glossy blankets."
Shiny blankets may not exactly be your thing, but there's nothing like the look and feel of fresh sheets, towels, and table linens to liven up a room. Whether your goal is clean and classic or comfy/cozy, Manhattan offers an array of shops serving up the finest linens and textiles. Here are, in our estimation, the 10 best, with chic solutions for your bed, bath, dining table, or that fave old chair that needs reupholstering.
---
DwellStudio is so hip and stylish you'll want to move right in. The historic SoHo loft space is roomy and full of light, fabrics (300-plus, including design pro Robert Allen's line), bedding (love the chinoiserie duvet set), furniture (their new line debuted this fall) and vintage ephemera — all inspired by mid-century chic. 77 Wooster St., 646-442-6000; dwellstudio.com
---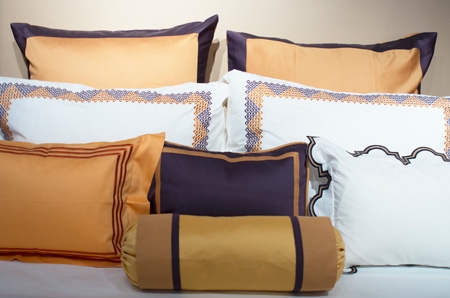 Fine Linens, family-owned for more than 40 years, offers custom monograms and colors, eye-catching table linens (Le Jacquard Français), and bedding at all price points (spend $100 on a sheet set, or $800 per sheet) from top brands like Sferra, Matouk, Peacock Alley, and Pine Cone Hill. 1193 Lexington Ave. (near 81st St.), 212-737-2123; finelinens.com
---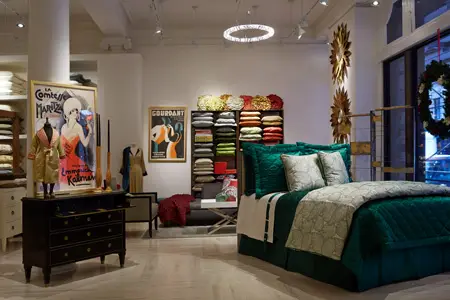 Ann Gish was an interior designer, TV producer, and chef before opening her own shop. Known for her exquisite fabrics, she offers a sleek, contemporary look in silk bedding, chic tableware (Michael Wainwright, Caskata), hip lighting, and furniture. And her throw pillows seem too beautiful to toss. 4 W. 20th St., 212-727-2122; anngish.com
---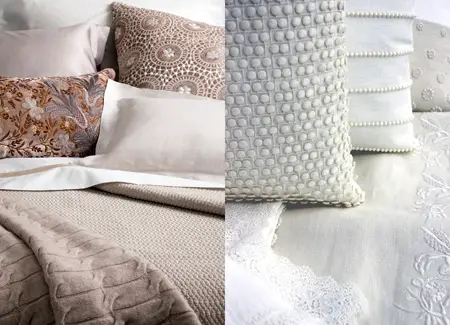 Stella packs a lot (bedding, towels, throws, loungewear, baby linens, and more from lines like SDH, Bella Notte, Yves Delorme) into its petite Tribeca location. Customers range from locals (with kids and dog in tow) looking for durable textiles, to designers needing bespoke and custom work. 184 Duane St., 212-233-9610; stellastore.com
---
Léron is the place to go if you need the family crest hand-embroidered on your yacht bedding — or drapes dyed to match your hazel eyes. For 100-plus years, they've done custom work — such as bed linens for Blair House in Washington, where visiting dignitaries catch their regal ZZZs. D&D Building, 979 Third Ave., Suite 1521; 212-753-6700; leron.com
---
ABC Carpet & Home — just say the name and watch New Yorkers go misty-eyed. This trendy emporium packs 10 floors with pricey, must-have textiles (organic cotton sheets, bamboo towels), rugs, antiques, and lots more. Forget Coney Island — this is a stylish urbanite's amusement park. 888 and 881 Broadway (at E. 19th St.), 212-473-3000; abchome.com
---
Harris Levy, a family business sprung from an Orchard Street pushcart, remains a Lower East Side landmark. The cozy shop, in a renovated historic building, offers a wide variety of price points and brands, including fresh, contemporary lines like Matouk and Sferra. 98 Forsyth St. (between Grand and Broome Sts.), 212-226-3102; harrislevy.com
---
This fall, E. Braun & Co. launches a luxe collection of cashmere throws, blankets, quilts, and robes, adding to their vast selection of hand-appliqued and –embroidered linens. Need special-size towels for the bidet? Sauna? No problem. And, ohhh, those super-soft "Vigorub" towels. (They're exclusive.) 484 Park Ave. (near 59th St.), 212-838-0650; ebraunnewyork.com
---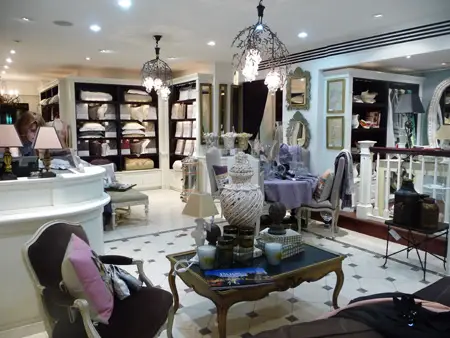 Yves Delorme, nestled in the tony Carlyle Hotel, brings French sophistication to your bed and bath with stunner prints (the coral Kacho-ga mimics a Japanese embossing technique), sumptuous robes, whimsical tea towels, and the Iosis line (pillows with graphic prints — from dots to dachshunds, zigzags to hot-air balloons). 985 Madison Ave. (at 76th St.), 212-439-5701; yvesdelorme.com
---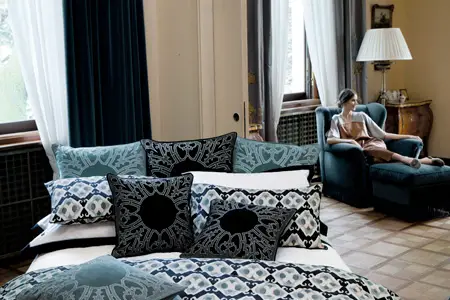 Frette, an Italian firm dating back to the 1860s, is legendary for its fine linens, household accessories, and homewear. Royalty and aristocrats from Lake Como to Lake Tahoe find everything from opulent silk quilts and mink or chinchilla bedspreads, to the classic Essentials line for bed and bath. 799 Madison Ave., 212-988-5221; frette.com