If Karl Lagerfeld can send 65 models down his spring couture runway in flats, then surely it is acceptable for the rest of us to (at least temporarily) swap out our spindly heels and gargantuan wedges for gravity non-defying footwear.
Prepare to practically skip up and down the subway steps, and conquer the city blocks in comfort. A wide range of high-fashion designers and indie favorites have gotten in on the flats game, releasing styles that are as stylish as their taller counterparts.
A gilt and spiked creation from Christian Louboutin is as daring as any of the designer's 6-inch stilettos, and a cartoon-like creation from Charlotte Olympia is positively playful. One glance at our ten favorite flats, and you'll be ready to step out and hit the Manhattan shops in search of your own (wonderfully) lowly footwear.
---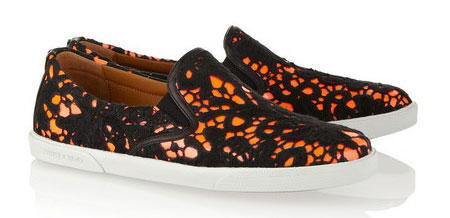 Though Jimmy Choo may be famed for their heels, the British brand proves they know their way around a flat, too. Here, the neon coral patent leather base gets the feminine touch with a lace overlay. $650. 407 Bleecker Street (West 11th/Bank Streets); 212-366-1305; jimmychoo.com
---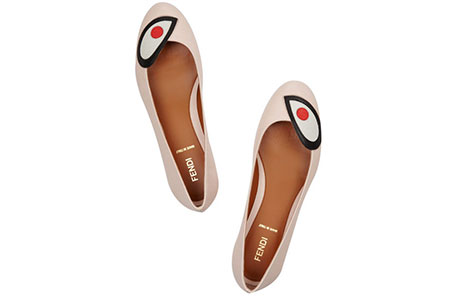 It was hard not to instantly fall in love with Fendi's incredibly cute "monster" face that has taken over their accessories for the past couple seasons. Brilliantly, for spring they affixed the creature's adorable eyes onto baby-pink leather flats, simultaneously modern and chic. $590. 677 Fifth Avenue (53rd/54th Streets); 212-759-4646; fendi.com
---
Stockholm-based Acne Studios offers up shine with an infusion of menswear-inspired style on the label's Adriana shoe. The tongue-in-cheek, silver-plated face logo is removable, and the upper is completely crafted in Italy of supple leather. $420. 33 Greene Street (Grand/Broome Streets); 212-334-8345; acnestudios.com
---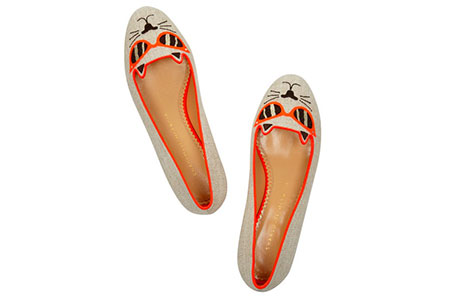 Charlotte Dellal, founder of London-based label Charlotte Olympia, has kept us enchanted with her whimsical (and beyond wearable) designs. Her Sunkissed Kitty embroidered canvas slippers are no exception, and feature a pop of neon orange leather that makes these ready for the warmer months. $695. 22 East 65th Street (Madison/Fifth Avenues); 212-744-1842; charlotteolympia.com
---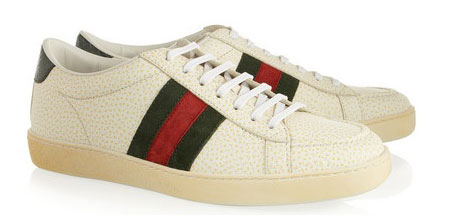 Sometimes a tried and true classic really is best, especially when it's made by Italian powerhouse Gucci. The brand's distressed leather sneakers feature their signature trim, and the off-white hue gives the footwear some vintage charm. $485. 725 Fifth Avenue (56th/57th Streets); 212-826-2600; gucci.com
---
LA-based and Paris-born and -bred, Hedi Slimane continues to give hipper-than-thou girls exactly what they want season to season. His leopard-print sneakers from Saint Laurent will take you from the office (dress it up with a blazer) to an evening stroll in Central Park. $395. 80 Greene Street (Broome/Spring Streets); 212-431-3240; ysl.com
---
Italian-made and Marc Jacobs-designed, these tweed sneakers (in a blue hue reminiscent of the sea and sky) will look swell with everything from lightweight spring frocks to a white button-up tucked into trousers. $495. 163 Mercer Street (Prince/Houston Streets); 212-343-1490; marcjacobs.com
---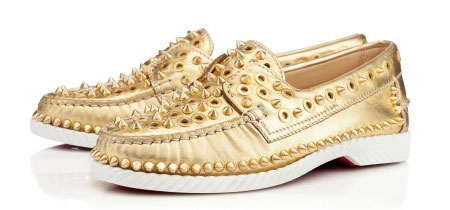 No matter the style, Christian Louboutin ensures any shoe bearing his name gets the royal treatment. Case in point: the Yacht slip-on with thick, rubber soles and soft leather. $995. 59 Horatio Street (Greenwich Street/Ninth Avenue); 212-255-1910; christianlouboutin.com
---
For black-tie-worthy footwear, look no further than Alexander Wang's Darla Oxford. The contrasting black-and-white leather with standout stitching will look dashing with an LBD and allow you to comfortably dance all night. $635. 103 Grand Street (Canal/Grand Streets); 212-977-9683; alexanderwang.com
---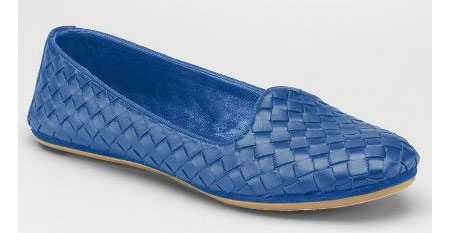 Bottega Veneta's Électrique Intrecciato flats speak for themselves: luxurious woven nappa leather and a discreet (yet sturdy) leather sole. We adore the pair in this eye-popping cerulean shade. $640. 699 Fifth Avenue (54th/55th Streets); 212-371-5511; bottegaveneta.com