The majority of men acknowledge that there's nothing sexier than a woman walking on stiletto high heels. But the charm of the resulted elongated silhouette and somehow straighter posture can go down the hill the moment a high-heel-wearer bends her knees too much, and shows how much pain she is in while taking that next step.
That's the reason why low and mid heels have shaken up the footwear market in the past couple of seasons. Kitten heels, low heels and the new block heels add to the height and posture that women praise so dearly, as much as they let us walk all day, pain-free. Spare youself the annoying change of shoes from the office to lunch dates and night events.
The best thing about the mid-heel pump is that their sky-high cousins have nothing on them in terms of fun and creativity. In fact, when it comes to patterns, printed fabrics, woven leathers and rhinestone embellishments, the cool lower-heeled shoes take the lead this summer season.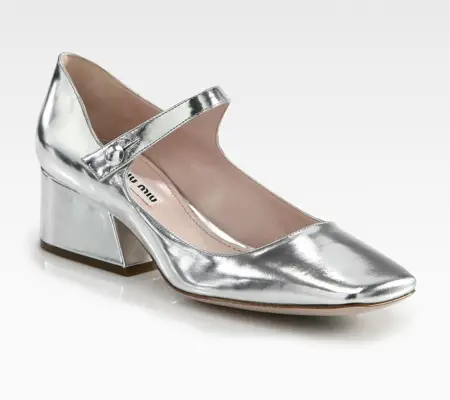 These Miu Miu Mary Jane pumps have the perfect amount of fantasy and Cinderella-ish elements, at the same time that the square point and block heel create an avant-garde state of elegance. $590. Saks Fifth Avenue, 611 Fifth Avenue; 212-753-4000; saksfifthavenue.com
---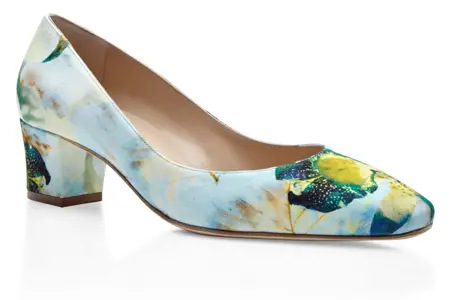 Oscar de la Renta loves women, and always manages to deliver beautiful, romantic shoes. These flower-printed pumps aren't the exception. Try them with printed skirts or jeans for a weekend flower-market outing. $575. 772 Madison Avenue; 212-729-0984; modaoperandi.com
---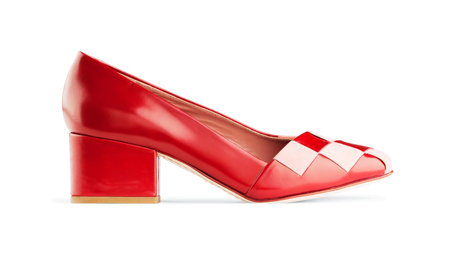 Pink and red make a great bold color couple when it comes to adding a little bit of fun to an office or a casual look. This woven leather pattern and the block heel will take you back to the '60s era of op art and mod the second you put them on. $440. Acne, 33 Greene Street; 212-334-8345; acnestudios.com
---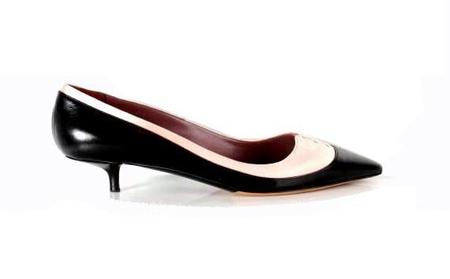 Stylist-turned shoe designer Tabitha Simmons knows how to reinvent a ladylike kitten-heel shoe season after season. This Etana heel with hook details fits any suit ensemble, as much as it complements an A-line mini dress look from a modern Edie Sedgwick. $448. Barneys New York, 660 Madison Avenue; 212-826-8900; tabithasimmons.com
---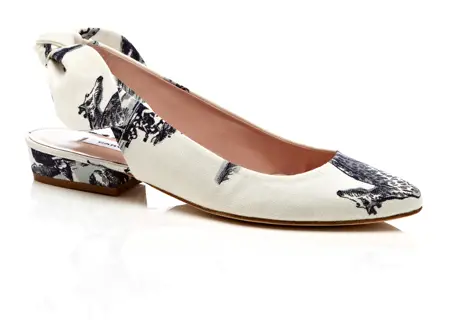 Carven's creative director Guillaume Henry is an expert in delivering collections with the right amount of romanticism, femininity and quirkiness. The bow-on-the-back shoes are best sellers, especially these safari-printed version. Moda Operandi; 212-729-0984; modaoperandi.com
---
Studs are also intended for classic ladies. These Gucci nude patent leather pumps with studded cork heels bring any spring ensemble to the next level of chic! $520. Saks Fifth Avenue, 611 Fifth Avenue; 212-753-4000; saksfifthavenue.com
---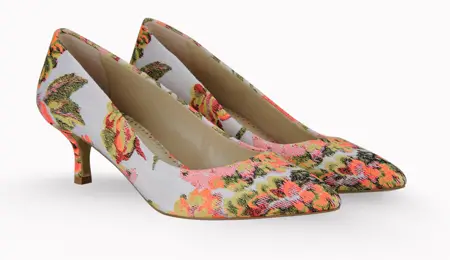 Don't be constricted by the fashion taboo that kitten heels are to be worn by older women. Take a look again! These Stella McCartney floral jacquard shoes are certainly on the shopping list of many fashion editors. $510. 112 Greene Street; 212-255-1556; stellamccartney.com
---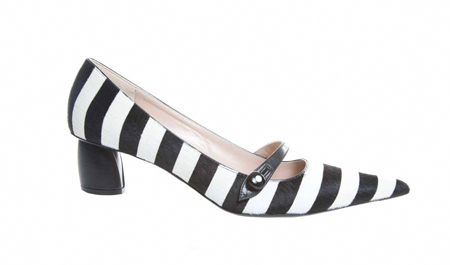 Marc Jacobs knows how to make of something odd and singular a trend. The visionary designer's shoes in stripped pony hair have a stylized elongated point that gives the classic Mary Jane a modern turnabout. $945. 385 Bleecker Street; 212-924-6126; marcjacobs.com
---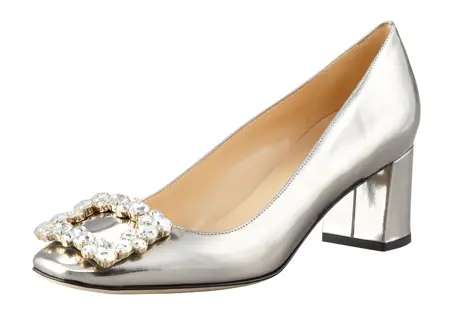 Kate Spade's low heel pewter pumps have strong 18th-century Dandy references -- rectangular buckle and low sturdy heels -- but the metallic leather and rhinestone detailing give them an upgraded luxe touch. $328. Bergdorf Goodman, 754 Fifth Avenue (57th/58th Streets); 212-753-7300, 800-558-1855; bergdorfgoodman.com
---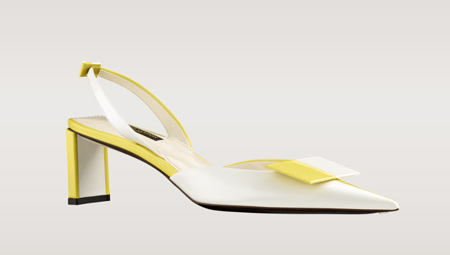 Leave it to Louis Vuitton and Marc Jacobs to make the strongest mod-graphic statement in fashion. They went straight to the point with flat rectangular heels, an oversized geometric bow, and a two-tone calf leather pattern for their spring slingback pumps. $845. 1 E. 57th Street; 212-758-8877; louisvuitton.com