There was a time when orange was anything but hip. Aside from a burst of popularity in the 1970s, it was usually relegated to more downmarket pursuits—the color of Howard Johnson's. Circus peanuts. Carrot Top. But then, in 1989, Geoffrey Beene declared orange "the new red" and, well, it took a few years but he seems to be right.
Whether it's the new red or "the new black"—as fans of a certain critically acclaimed Netflix series will attest—what's undeniable is that orange has finally come of age. In the last two decades, it's experienced a rebirth, as fashion designers have turned out an array of sophisticated sportswear and accessories, recognizing the surprising way a pop of orange pairs nicely with almost every shade: gray, brown, olive, khaki, denim blues, even reds and pinks. (Black is the tricky one—that combo still looks Halloweeny, no matter who's wearing it.)
The color is especially strong in collections this summer, from sun-quenched tangerines and corals to copper and rust. Go ahead—let the sun shine in.
---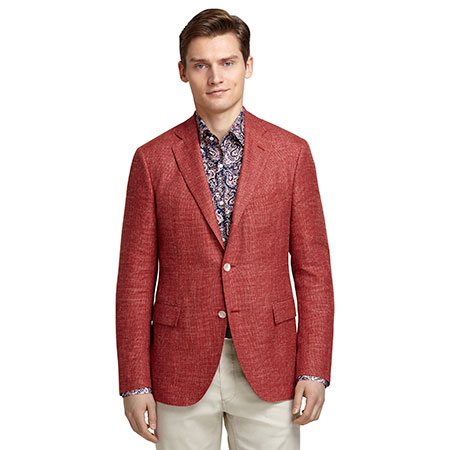 Brooks Brothers offers men a more muted take on orange, as in their rust, wool-blend Regent Fit windowpane sport coat ($798), or this rust three-button hopsack blazer, in a summery blend of wool, silk, linen and cashmere, $1,098. 346 Madison Avenue (at E. 44th Street) and other Manhattan locations (see website); 212-682-8800; 48-50 Main Street, Southampton; 631-287-3936; brooksbrothers.com
---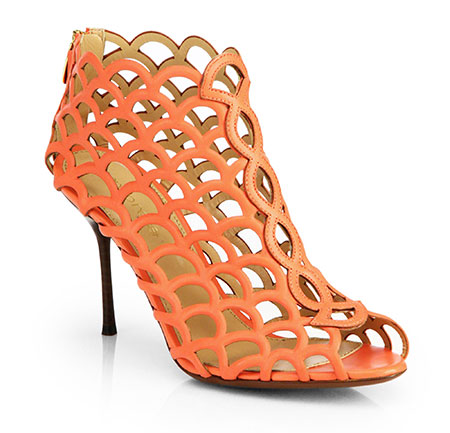 Sergio Rossi, a master of the seductive sole, heats things up with the delicate—yet devastatingly sexy—Mermaid Cutout leather ankle boots, in a scalloped design and four-inch stacked heel, $1,045. Saks Fifth Avenue, 611 Fifth Avenue (at E. 49th Street); 212-753-4000; saks.com
---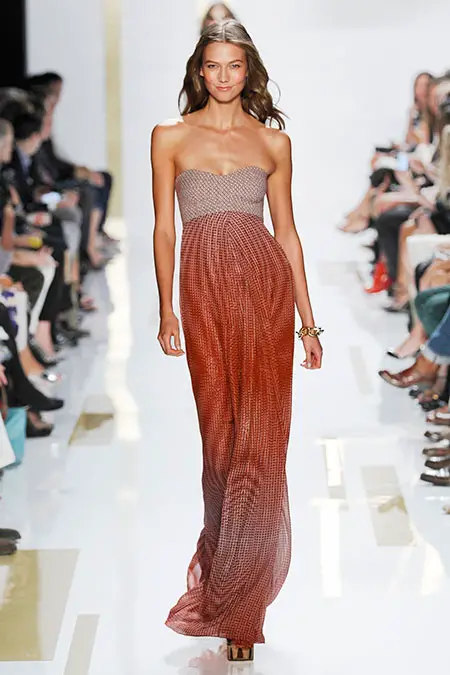 Diane von Furstenberg warms up your nights with her Adrianna printed chiffon maxi dress (worn here in DvF's spring runway show by sexy supermodel Karlie Kloss), in a sunsetty shade she calls "Lantern Dot Russet," $798. 874 Washington Street (at W. 14th Street); 646-486-4800; 135 Wooster Street (between Houston and Prince Streets); 212-542-5754; dvf.com
---
Sama Eyewear seduces with their chic Karolina sunglasses, from the latest Lace collection, with subtle topaz temples and 24 kt. gold—yes, real gold—lenses, $890. Robert Marc, 782 Madison Avenue (at E. 66th Street) and other Manhattan locations (see website); 212-737-6000; robertmarc.com
---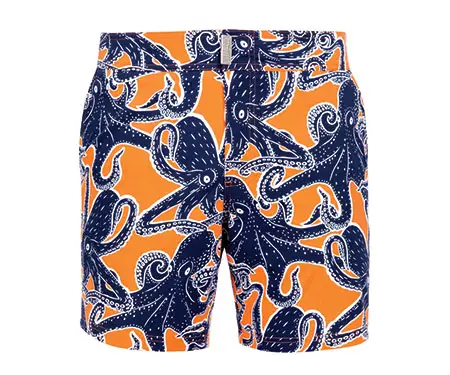 Vilebrequin, the exclusive men's swimwear brand from Saint-Tropez, is named for the French word for "crankshaft," offering sophisticated styling in high-octane prints for both men (here, the Stretch Octopus trunks, in comfy polyamide/Lycra, with magnetic closure back pocket, $280). 1007 Madison Avenue (77th/78th Streets); 212-650-0353; 436 W. Broadway (at Prince Street); 212-431-0673; 42 Jobs Lane, Southampton; 631-204-1530; us.vilebrequin.com
---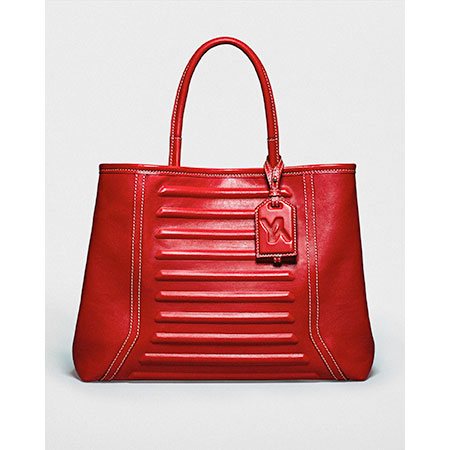 Yliana Yepez —born in Paris, raised in Caracas and Beijing—can't help but inject international flair into every piece of her on-the-rise luxury accessories brand, like this injected leather Becca Coral Satchel, $1,495. Bloomingdale's, 59th Street and Lexington Avenue; 212-705-2000; 504 Broadway; 212-729-5900; bloomingdales.com Jimmy's Westhampton, 167 Main Street, Westhampton Beach; 631-288-7000; jimmysnewyork.com
---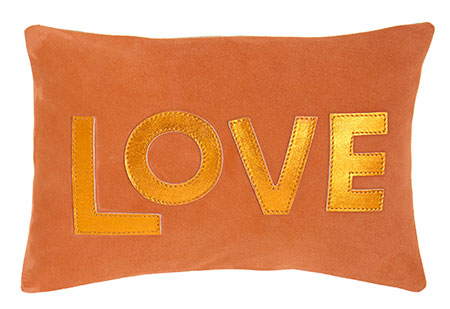 Calypso St. Barth keeps the tropics alive with luxe swimwear, beach wraps and accessories, but it's their Love Suede Pillow (from Calypso Home's exclusive luxury textile creators Maison de Vacance) that says it all (in mandarin orange letters), $175. Calypso SoHo Home Store, 407 Broome Street (at Lafayette Street) and other Manhattan locations (see website); 212-925-6200 Calypso East Hampton, 21 Newtown Lane, and other locations in Southampton, Weshampton Beach, Sag Harbor and Montauk (see website); 631-329-0033; calypsostbarth.com
---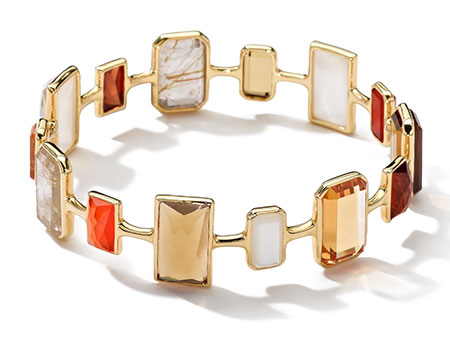 Ippolita founder and jewelry designer Ippolita Rostagno works in the vibrant shades of her Italian homeland, from splashy Mediterranean blues to the rich Tuscan sunshine of this 18 kt. gold Rock Candy Gelato medium rectangular 14-stone bangle, $7,500. 796 Madison Avenue (at E. 67th Street); 646-664-4240; ippolita.com
---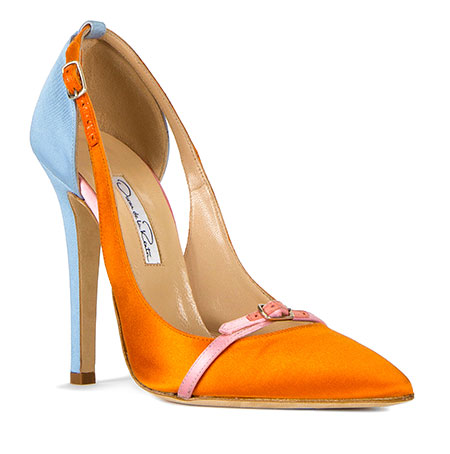 Oscar de la Renta knows a thing or two about tropical shades—the Dominican Republic native is an unabashed master at mixing colors and patterns, as in this Monse satin pump, which pairs nicely with evening wear or distressed denim, $775. 772 Madison Avenue (at E. 66th Street); 212-288-5810; oscardelarenta.com
---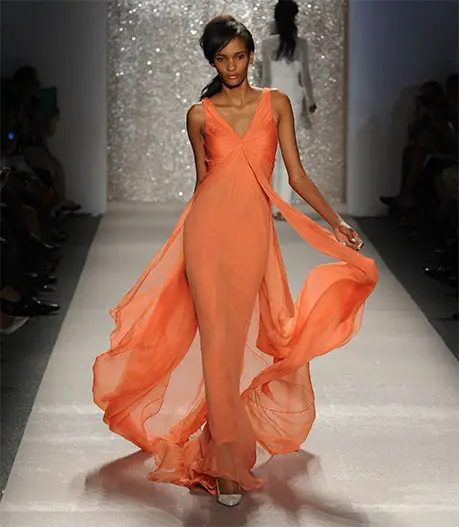 Pamella Roland looks to the sun for spring and summer, with smart short day dresses color-blocked in orange, pink and gray, or this orange crinkle silk chiffon gown with full draped back—and plenty of drama, $2,310. Bergdorf Goodman, 754 Fifth Avenue (W. 57th/W. 58th Streets); 800-558-1855; bergdorfgoodman.com