Before Christian Dior's A-line skirt bowed in 1955, there was the couturier's H-line style that debuted the year before. The skirt's public reception was chilly at best, and earned the nickname "flat look," which mocked its derrière-flattening effect.
However, the surge of women taking office jobs in the mid-twentieth century made the style a bona fide hit, and the pencil skirt — as we now know it — earned a permanent place in working women's closets.
Sequined, beaded, and printed, the pencil skirt can be found in a vast variety of incarnations. Simply pick your favorite, tuck in a tailored top, and rest assured that your outfit would be Monsieur Dior-approved.
---
DKNY's pony-hair-printed Irina skirt has us seeing spots (in the best possible way). The solid black base provides a sophisticated backdrop to the pops of pink. $895. 655 Madison Avenue; 212-223-3569; dkny.com
---
Zig-zag tweed meets printed metallic leather on Tory Burch's slimming Vanessa skirt. It's the perfect transitional piece to wear both to the office, and to post-work drinks in the evening. $450. 38 Little West 12th Street; 212-929-0125; toryburch.com
---
One of our favorite English designers, Henry Holland, offers his take on the pencil skirt in a cozy, bright purple wool. The front orange zip gives the piece an additional punk edge. $305. Opening Ceremony, 35 Howard Street; 212-219-2688; openingceremony.us
---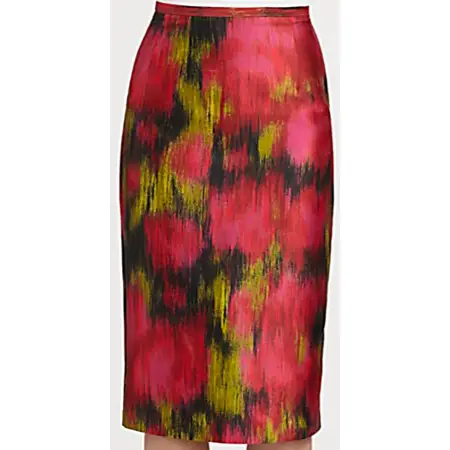 Dreary NYC mornings often have us reaching for the most colorful pieces in our closet to offset winter doldrums. This slim-fitting fuchsia-and-green skirt by Michael Kors does just the trick, and is made in an ultra-soft wool-silk blend. $995. 133 Fifth Avenue; 212-228-2043; michaelkors.com
---
Leave it to Italian design maestro Roberto Cavalli to successfully mix orange tones with a baroque motif, all on stretch-crepe. Tuck in a trim, solid blouse and prepare to turn heads. $635. 711 Madison Avenue; 212-755-7722; robertocavalli.com
---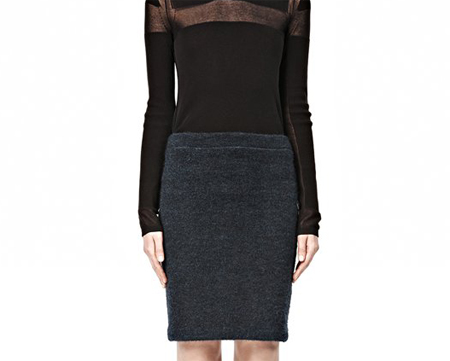 Alexander Wang's navy pencil skirt appears deceptively simple, but in reality it is an exercise in brilliant construction. Brushed mohair is layered on a stretchy neoprene base, ensuring a perfect fit. $545. 103 Grand Street; 212-977-9683; alexanderwang.com
---
Flattering vertical stripes get a shiny makeover in this pencil skirt from Marc Jacobs' fall collection. Wear it with a simple white Oxford by day, or pair it with a black cami by night. $2,400. 163 Mercer Street; 212-343-1490; marcjacobs.com
---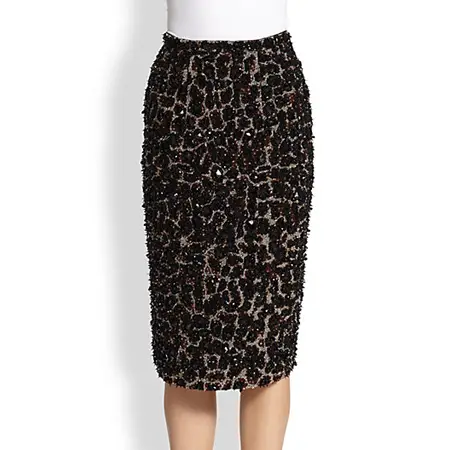 Burberry Prorsum's bead-encrusted pencil skirt is daring in front (the beads are sewn in a leopard motif), and features a demure stretch wool back. $3,595. Saks Fifth Avenue, 611 Fifth Avenue; 212-940-2818; saksfifthavenue.com
---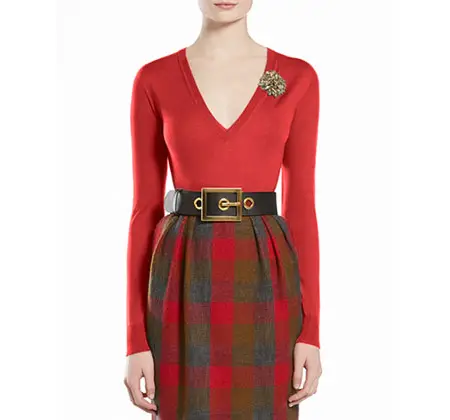 Crafted from luxurious Shetland wool, Gucci's autumnal hued skirt will simultaneously keep you warm and stylish this holiday season. $895. Bergdorf Goodman, 754 Fifth Avenue; 212-753-7300; bergdorfgoodman.com
---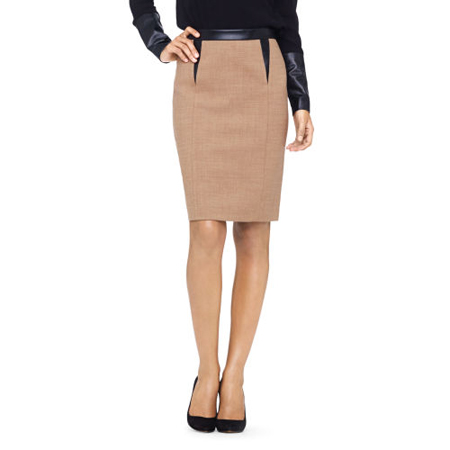 Chic camel-colored wool gets a fresh update with black leather accents on Club Monaco's Claudette skirt. Consider this piece a keeper; it will work just as well in winter as in spring. $150. 520 Broadway; 212-941-1511; clubmonaco.com