Considering July's birthstone is the ruby, we think this is the perfect time to embrace our favorite fiery gemstone.
While rubies can range in hue from pink to deep red, it is the deep, blood red ones that are most exclusive — and thereby most coveted. The gemstone's red shade comes from the mineral chromium, and the stone is most frequently found deep within Burma.
While rubies can be riotously expensive, they are undoubtedly timeless. We've rounded up a list of our top ten picks from antiques to lust after to newbies for dreaming about. Now's the time to find a ruby of your very own.
---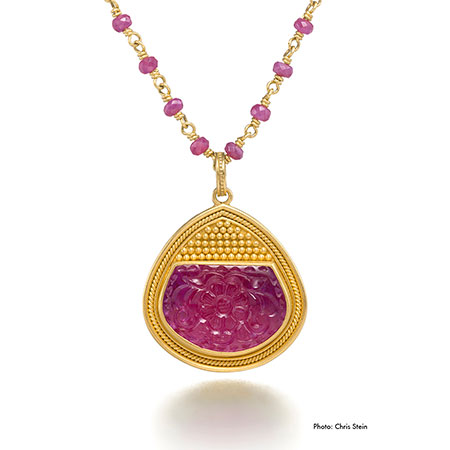 There's a lot to love about this knockout of a necklace from Reinstein/Ross. A 20k peach gold pendant — with a hand-carved ruby, no less — dangles effortlessly from the jeweler's Ruby Isabella necklace chain. $11,150, as shown. 30 Gansevoort Street (Greenwich/Hudson Streets); 212-226-4513; reinsteinross.com
---
There's something darling and simultaneously dazzling about Aaron Basha's Teddy Bear pendant. The pendant's ears and tummy are embellished with rubies, and will look striking when worn on a classic gold chain. $8,500. 685 Madison Avenue (61st/62nd Streets); 212-644-1970; aaronbasha.com
---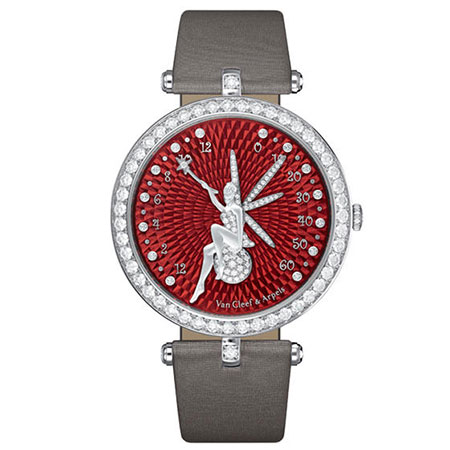 Long an iconic piece in the Van Cleef & Arpels collection, the Féerie Rouge watch gets a dramatic makeover when crafted with a translucent red ruby enamel base, white gold diamond fairy, and gold guilloche dial. Price upon request. 744 Fifth Avenue (56th/57th Streets); 212-896-9284; vancleefarpels.com
---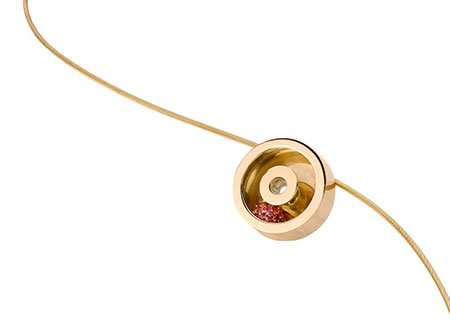 Yael Sonia spends her time hopping between a studio in Brazil and a divine showroom in Manhattan, and infuses her designs with serious international flair. We love her Spinning pendant decked out with a swirling ruby, set within a frame of 18k gold. $6,200. By appointment at 270 Lafayette Street (Prince/Houston Streets); 212-472-6488; yaelsonia.com
---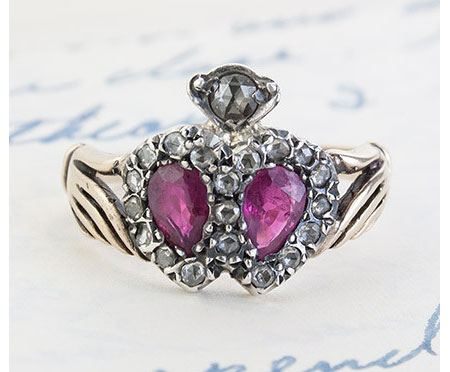 Erica Weiner's Nolita outpost is one of our go-to spots to browse for antique treasures. This Georgian stunner is a betrothal ring from the 1800s featuring pear-shaped rubies and 19 rose-cut diamonds. $3,400. 173 Elizabeth Street (Spring/Kenmare Streets); 212-334-6383; ericaweiner.com
---
Two rings are better than one, at least in the hands of London jewelry Solange Azagury-Partridge. Here, she splits a heart across two bands, which can be worn together or separately. Each side is outfitted in oval rubies set amidst 18k yellow gold. Price upon request. 809 Madison Avenue (67th/68th Streets); 212-879-9100; solange.co.uk
---
On this midcentury cocktail ring from Doyle & Doyle, six white sapphires, six oval rubies, and diamond accents surround a gorgeous star ruby. Pair this with pretty much anything and we guarantee you'll feel instantly that much more glam. $5,850. 412 West 13th Street (Ninth Avenue/Washington Street); 212-677-9991; doyledoyle.com
---
Prepare to spruce up a black blazer or shawl when you adorn it with the Spray brooch by Cellini. This brilliantly blinding piece features over 6.5 carats worth of diamonds and nearly 9 carats of rubies. $75,000. 301 Park Avenue (49th/50th Streets); 212-751-9824; cellinijewelers.com
---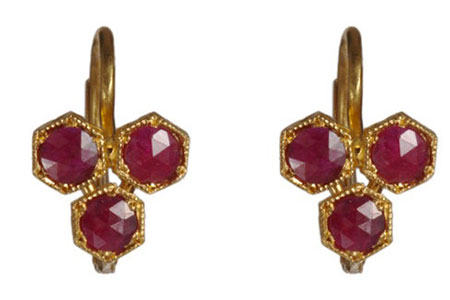 Cali-based jewelry designer Cathy Waterman knows how to concoct undeniably showstopping earrings. Case in point: this 22k gold pair that features a triplet of rubies gracing each ear. $1,760. 660 Madison Avenue (61st/62nd Streets); 212-826-8900; barneys.com
---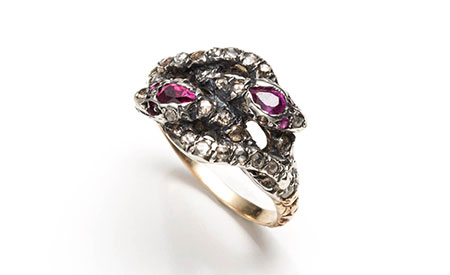 From Alexis Bittar's treasure trove, this stunning 1860s antique ring is a picture perfect example of the Victorian era's obsession with serpents. The intertwining snakes have rubies atop their heads, and the piece is thought to have been an anniversary gift — it symbolizes eternal union, after all. $2,900. 410 Columbus Avenue (79th/80th Streets); 646-590-4142; alexisbittar.com
---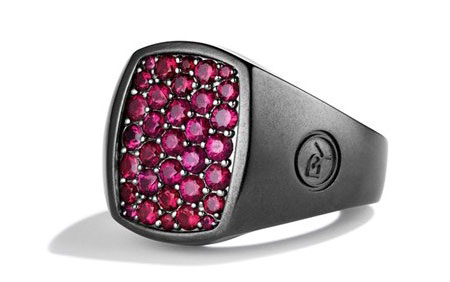 Let your pinky finger get some adornment with David Yurman's titanium and silver ring covered with oodles of rubies. It will look splendid on its own, or paired with an equally sparkly bracelet. $2,200. 712 Madison Avenue (63rd/64th Streets); 212-752-4255; davidyurman.com