The imminent promise of April showers has New York City yearning for something bright, sparkly, and ideally of the accessory/jewelry variety.
A colorful pop of watery-blue topaz looks splendid on a cocktail ring by Aaron Basha, while dangling diamond-and-opal earrings by Irene Neuwirth simply scream spring.
Some of our other favorite designers have added flecks of seasonal-apropos green to styles ranging from brooches to mod earrings, and we adore them all. While the next month may mean countless days of toting around an umbrella, we're confident it will be a little less dreary wearing some new bijoux.
---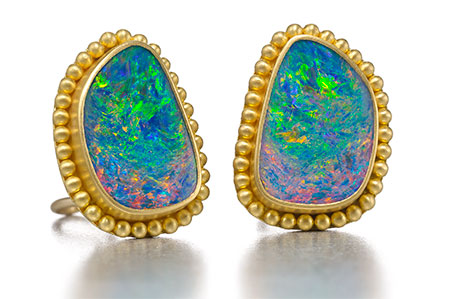 For nearly 30 years, Reinstein/Ross has been keeping the jewelry-obsessed of Manhattan outfitted in their handmade statement pieces. This season, we can think of nothing more apropos (and delightfully shimmery) than the company's Classic Australian Opal earrings. Each unique pair features a range of iridescent hues that will suitably match anything and everything in your spring wardrobe. $7,450. 29 East 73rd Street (Madison/Fifth Avenues); 212-772-1901; reinsteinross.com
---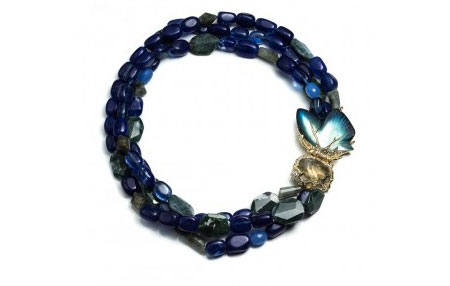 For a decidedly sophisticated take on the butterfly charm, look no further than the Jardin Mystère necklace by Alexis Bittar. Here, stunning quartz pebbles are strung together with details of moss agate and hand-painted Lucite. $795. 353 Bleecker Street (West 10th/Charles Streets); 212-727-1093; alexisbittar.com
---
The Mosaic earrings from Florence-born brand Ippolita were inspired by Italian cathedral windows, and it's easy to see why as each gemstone is perfectly positioned to catch the light — be it from the sun or moon. $4,250. 796 Madison Avenue (67th/68th Streets); 646-664-4240; ippolita.com
---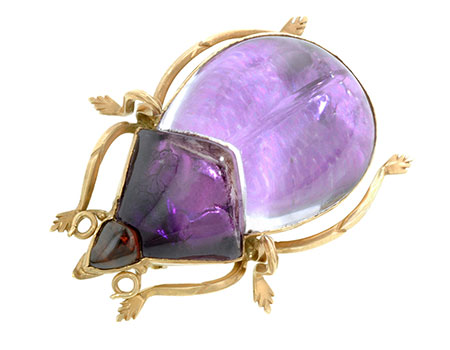 Consider us totally transfixed by the Victorian-era Crystal Beetle brooch from fab antique jewel purveyor Doyle & Doyle. It reminds us of something Ms. Schiaparelli herself would design — after all, she was notorious for her whimsical, bug-festooned cocktail jewelry. $2,500. 412 West 13th Street (9th Avenue); 212-677-9991; doyledoyle.com
---
Forget standard bouquets; this spring, we're ogling flowers of the diamond variety, namely those on Cellini's Spiral brooch. The piece gloriously weighs an approximate 19.85 carats. We may just refuse to ever take this stunner off. $210,000. 509 Madison Avenue (52nd/53rd Streets); 212-888-0505; cellinijewelers.com
---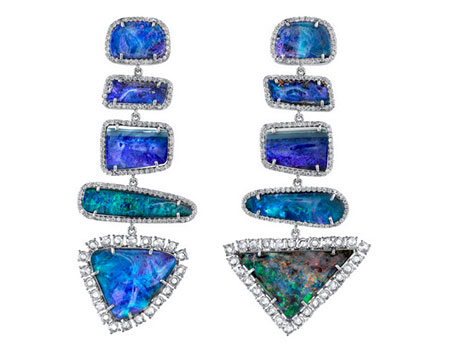 Venice, California-based designer Irene Neuwirth is constantly surrounded by inky-blue waters and clear skies, and (lucky for us) these details got implemented into her one-of-a-kind Diamond Collection. One look at her Mixed Shape earrings (a dazzling marriage of opals, diamonds, and white gold) has us contemplating moving out West ourselves. $50,090. 660 Madison Avenue (60th/61st Streets); 212-833-2200; barneys.com
---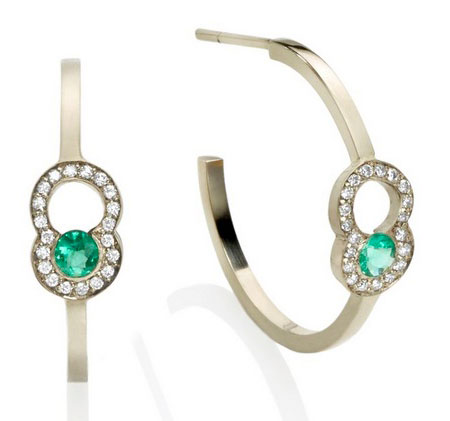 For a dainty way to show off some spring greenery, opt for Yael Sonia's Rock DNA hoop earrings. A glimmering emerald gets a border of diamonds on this utterly feminine style. $4,750. By appointment: 270 Lafayette Street, Suite 810 (Prince/Houston Streets); 212-472-6488; yaelsonia.com.br
---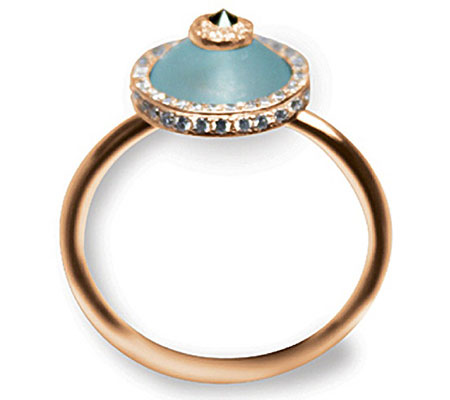 Aaron Basha has been a mainstay on Madison since the '50s, and the jeweler's use of charms and rich materials has us coming back again and again. We are currently coveting the Evil Eye ring, a glam union of 18k gold and a diamond-encrusted border circling the ocean-blue topaz stone. $3,800. 685 Madison Avenue (61st/62nd Streets); 212-644-1970; aaronbasha.com
---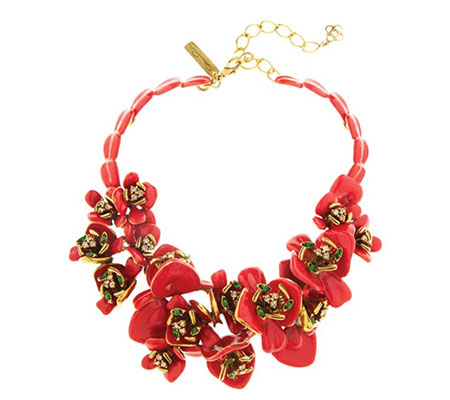 Oscar de la Renta is as good in the garden as he is in the atelier (just take one look at the much-photographed landscape outside his charming Connecticut home). His two worlds collide on this painted enamel necklace, a show-stopping number rich in red resin flowers and Swarovski crystals. $995. 772 Madison Avenue (66th/67th Streets); 212-280-5810; oscardelarenta.com
---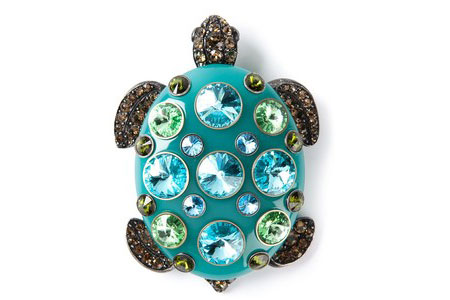 Wearing this charming tortoise brooch from Lanvin has us smiling come rain or come shine. This positively begs to be affixed to a simple cotton frock or even a floaty, silk scarf. $1,395. 815 Madison Avenue (68th/69th Streets); 646-439-0381; lanvin.com