Sunny days will be here again, despite the weather's seemingly indefatigable fluctuation between balmy, pre-spring weather and record winter lows.
Regardless, the clocks have officially sprung forward and it is time to embrace the longer days with a pair of sunglasses that will block UV rays and simultaneously look stylish even on cloudy days. Whether you are on the hunt for a pair to take with you to Cabo (opt for one of our faves by Fendi), or some frames to wear while on a Sunday stroll through Greenwich (definitely go for the style by Elizabeth and James), we have you and your eyes covered.
Spring may be slow in arriving, but Manhattan's best department store and designer boutiques are stocked full of warm weather apropos accessories.
---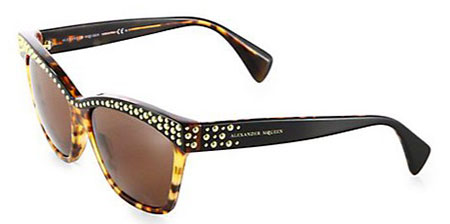 Studs and tortoiseshell make a particularly winning combination on Alexander McQueen's Cat's Eye sunglasses. Each pair is crafted in Italy and will go well with both black and brown ensembles. $450. 417 West 14th Street (Washington Street/10th Avenue); 212-645-1797; alexandermcqueen.com
---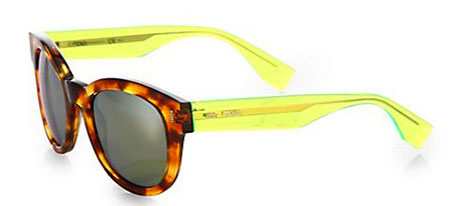 Whether you're spring break-ing in Florida or staying local in NYC, these Fendi Colorblock glasses in the Havana-Yellow colorway will add a strong dose of sunshine to your ready-to-wear look. $340. 677 Fifth Avenue (53rd/54th Streets); 212-759-4646; fendi.com
---
Dramatic shapes and vintage flair have become a hallmark of Balenciaga since Alexander Wang took over creative directorship. Here, the brand's Square sunglasses truly pop in a sapphire-like blue hue with a brush of yellow at the top of the frame. $360. 148 Mercer Street (Prince/Houston Streets); 212-206-0004; balenciaga.com
---
Italy's Amalfi Coast beckons (as does a glass of Prosecco) when sporting these red-and-blue striped sunnies by Dolce & Gabbana. The thick frames will shade you from the sun, and pair well with a crisp, white sun frock. $220. 825 Madison Avenue (68th/69th Streets); 212-249-4100; dolcegabbana.com
---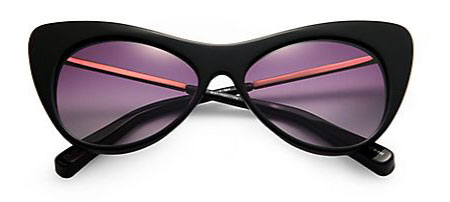 Set your eyes upon the Damen sunglasses from Elizabeth and James and it is simply love at first sight. Swooping black curves and gradient lenses make this pair the ultimate stylish accessory, worthy to be worn inside and out. $225. 611 Fifth Avenue (49th/50th Streets); 212-753-4000; saksfifthavenue.com
---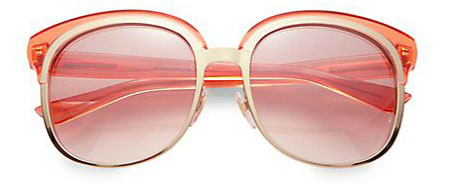 You'll be seeing the world through rose-colored classes when donning Gucci's rose-and-gold frames. Consider it a worthy investment, as these will provide an instant, cheery mood boost. $395. 725 Fifth Avenue (56th/57th Streets); 212-826-2600; gucci.com
---
Straight off Prada's Milan runway, the label's Baroque sunglasses are utterly daring and whimsical. Shouldn't all accessories be this fun? $290. 575 Broadway (Prince/Houston Streets); 212-334-8888; prada.com
---
As slick and stylish as the man behind his eponymous label, the Nastasya sunglasses by Tom Ford are both retro and decidedly fashion-forward. We love the exaggerated cat eye and rosy pink frame color. $380. 845 Madison Avenue (69th/70th Streets); 212-359-0300; tomford.com
---
Part of Valentino's famed Rockstud line, these round sunglasses are ruby red and wholeheartedly glam. $345. 821 Madison Avenue (68th/69th Streets); 212-772-6969; valentino.com
---
Consider the Colline sunglasses by Oliver Peoples your new best friend and must-have companion. The sixties-inspired shades have a tawny frame and ombré-hued lenses. $325. 116 Wooster Street (Spring/Prince Streets); 212-965-9964; barneys.com