As far as we're concerned, we've passed the vernal equinox and it is officially spring. While the New York City temps may not have yet decided to cooperate, it is time that our accessories do.
Prepare to store dreary, dark winter handbags, and stop carting around bulky gloves and hats. Instead, opt for something bright and roomy like Fendi's captivating snakeskin tote or Anya Hindmarch's arty canvas carryall.
It's the season to be toting around sunglasses and necessities for whiling away an afternoon outdoors. Pop into one of the Manhattan boutiques or department stores we've rounded up below, and you're sure to find a spring accessory companion of your own.
---
Reed Krakoff's Track tote is delightfully abloom with raffia floral embroidery alongside sleek leather detailing. The carryall is lined in twill, and spacious enough to cart around a book and blanket for an afternoon at the Sheep Meadow in Central Park. $1,890. 831 Madison Avenue (69th/70th Streets); 212-988-0560; reedkrakoff.com
---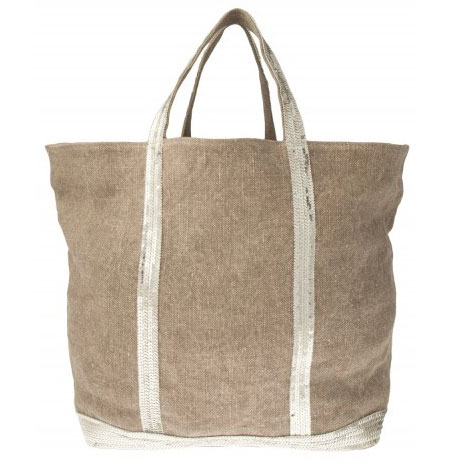 For well over a decade, Parisian designer Vanessa Bruno has ensured French actresses and L.A. celebs have had the proper totes to cart around all their daily, necessary belongings. In a new incarnation of her bestselling style, the designer mixes a natural linen base with sequin detailing. $290. 121 Greenwich Avenue (Jane/Horatio Streets); 212-229-9424; otteny.com
---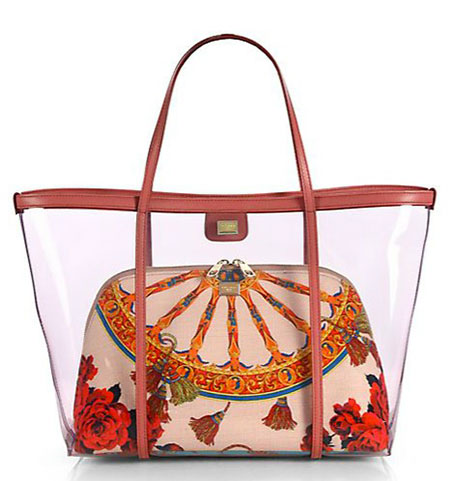 Dolce & Gabbana's spring collection was a tribute to Sicilian style and baroque prints. The designers successfully translate this into everyday use with their transparent PVC tote with a darling, zipper clutched within. $1,145. 825 Madison Avenue (68th/69th Streets); 212-249-4100; dolcegabbana.com
---
Crafted in Italy and fashioned from luxe snakeskin, Fendi's Trois-Jour tote is quite simply perfection. The zigzag motif keeps the spirit of the carryall fresh, and the brand's attention to detail (note the metal feet at the bottom of the bag) makes this an absolute keeper. $5,750. 677 Fifth Avenue (53rd/54th Streets); 212-759-4646; fendi.com
---
Consider the sea and sky the inspiration for this two-tone tote by Rochas. Rich royal-blue and deep navy look stunning on this glazed leather bag. For safekeeping your phone and keys, there's even a petite attached, zippered pouch. $1,220. 660 Madison Avenue (60th/61st Streets); 212-826-8900; barneys.com
---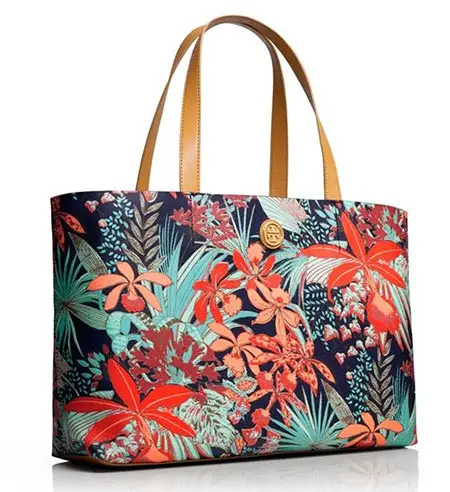 One glance at the Kerrington tote by Tory Burch has us reaching for our passports and bathing suit, and decamping to the nearest tropical getaway. There is a removable interior pouch, and the outside is (ingeniously) water-resistant. $295. 38-40 Little West 12th Street (Ninth Avenue/Washington Street); 212-929-0125; toryburch.com
---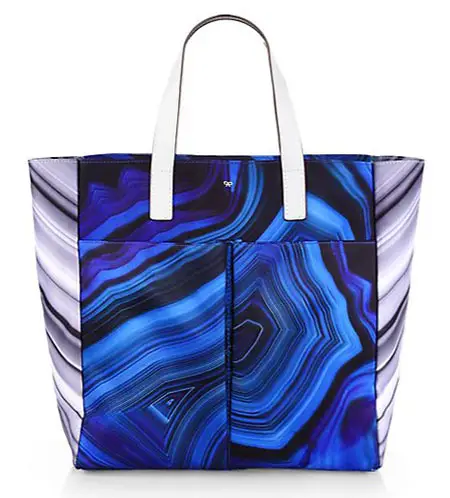 Brit designer Anya Hindmarch knows how to create accessories that are literally standalone works of art. Take her canvas tote, equal parts punchy sapphire hues and graphic swirls, that is also practical with its inner, zippered pocket. $495. 795 Madison (67th/68th Streets); 646-852-6233; anyahindmarch.com
---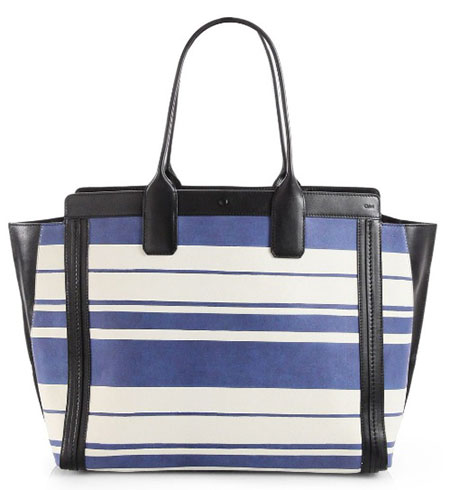 It's all smooth sailing and clear skies when you have Chloé's Alison East West tote by your side. The bag is made in Italy of supple lambskin, and features an inner pocket and sturdy lobster clasp at the top. $2,250. 93 Greene Street (Prince/Spring Streets); 646-350-1770; chloe.com
---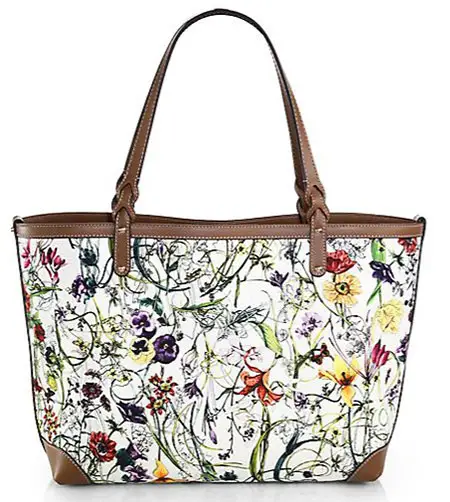 Romantic florals abound on the Craft tote by Gucci. The mahogany leather trim and gold hardware keep this piece looking timeless, ideal for a casual grocery run at the farmers' market or an elegant brunch date uptown. $1,120. 725 Fifth Avenue (56th/57th Streets); 212-826-2600; gucci.com
---
The Sara tote from Jimmy Choo is a bona fide showstopper. We adore the neon pops of orange and green layered on top of inky blue and turquoise. This is the piece that will carry you from spring and into summer. $1,095. 407 Bleecker Street (Bank Street/West 11th Street); 212-366-1305; jimmychoo.com