Tax season is here, and while some are anticipating glorious refunds, others of us are quite content to simply not owe Uncle Sam anything more. Regardless of which camp you may be in, a wallet (especially of the spanking-new variety) is always a welcome addition to one's accessory collection.
Whether you plan to simply snap up one of these beauties for necessity or pure investing purposes, each one is a worthy place to stow your monetary devices in. The Dover Street Market is a destination for Comme des Garçons' signature pouches, and British purveyor Smythson makes one of the most exquisitely simple wallets we have ever seen.
Consider April 15 a shopping holiday, and decamp to one of our favorite boutiques rounded up below to discover NYC's finest and best wallets for women.
---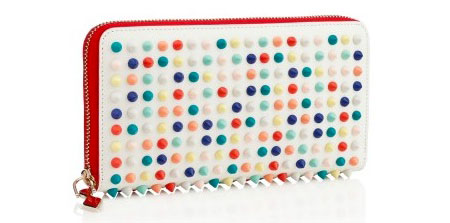 Playful, colorful, and all-around delightful, we absolutely adore the Panettone style by Christian Louboutin. Outer spikes and a cheery red zipper complete this wallet. $625. 59 Horatio Street (at Greenwich Street); 212-255-1910; christianlouboutin.com
---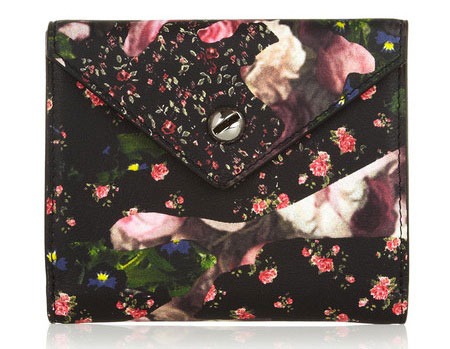 Givenchy's Riccardo Tisci knows how to keep his designs veering on just the right side of both punk and feminine. His lambskin wallet is awash in dark, brooding florals and includes eight cards slots as well as a snap-fastening front. $725. 449 West 14th Street (Ninth/Tenth Avenues); 212-206-1272; jeffreynewyork.com
---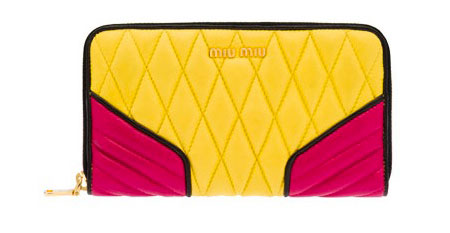 As usual, Miu Miu's latest spring wallet is a must-have accouterment. The bold sunshine-yellow and azalea-red make the perfect pair, and the interior includes two bill slots and eight credit card holders. $510. 100 Prince Street (Mercer/Greene Streets); 212-334-5156; miumiu.com
---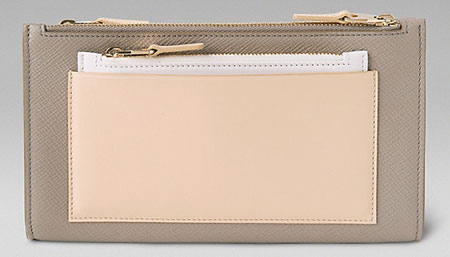 Smythson's dual zipper wallet is a true pièce de résistance. Khaki and dusty pink hues mesh perfectly, and the coin purse is removable to boot. $805. 4 West 57th Street (Fifth/Sixth Avenues); 212-265-4573; smythson.com
---
Sleek and iridescent, the 31 card case (from 3.1 Phillip Lim, natch) is an exercise in minimalist fashion at its best. We love shimmery, blue-green hue. $150. 115 Mercer Street (Spring/Prince Streets); 212-334-1160; 31philliplim.com
---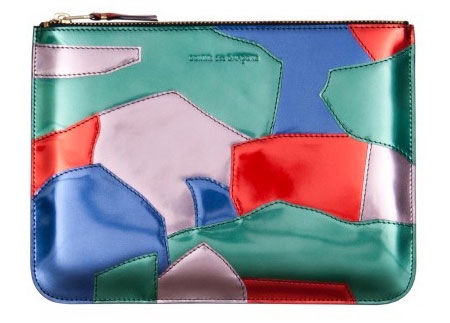 Nestled on a quiet stretch of Lexington Avenue, the first U.S. outpost of Dover Street Market is a literal jewel box of a shop. We adore this limited-edition wallet outfitted in an array of metallic hues. $340. 160 Lexington Avenue (30th/31st Streets); 646-837-7750; doverstreetmarket.com
---
We'd expect nothing less from the boys at Proenza Schouler than a wallet that deserves to double as your daily handbag. The mirrored PS11 wallet is Italian-made and equipped with a handy, detachable chain. $1,080. 121 Greene Street (Prince/Houston Streets); 212-420-7300; proenzaschouler.com
---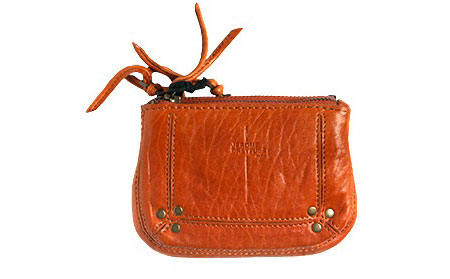 Jerome Dreyfuss is a master when it comes to crafting hipper-than-thou leather goods, and our latest obsession is his Willie wallet in a rich cognac shade. Stud zippers and a gold zipper complete the boho piece. $375. 1 East 1st Street (Bowery/Second Avenue); 888-517-7773; blueandcream.com
---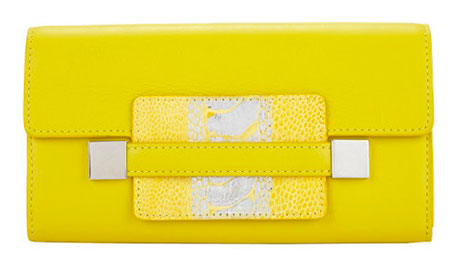 The Madame long wallet from Delvaux is undoubtedly worth of its moniker. The lemon-yellow sorbet shade is accented with silver hardware. $1,400. 660 Madison Avenue (60th/61st Streets); 212-826-8900; barneys.com
---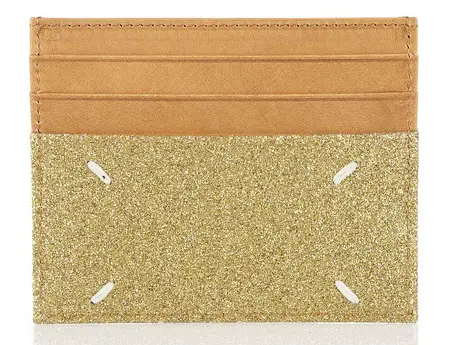 Known for being a master of restraint, the label Maison Martin Margiela imbues their seemingly simple tan leather cardholder with a glitter finishing. It's safe to say this is a piece that will easily take us from season to season. $215. 801 Greenwich Street (12th/Jane Streets); 212-989-7612; maisonmartinmargiela.com