Holiday decorations dazzle us with their scarlet and evergreen tones, but we'd like to add to that dual palette not only Mother Nature's third primary—majestic blue—but also another bright: buttery yellow.
Armed with those four striking shades, we are wont to swathe ourselves in brilliant jewels for the holiday season and beyond. Whether the tints are jade, avocado, Kelly, or lime, green-hued jewelry will make us green with envy, whether malachite or emeralds.
Poppy-red, burnished pink, muted burgundy—all the red hues—will make us seethe with covetous aspirations; the sunny and lemon-y yellows will create a smile on our faces; and with the blues—from azure to aqua, from midnight to powdery-baby blue—our souls will be soothed, rendered tranquil and content.
Enjoy the tourmalines, onyx, citrines, rubellites, peridots, sapphires, and other coveted gems that will bring cheerful, gay colors into our lives.
---
From Jacob & Co.'s High Jewelry collection, these head-turning sapphire-drop earrings feature 36.82 carats of cushion-cut, natural blue sapphires and 4.67 carats of white diamonds, all set in platinum. Price upon request. 48 East 57th Street (Madison/Park Avenues); 212-719-5887; jacobandco.com
---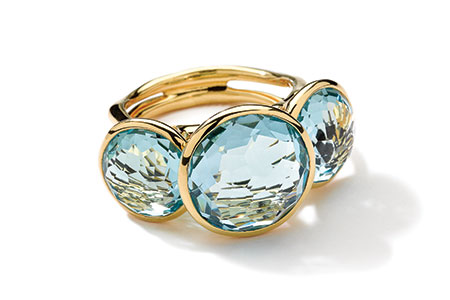 From Ippolita's "Gold Rock Candy" collection, the "Lollipop" ring has three shimmering blue topaz stones set in 18-kt. yellow gold. $2,295. 796 Madison Avenue (67th/68th Streets); 646-664-4240; ippolita.com
---
The asymmetric "Jazz" cuff by Seaman Schepps is studded with both cabochon and faceted aquamarines and sapphires, with colorful dots and dashes of white diamonds, all set in 18-kt. yellow gold. Price upon request. 485 Park Avenue (58th/59th Streets); 212-753-9520; seamanschepps.com
---
Two glittering aquamarine cabochons and gleaming blue topaz beads form a 33"-long necklace. Accented with 18-kt. yellow gold, this handsome necklace is part of the "Mischief" collection from design house Goshwara. $18,000. Maurice Badler, 485 Park Avenue (58th/59th Streets), 800-622-3537; badler.com, goshwara.com
---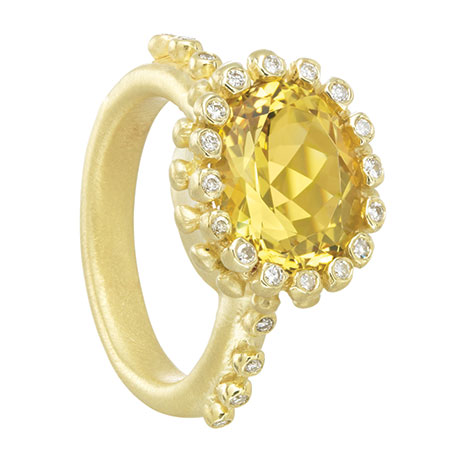 Designer Suzy Landa's sensational canary beryl ring would make any hand stand out in the crowd. The eye-catching, lemony stone is 3.7 carats and is surrounded by .20 carats of white diamonds, all set in 18-kt. yellow gold. A gleaming gem, indeed. $3,740. 212-874-2346; suzylanda.com
---
The "Cloud Nine" earrings from the collection of the same name, from jewelry house Gumuchian, are set in 18-kt. yellow gold and are studded with a plethora of yellow sapphires (14.68 carats) and round white diamonds (1.50 carats). $17,000.
DeNatale Fine Jewelers, 111 Broadway (Thames Street); 212-349-8900; denatale.com, gumuchian.com
---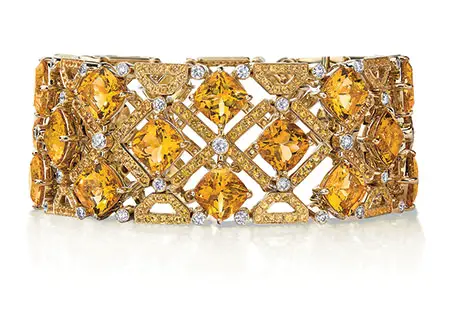 Cellini's yellow-sapphire-and-diamond bracelet encircles the wrist in vibrant color; it is set in 18-kt. yellow gold. $28,950. Hotel Waldorf-Astoria, East Lobby, 301 Park Avenue (49th/50th Streets); 212-751-9824; 509 Madison Avenue (52nd/53rd Streets); 212-888-0505; cellinijewelers.com
---
Nearly 300 fancy-colored diamonds in a palette of yellows and beige tones comprise this magnificent bracelet, totaling 44 carats; additionally, 53 fancy-shape white diamonds (7.54 carats) provide staccato counterpoint—all set in 18-kt. gold and platinum. From the famed jewelry house Oscar Heyman. $420,000. Leslie Berman, 745 Fifth Avenue (57th/58th Street), Suite 1601; 212-888-4188; lesliebermaninc.com, oscarheyman.com
---
de Grisogono's stunning emerald ring features paraiba tourmalines, briolette-cut emeralds, and white diamonds, all fashioned in 18-kt. white gold. Price upon request. 824 Madison Avenue (68th/69th Streets); 212-439-4220; degrisogono.com
---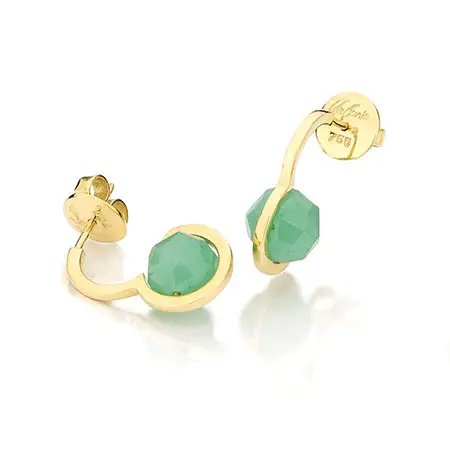 Striking "DNA" earrings, that dangle flirtatiously from the lobes, are from designer Yael Sonia; they sport aventurine stones and are set in 18-kt. yellow gold. $2,950. By appointment only; 270 Lafayette (Prince/Houston Streets), Suite 810; 212-472-6488; yaelsonia.com
---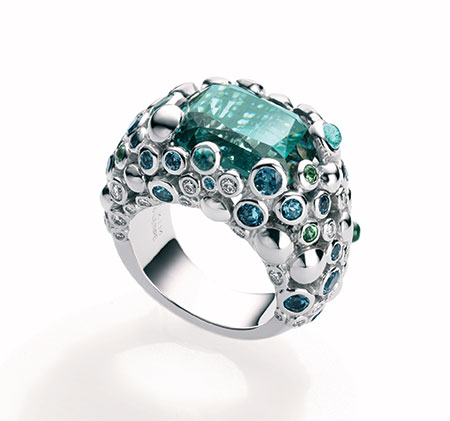 From the "Blu Intermezzo by Kim" collection from Wempe, this glamorous ring features a sensational, central mint-colored tourmaline (12.74 carats), 40 brilliant-cut diamonds, and a variety of colored gemstones, all set in 18-kt. white gold. $48,225. 700 Fifth Avenue (55th Street); 212-397-9000, 800-513-1131; wempe.com
---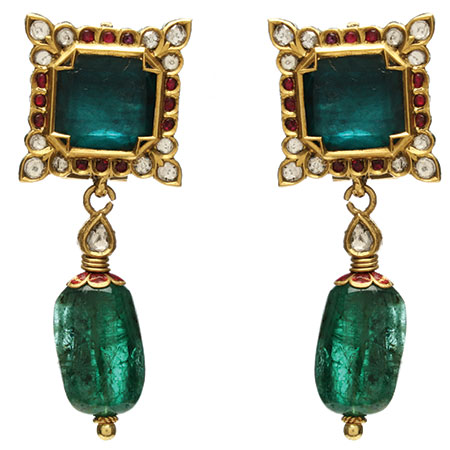 The glamorous "Beena" earrings from designer Amrita Singh are reminiscent of the most sumptuous Moghul jewels. These are crafted in 22-kt. yellow gold and are set with diamond and ruby accents, but it is the magnificent emeralds that take center stage here. $22,000. By appointment only; 212-869-3434; amritasingh.com
---
From the striking "Dune" collection from the design house Garavelli, this opulent domed ring is awash with pink sapphires set in 18-kt. yellow gold. $12,000. Danielle B Jewelry, 871 Seventh Avenue (55th/56th Streets); 212-956-6565; www.garavellialdo.com
---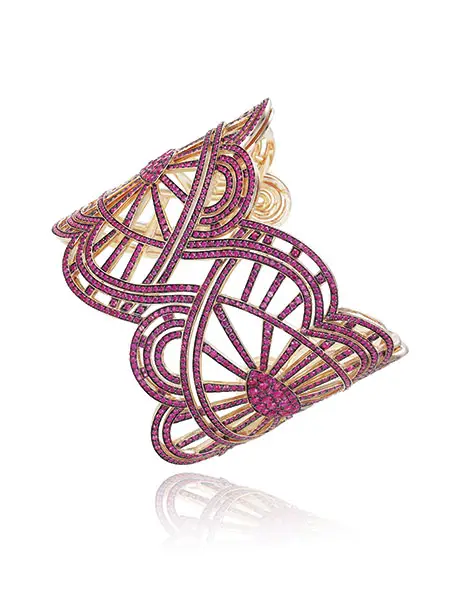 From the Chopard "Red Carpet" collection, this dramatic, stylish, open-work cuff is set in 18-kt. rose gold and has over 20 carats of rubies in it. Price upon request.
Chopard, 709 Madison Avenue (63rd Street); 212-223-2304; us.chopard.com
---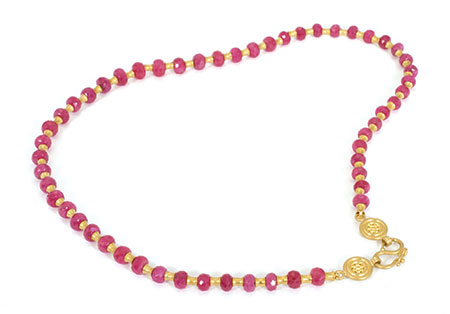 The "Flared Tube" necklace from Reinstein Ross is fabricated in elegant 20-kt. peach gold; but the focal point here is the gleam of the faceted, warm-pink rubies. True sophistication. $8,900. 29 East 73rd Street (Fifth/Madison Avenues); 212-772-1901; 122 Prince Street (Greene/Wooster Streets); 212-226-4513; reinsteinross.com
---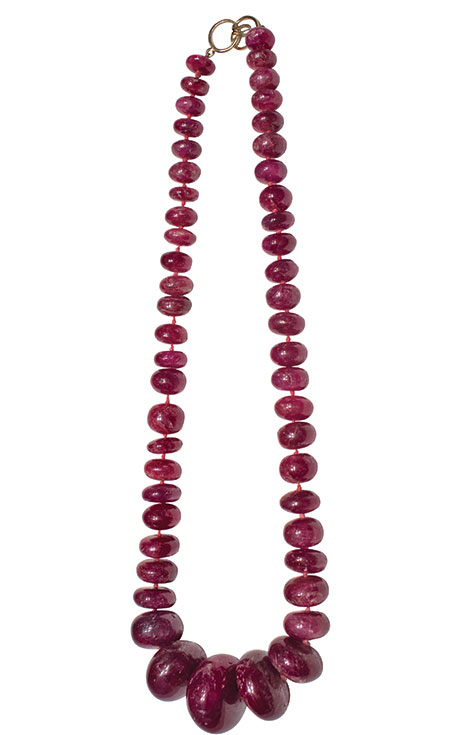 Make a grand entrance with Aaron Basha's impressive 1,200-carat graduated ruby necklace, constructed in a flattering length. $4,600. 685 Madison Avenue (61st/62nd Streets); 212-644-1970; aaronbasha.com