Breitling, the storied Swiss company famed for its highly technical timekeepers, has boutiques bearing its name all over the world—from Tokyo to Curacao—but its flagship is right here in Manhattan.
Opened at 5 East 57th Street just over a year ago, the boutique boasts notable neighbors like Louis Vuitton, Burberry, and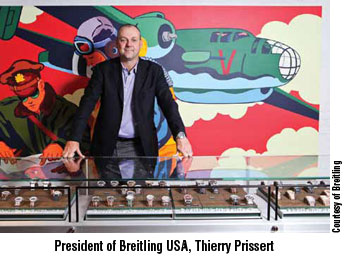 Chanel, to name a few. Visitors to this choice cut of sidewalk just off Madison Avenue can expect to find a wide and dazzling selection of Breitling's signature wristwatches, but they'll also find the brand's entire DNA laid bare in the three-story boutique that comprises a retail site as well as a miniature museum. Within a few thousand square feet, the curious consumer can trace Breitling's 128-year history, from its decades-old roots in aviation (the brand made timepieces for the British Royal Air Force in the 1930s and is still a favorite among pilots today) to the latest high-performance chronographs.
Over more than a century, Breitling has elevated the wristwatch above a mere accessory by accompanying its wearers everywhere from the depths of the ocean (the Superocean collection guarantees water resistance up to 6,600 feet below sea level) to outer space (the Cosmonaute left Earth on the wrist of American astronaut Scott Carpenter in 1962). And while NASA may have shuttered its space exploration programs, the Cosmonaute is still made today—it will celebrate its milestone 50th anniversary this year.
While the brand has been family-owned since its inception in 1884, a comparatively recent shift in power occurred in September 2010 when Thierry Prissert took the reins as president of Breitling USA. We caught up with the Paris-born Prissert to discuss preservation, innovation, and a new destination.
Q. Breitling has a long history with aeronautics. How d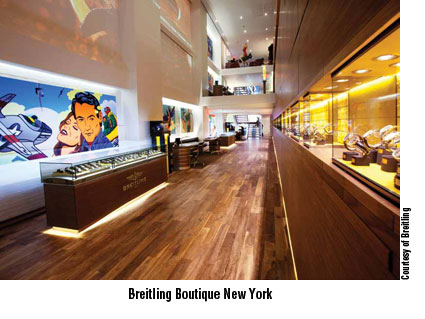 o you balance your dedication to aviation professionals with the needs of a customer who just wants a nice watch for everyday wear?
TP: From the beginning of aviation, back to the early 20th century, we were making instruments for planes long before we were making wristwatches. The Royal Air Force had Breitling instruments of navigation in their cockpits. We expanded that technical precision to wristwatches in 1952 when we launched the Navitimer, our most famous watch, [which is] still in our collection today. Over the years our collection evolved with the aviation field—the Chronomat collection was designed not to break when the pilot opened the cockpit of his jet. We develop many of our watches for pilots, but they are great everyday watches because of their precise movements.
Q. What does it say about a person when they choose a Breitling watch?
TP: It's a watch for adventurous people, someone who's stylish and modern that also leads a very active lifestyle. We reach every segment of the population because of our large spectrum of watches and the quality of our brand. We have watches for when you want to go diving or when you want to go into the air, or when you want to attend a black-tie function. They start at $3,500 and reach up to $65,000, but they all have the right combination of style and precision.
Q. That word, "precision," is often heard in association with Breitling.
TP: Breitling is one of only a very few watchmakers that has the capacity for manufacturing our own movement. We introduced our in-house movement in 2009 and the long-term goal is to manufacture most of our watches with in-house movement. It's the idea that it's always better to make your own if you can—it ensures the quality, because you have more control over what you're making.
We're also the only major brand where 100 percent of our mechanisms go through an independent certification process. This is important because it's a way to gauge the precision of each watch by so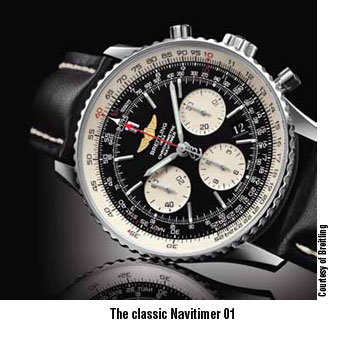 meone else's standards, not just our own. It's like taking an exam—we study very hard to set the standard for excellence. Last year we certified 150,000 products. Every single one of our products goes through that certification process, and that's why we're different from other companies.
Q. The company has been family-owned since 1884. How does that affect the way it's run?
TP: Yes, it's unbelievable. Since 1884 only two families have owned the company: three generations of Breitling and two generations of Schneider. That's rare in the industry. We run differently because the owner is only thinking about what's good for the brand and the longevity of the brand, without considering stock market or shareholder obligations. Our duty is simply to continue to develop a range of beautiful watches to please our customers.
Q. What are your goals for the brand?
TP: My goal is to expose the most people to our brand as possible, because I think if you're exposed to it, you'll fall in love with it. And we might open a few more stores. We opened a store in Miami a few months ago and here's a scoop: The next Breitling shop is going to open in Orlando in early 2013, in the Mall of Millenia. n
Breitling Boutique New York
5 East 57th Street
855-999-1884; breitling.com