Brian Dennehy, known for playing tough guys on film — and iconic American dramatic roles on stage — is taking a tender turn in Broadway's revival of Love Letters.
---
Please don't ask Brian Dennehy to write a letter. Certainly not of the amorous variety. Tweets? Right. E-mails, well, okay, he does those, but mostly out of necessity. And as for Facebook posts? If you happen to be a fan of his page, spoiler alert: the award-winning actor says there are two or three wannabe Dennehys out there pretending to be him.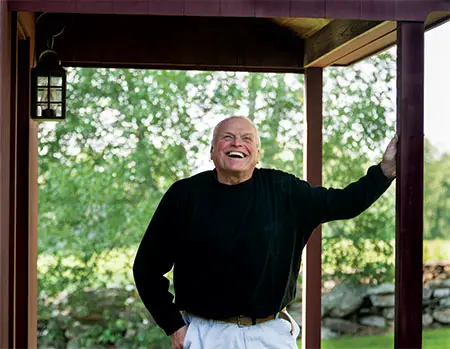 Photo by Ari Mintz
"If you're gonna be somebody, you might try to be…Brad Pitt or something," he says. Pretending to be Dennehy? "Talk about setting a low bar for yourself," he notes, chuckling.
That modesty might be a bit unnecessary for a guy who, at 76, has built up a pretty respectable résumé over the years, known as both a tough guy on film and TV (there was a time when it seemed he was the only renegade cop or grizzled D.A. that Hollywood would hire) and a torch-bearer for iconic American dramas on stage (he's won two Tony Awards for Best Actor in a Play for Long Day's Journey Into Night and Death of a Salesman, and he'll co-star with Nathan Lane this February in The Iceman Cometh — more on that in a bit).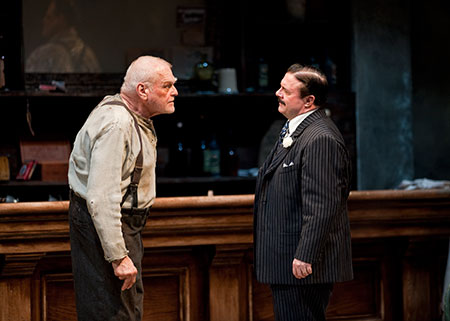 Photo: Liz Lauren

But up next, he flashes his tender-hearted side in the first Broadway revival of A.R. Gurney's Love Letters, a two-person play about a man and woman, lifelong friends who may actually be each other's one true love.
The romantic tale, told in a series of letters, notes and postcards, will be read by a series of all-star casts this fall at the Brooks Atkinson Theatre this fall. (See below).
"It's more than it seems, this play," says Dennehy. "It deals with two lives that should've probably been together but for one reason or another weren't. Two people talking to each other about what was and what might have been."
We follow the pair — upright, respectable Andrew Makepeace Ladd III, and renegade Melissa Gardner — over the course of decades, hearing tales of boarding school, summer camp, marriages, and motherhood.
The play, which first hit Broadway in 1989, is a producer's dream, what with just two actors, and often minimal staging. But the subject matter seems to strike a chord with audiences; it's been translated into 24 languages, performed in 40-plus countries and was a finalist for the Pulitzer Prize.
This fall it's sure to generate buzz, what with its rotating cast of stars.
"It's interesting to hear it again through another voice," says Dennehy. "I remember seeing it years ago with James Earl Jones, and it was fascinating how different it was. An actor like Alan Alda will approach the play with his wry sense of humor and ability to laugh even when it's a dark laugh aimed at himself and be one thing. And Marty Sheen will be something else."
Dennehy, who's married with five kids and seven grandchildren and lives in Connecticut, got his start in the drama club at Chaminade, a Catholic high school on Long Island. He also played football there, and at Columbia University, and later served in the U.S. Marines. (Tough guy bona fides, those.)
Though he's admittedly not a big letter-writer himself, letter reading suits him fine. He's the only gent in this production suiting up twice, and he's enthusiastic about his co-stars. Farrow, with her eclectic love life, he calls "one of the most extraordinary [women] of our day," and Burnett, "phenomenally talented, and one of the great 'broads' of all time."
After this theatrical double-header, he'll return in The Iceman Cometh, the same acclaimed Goodman Theatre production that opened in Chicago in 2012, and is now (finally) coming east (in February to the BAM Harvey Theater at the Brooklyn Academy of Music) If you goeth, prepare to sitteth; this is O'Neill's five-hour epic about the denizens of a Greenwich Village saloon.
Dennehy has played Hickey, a titanic part, but Lane has the honors this time round and Dennehy has nothing but praise.
"It's as ambitious a project as an actor can take, and I think New York is gonna be astounded by what Nathan does."
Whether they go for the intimate two-hander or the 19-character masterwork (or both), audiences, he thinks, will find a lot to relate to in each.
"If you go to see Sunflowers in Chicago," he says, referring to the famed work by Vincent Van Gogh, "this small painting, painted by a madman in the 1880s, and you can't find a way to relate it to your own life or experience, your own sense of wonder about being here and being surrounded by certain things…then there's something wrong with you."
Hey, he's not cast as the tough guy for nothin'.
---
The Love Letters Casts
The production opens with Dennehy and Mia Farrow (September 13 through October 10), followed by Dennehy and Carol Burnett (October 11 through November 7), Alan Alda and Candice Bergen (November 8 through December 5), Stacy Keach and Diana Rigg (December 6 through January 9) and Anjelica Huston and Martin Sheen (January 10 through February 1).