You may find yourself craving popcorn the next time you take yourself to a Broadway musical. Maybe Milk Duds, or Raisinets. Don't worry—you won't be alone.
That's because Broadway and Off-Broadway theaters are feeling a bit like cinema multiplexes these days, presenting a variety of new musicals based on movies. This season's offerings include the recently closed Big Fish and Little Miss Sunshine, The Bridges of Madison County (opening in February), Rocky (March) and Woody Allen's Bullets Over Broadway (April).

Rocky

Theatre purists may bristle at Hollywood's expanding influence—pretty much every Hollywood studio now has a development deal with Broadway producers to turn various titles in their archives into stage musicals—but the movie-into-musical makeover is no guarantee of success.
"Movies deal in images, and images can be hard to compete with," says composer Jason Robert Brown, who has written the music and lyrics for Bridges (based on the film and original book) and Honeymoon in Vegas. (Vegas earned raves for a recent New Jersey production and is no doubt Broadway bound, though no dates have yet been set.)
"What we remember about movies is often a look, a gesture, a movement, something that captures in an instant an entire emotional vocabulary," Brown explains. "Part of what I get to do…is take those iconic looks and gestures and find their analogue in music."
No easy task.
Just look at the long list of movie-based musicals that tanked, like Ghost, Bonnie & Clyde, 9 to 5, Shrek, Footloose, Big... The list goes on and on.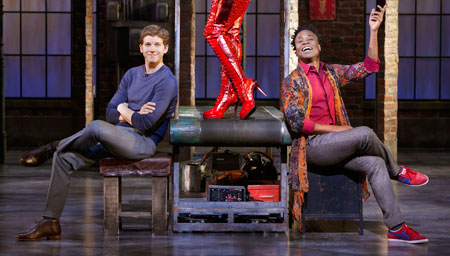 Stark Sands and Billy Porter in Kinky Boots. Photo: Matthew Murphy
But for every clunker, it seems, there's a success story. Kinky Boots, based on an obscure 2005 British film, won this year's Tony Award for Best Musical. Once, based on a 2007 Irish film, was last year's Best Musical winner. Hairspray sprung from John Waters' quirky 1988 cult film, won eight Tonys in 2003, including Best Musical, and inspired a film remake.

And don't forget The Producers, Billy Elliott, Monty Python's Spamalot, plus classics like A Little Night Music, Nine, 42nd Street and—wait for it, the granddaddy of them all—The Lion King, with a reported worldwide gross of $5.4 billion.
Hakuna matata, indeed.
Most creatives in the industry agree it's wise to keep a healthy distance from the original material.
When turning a movie script into a musical, "you just have to leave the original behind because you are creating a new animal," says director/choreographer Susan Stroman, in a recent interview with broadwayworld.com. (Stroman directed Big Fish and is working with Allen on Bullets.)
"You've got to be free to take the story where it needs to go," agrees composer/lyricist Amanda Green, who has written lyrics for the film-based musicals High Fidelity and Bring It On, and lyrics and music for Hands on a Hardbody, which is based on a documentary.
"The musical is not a documentary," she said of Hardbody. "We make up facts and do things that serve our dramatic purpose."
Other musicals have taken similar liberties. Newsies, for one, scrapped various plot points from the original film and offered up an entirely new female heroine.

The big question, of course—and only audiences can provide the answer—is whether or not certain movies NEED music added to them at all.
"[We] have been able to open these characters by letting them sing," says Brown, of the protagonists in Bridges. "We may not have the iconic power of Clint Eastwood's squint to help define Robert Kincaid, but we have an unresolved chord played on a twangy guitar, and that feels just as effective to me, if not more so."