As the summer season descends upon us, you'll probably find yourself taking more indulgent soaks in the tub, and longer and more luxuriating showers. This is the season to get out the gels and the best soaps. And among those in the rarefied stratum of the best soaps and hand washes are Claus Porto products. The soaps are oversize, highly fragrant, and elegant. They are the brainchild of entrepreneur Jon Bresler, who visited Ach Brito, the 130-year-old Portuguese fine-soap manufacturer, and fell in love with their goods. He scrutinized the archives and found the original "recipes" for a handful of aromatically heady soaps; he then found the original French perfumer who had developed this lost line for Ach Brito and, together, they recreated this delicious brand. The soaps are triple-milled and creamy and they seem to last forever (courtesy of their giant size).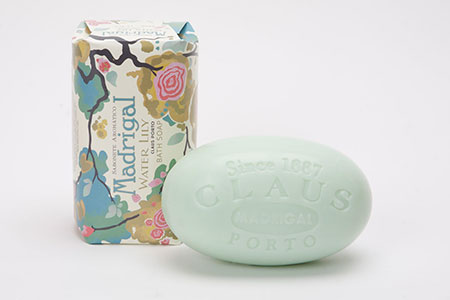 The packaging is charming — colorful, graphic, very Art Deco — and echoes original packaging designs from earlier incarnations of the factory's products. Bresler just knew that between the wonderful scents (including red poppy, citron verbena, brise marine, and water lily) and the brilliant packaging, these soaps (there were a mere five to start) would be a hit...and they were — and still are. Marketed to the fashion cognoscenti, and placed in non-traditional outlets, the soaps gained great popularity among those in-the-know who treasure such gorgeous — and practical — objects.
The original five soaps are the foundation upon which the LAFCO company is built. With the help of creative director Vincent LaRouche, Bresler has expanded the original collection and today it includes liquid soaps, soy-based candles, body washes, creams, and gift sets. All are as stunning to look at as they are delightful and satisfying to use.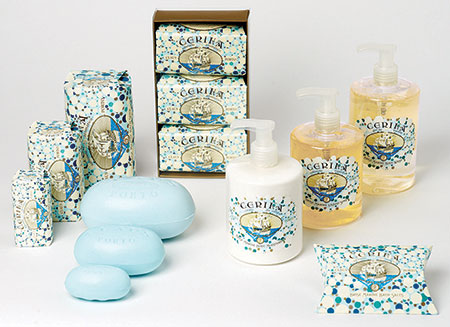 A luxury brand (the line ranges in price from $9 to $42), Claus Porto strives for innovation, but without losing its artisanal leaning. It is available in Gotham at Dean & DeLuca, many fine boutiques and specialty shops, and, of course, on the company's website.