If you know anybody who stands on his or her feet all day long — think doctor, chef — then you probably also know that of that same person remains comfortably vertical all day, it is likely courtesy of comfy Crocs. Could any shoe be any easier on the body, more tranquil on the feet? The company (a mere babe at 12 years old) is a world leader and innovator in clever footwear for men, women, and children, with hundreds of styles, not simply the classic Croc.
All Crocs feature the company's trademarked Croslite material, the product of a proprietary, revolutionary technology that imparts to the shoes the soft, comfortable, and lightweight, odor-resistant qualities that Crocs fans seek. The iconic clog, the company's original style, has been surpassed by literally dozens of other styles over the years, including sneaker-type shoes, boating-style footwear, and fashion footwear, even wedges and heels. In fact, when I visited the newest shop, I was surprised to find so many stylish shoes that could easily slip from day into evening with great ease. Since its founding, the company has sold more than 200 million pairs of shoes in nearly 100 countries. And the brand reached $1 billion in annual sales in 2011.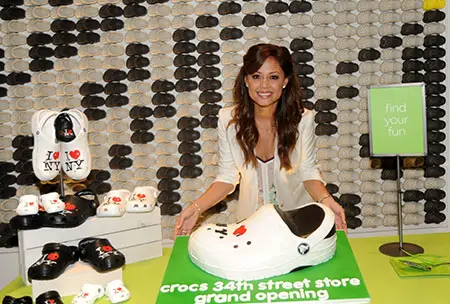 With two shops already in Manhattan, on the Upper West Side and in SoHo, the company added to its footprint in Gotham, just this past month, with a flagship shop on West 34th Street. The opening hoopla featured TV personality Vanessa Lachey (above), who cut the ribbon and stayed around for shopping, festivities, and giveaways. The opening even featured a Crocs-shaped cake! And as for me, I walked home in a new pair of Crocs that were so comfy and lightweight on my feet, I have barely taken them off since.