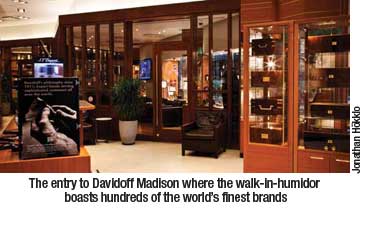 Gotham winds down as the sun lowers and glances off of mirrored windows, through the valleys of these storied streets. Midtown East bustles even as the day draws to a close: there are dinner dates to be had; commuter trains to be caught. Millions of lives have made their mark upon the ground we're on as we shuffle along along Madison Avenue. No dinner for us, not yet - we have a different type of engagement tonight, and a stalwart comrade by our side to enjoy the ritual pleasures of a bygone age, when personal connections often happened under a canopy of decadent smoke.
"Davidoff," says the window as we reach the corner of 53rd Street. "Good Life," it adds below. We slide past the vendor roasting chestnuts and through the front door. The bright atmosphere gleams with glass cases that line the walls. Accented with light wood and with the same lacquered finish on the floor, the cases display Dupont lighters, designer pens, cufflinks, and cigar cutters for all to see. We're quickly greeted and led toward the walk-in humidor in the back to make our selections for the evening. "There's no appointment necessary for the lounge-and you'd like to smoke these here, wouldn't you?" asks the besuited gentleman employee. He follows up by asking what we usually smoke and then offers us each a Davidoff brand "Sp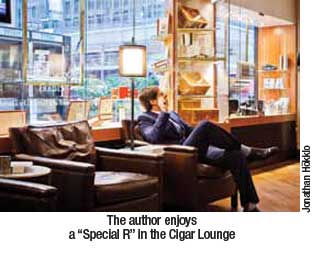 ecial R," noting its medium body and high popularity as a distinguished go-to product. We take them, inhaling deeply and as the locals look into the cigar lounge at us-well-dressed men with crossed legs sitting in soft leather chairs. We're waived onward to where the lighting is dimmer and the ambiance different but still the same, with Sinatra and cigar smoke floating through the air.
Outside, beyond windows lined with humidors, decanters, and cigar boxes stuffed with luxuries, people hurry by in a twilight rush. But we sit quiet, calm, and relaxed. We savor and roll our selections in flame; we laugh while a large man to our left in plaid socks and suspenders comments less than favorably on last Sunday's Giants game.
A warm feeling pervades, comforting and layering over us like the best type of cashmere blanket. The television on the wall flickers sports statistics and it's getting darker outside, the streetlights casting an arch of orange glow; it's almost time for dinner. The lingering smoke and a little less than a quarter of a cigar marks the time that's slipped dreamily by. This is Davidoff, the most revered name in tobacco; this is the legacy of kings, and merchants, and people like us, we say to each other as we pluck our selected wares from the counter. Then, with our coats on and collars turned up against the wind, we walk north, up Madison Avenue.
Davidoff of Geneva • 515 Madison Ave at 53rd Street • 212-751-9060 • davidoffmadison.com