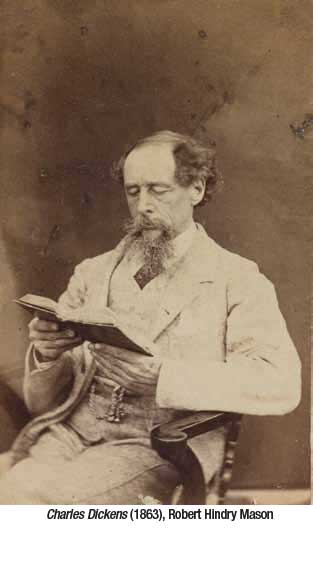 Here's a quick quiz for the literary-minded: Name the 19th- century author whose fiction has been adapted for film and TV (at least in English) more often than any other classic writer's.
No, it's not Jane Austen, according to the Morgan Library and Museum. The Morgan, which is celebrating the bicentennial of Charles Dickens, says it's Dickens-the creator of such vivid characters as Ebenezer Scrooge, Oliver Twist, the bumbling Mr. Micawber (of David Copperfield) and the unctuous Uriah Heep (another Copperfield figure)-who trumps all others in the number of screen adaptations.
"He almost wrote in a filmic manner," said Declan Kiely, the Morgan's curator of literary and historical manuscripts and the organizer of Charles Dickens at 200, which runs through Feb. 12. (The novelist was born Feb. 7, 1812.) With Dickens's larger-than-life characters, cliffhanger chapter endings (prompted by the serialized form in which most of his books first appeared), and often dramatic subject matter, "you can easily translate what he writes into filmmaking," Kiely said.
While films aren't the subject of Charles Dickens at 200, the exhibition's original manuscripts, letters, books, illustrations, caricatures, and memorabilia suggest the movie-like sweep of the writer's life and work, from his difficult boyhood through his often tumultuous career; it ends with a detailed look at Dickens's writing process, with manuscript pages and plot outlines for his last completed book, 1865's Our Mutual Friend.
The show is drawn almost entirely from the Morgan Library's own rich collection of Dickens material, second only to that of Britain's Victoria and Albert Museum. (The library, on Madison Avenue at 36th Street, has more than 1,500 of the author's letters alone). Still, the exhibition is more a series of vignettes of various aspects of Dickens's life and work than a comprehensive retrospective. Even given its selective view, Dickens's complexity, and his status as a celebrity of his day come through.
His beginnings couldn't have been less auspicious. At age 12, he was pulled from school and put to work at Warrens Blacking Factory, a rat-infested building where the boy spent 10 hours a day, six days a week putting labels on pots of boot blacking. His father was sent for a time to debtor's prison.
The experience marked Dickens for life (he called it "the secret agony of my soul"), but also gave him grist for fictional characters and themes, and led him to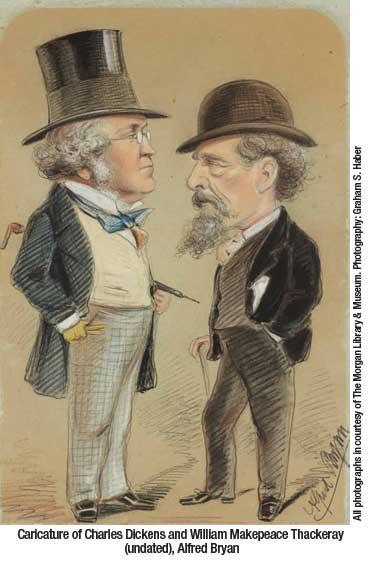 become a benefactor of the poor and downtrodden. With the heiress and philanthropist Angela Burdett-Coutts, he founded Urania Cottage, a shelter for fallen women-prostitutes and petty criminals who sought to improve their lives by learning useful skills.
Inevitably, there were lapses by some residents: In an 1850 letter to Burdett-Coutts, on view in the show, Dickens reports that one "very bad and false subject, Jemima Hiscock, forced open the door of the little beer cellar with knives, and drank until she was dead drunk."
With his rushed handwriting, Dickens's letters are difficult to read; but the museum has printed booklets with transcriptions. The manuscripts, with faded ink and revisions obscuring some lines, are another story. Yet it is still a thrill to make out the first sentence of his 1843 A Christmas Carol-"Marley was dead: to begin with"-and then, the famed reiteration of Marley's status-"dead as a doornail"-in Dickens's scrawl.
Pressed by financial hardships, he dashed off A Christmas Carol in six weeks. By Christmas Eve, all 6,000 printed copies were sold. A first edition is on display, opened to the hand-colored, engraved frontispiece of Mr. Fezziwig's ball, illustrated by John Leech.
Despite the book's astounding success, Dickens made little money off it. "He took on all the costs of the illustration, and it was the first time he'd ever published a book in one binding," Kiely said. "It was an incredible disappointment to him."
In the United Sta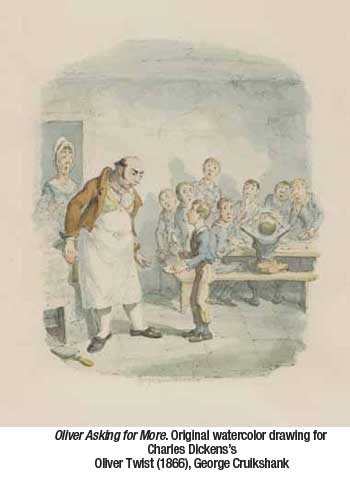 tes, which he visited in 1842 and again in 1867-68, pirated versions of his books, depriving him of income, plagued the author. But the crowds were adulatory. "The audiences are immense," he wrote to his fellow novelist, Wilkie Collins, from his 1860's reading tour.
The tour was a great money-maker. "In contemporary terms, if you are a band whose music is constantly, illegally downloaded, the only way to can make money is to go on the road," Kiely said. "And that's exactly what Dickens did, and it was extremely lucrative."
Like his characters, Dickens had his peculiarities. One was his fascination with mesmerism: A section of the exhibition is devoted to his enthusiasm for hypnotizing family and friends. "He fervently believed in its healing potential," Kiely said.
Dickens must have needed psychic healing himself after a horrific 1865 train accident in which he and his mistress were involved. After helping to evacuate other passengers, he crawled back into the wreckage of his train car, suspended over a precipice, to retrieve the manuscript of an installment of Our Mutual Friend-the very manuscript we see, 146 years later, in this show.
Karin Lipson, a former arts writer and editor for Newsday, is a frequent contributor to The New York Times. Her last article in Promenade was on the Willem de Kooning exhibit at MoMA.
The Morgan Library and Museum
225 Madison Avenue; 212-685-0008; themorgan.org