If, for the past four theatrical seasons, you've been living in the metaphorical wings and have not ventured to center stage, then perhaps you didn't know that the acclaimed English National Theatre has been presenting Live in HD events for all these seasons...so if you cannot get yourself on a plane to cross the pond to see the company's brilliant theatrical offerings in person, then all you need is twenty bucks (give-or-take, as ticket prices vary by theatre), to experience an ENT Live in HD presentation.
National Theatre Live is the company's initiative to broadcast its performances live in cinemas around the world. Since its first season (June, 2009) with the acclaimed production of Phédre starring Helen Mirren, over 1.3 million people have now experienced the National's work on movie screens globally. The current record-breaking season, which included the program's most-seen title to date, Alan Bennett's new comedy People (pictured below), has contributed significantly to the National's recently reported growth in international audiences.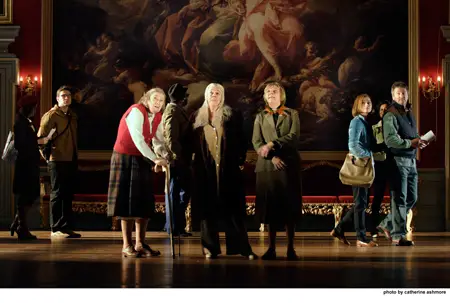 Last season, the company broadcast many show-stoppers, among which were: One Man, Two Guvnors (about which the company's Web site notes, "...a unique, laugh-out-loud mix of satire, songs, slapstick and glittering one-liners..." and which was a near-impossible ticket to find/buy/beg/borrow/steal, when it opened on Gotham's Great White Way later in the year); A Comedy of Errors (brilliant production of Shakespeare's fast-paced comedy, staged in a contemporary world); She Stoops to Conquer, Goldsmith's celebrated story of class, courtship, and dysfunctional families, in an absolutely brilliant production); and a wonderful new play called Traveling Light, by Nicholas Wright, which was a funny and fascinating tribute to the Eastern European immigrants who became major players in Hollywood's Golden Age.
That was last season. This season is even better! Is that possible? There are still two more shows to catch, and possibly an encore of the first, which was the Bennett People, which explored the dilemma and problem of the grand, old historic homes that dot Britain's landscape, and which have been inherited by the 10th generation of a family, who may dearly cherish the ancestral manse, but who are faced with the realities of financing its upkeep—they are usually families long on title and short on cash, especially the kind of cash needed for the extraordinarily hefty financial demands these ancient castles make on the purse. The play was a true delight, with stellar performances. (An added plus: For Doc Martin fans, actress Selina Caddell, who plays the wacky pharmacist, Mrs. Tishell, in the fictional Port Wenn of the TV series, shows her true theatrical mettle in People.)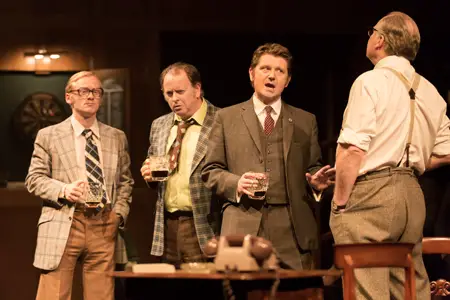 Coming up in the next few weeks are the encores of This House (above), the acclaimed new play by James Graham, directed by Jeremy Herrin. Graham's biting, energetic, and critically-acclaimed play strips politics down to the practical realities of those behind the scenes who roll up their sleeves, and on occasion bend the rules, to maneuver a diverse and conflicting chorus of MPs within the Mother of all Parliaments. The action takes place in 1974 and the corridors of Westminster ring with the sound of infighting and backbiting as Britain's political parties battle to change the future of the nation, whatever it takes. In a hung Parliament, the ruling party holds on by a thread. Votes are won and lost by one; fist fights erupt in the bars; and ill MPs are hauled in to cast their votes. It's a time when a staggering number of politicians die, and age-old traditions and allegiances are thrown aside in the struggle for power.
Encores can be seen at Symphony Space, June 2 at 2pm; June 16 at 7pm; and June 25 at 7pm.
The last presentation for the season is the much anticipated world premiere of The Audience, a new play by Peter Morgan, starring Helen Mirren (as Queen Elizabeth II) and Richard McCabe (as former Prime Minister Harold Wilson), and directed by Stephen Daldry. It will be broadcast live from London's West End (the Gielgud Theatre) to cinemas worldwide on June 13, 2013, and that presentation will be followed by encores, as well. The Audience reunites Mirren and Morgan after collaborating on the 2006 film The Queen; for her portrayal of Elizabeth II, Mirren collected an Academy Award, a Golden Globe, a Screen Actors Guild (SAG) Award, and a BAFTA Award for Best Actress for her performance. For their performances in The Audience, both Mirren and McCabe garnered 2013 Olivier Awards for Best Actress and Best Actor in a Supporting Role.
The National has said the following about this production: For sixty years Elizabeth II has met each of her twelve Prime Ministers in a weekly audience at Buckingham Palace—a meeting like no other in British public life—it is private. Both parties have an unspoken agreement never to repeat what is said. Not even to their spouses.
The Audience breaks this contract of silence—and imagines a series of pivotal meetings between the Downing Street incumbents and their Queen. From Churchill to Cameron, each Prime Minister has used these private conversations as a sounding board and a confessional, sometimes intimate, sometimes explosive. In turn, the Queen can't help but reveal her own self as she advises, consoles, and, on occasion, teases.
Following Elizabeth as a young mother to grandmother, these private audiences chart the arc of the second Elizabethan Age. Politicians come and go through the revolving door of electoral politics, while she remains constant, waiting to welcome her next Prime Minister.
National Theatre Live is distributed by New York-based By Experience, Inc., www.byexperience.net.