With Easter a scant two weeks away, it's time to start hunting for holiday eggs. The eggs you should be hunting, though, are not the traditionally packed twelve-to-a-fiberboard-carton available at your local market, which you decorate, embellish, enhance, dye, etc. But rather, they are three-foot-tall sculptures created by more than 250 artists, designers, architects, and up-and-comers that are "hidden" around Gotham. Dubbed the Big Egg Hunt (and sweepstakes), this treasure search is spearheaded by jeweler Fabergé and promises to reward those eligible to be in the winning circle, with $125,000 worth of gems, in three stunning jeweled pendants.

Artist: Cynthia Rowley

Scattered throughout the city, the giant eggs are presented on pedestals, encased in Plexiglas, and marked with plaques denoting their appropriate titles and descriptions, along with a scannable QR code. Download the app so you can start hunting! Curious seekers can also follow the action on Facebook, Twitter, and Instagram to garner news, clues, and updates. The eggs are designed by anointed artists and designers tapped by the company—including, among others, such luminaries as Jeff Koons, Tracey Emin, Bruce Weber, William Wegman, Diane von Furstenberg, Carolina Herrera, Jacques Torres, Julian Schnabel, Peter Beard, Zaha Hadid, Naeem Khan, and Ralph Lauren. Eggs are painted, laminated, sculpted, papier-machéed, bedazzled, be-sequined, and, in a word, creatively embellished in all manner of craft—even folded paper (actually, folded paper dollar bills!), or cut-apart New York City street signs.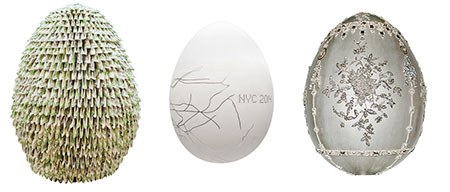 Artists (from left): Minyan Huang; Rachel Waldron; Marchesa

The project is a fundraising event and on the Web site and in the online Egg Store you can buy decorated totes, miniature eggs, and more. There is a Big Egg Book available for purchase from Saks Fifth Avenue and at Big Egg Hunt pop-up stores. The most spegg-tacular purchase, however, would be to bring home one of the actual eggs! When the hunt is over, all the eggs will be auctioned off by Sotheby's, an event that promises to be egg-citing! The charities benefiting from the hunt include Studio in a School, whose community of professional artists teach visual arts to hundreds of thousands of New York City children in under-served public schools, daycare centers, and community-based organizations; and the Elephant Family, an organization focused on protecting the endangered Asian elephant in its habitat.
With hundreds of eggs to find in the city, start looking high, low, inside, and outside. For example, jewelry designer Maria Canale's Art Deco-inspired egg is on display in the lobby of the recently renovated Loews Regency Hotel. Made of lacquered black enamel and covered in Swarovski crystals, the exquisite egg is a one-of-a-kind sculpture. More eggs to find--and a hint for Upper West Siders: There are a half dozen in the semi-circle at the entrance of the Time Warner Center at Columbus Circle! There are, also, just across the street, three egg-stravagant eggs at the Trump International Hotel & Tower. The hotel is the transient home, during the hunt, to three majestic eggs, perched in the outdoor plaza behind the hotel, on the Broadway side. To mark the hotel's participation in the Big Egg Hunt, it has created a special family weekend plan, the Big Egg Hunt Package, which includes special turn-down amenities and a do-it-yourself, gold-egg-making kit.
So gather up the bunnies, both grown-up and junior, and head into the city—to hunt, to dream, to egg-scavate!
For more information on the hunt and the sweepstakes, click here.