Each spring and fall when we recap the fashion runway trends, we invariably find holdovers from the previous season or two, and we often remark that it's to be expected—fashion rarely turns on a dime. If it did, we'd all feel obliged to toss out our wardrobes and restock our closets twice yearly, an action that is both impractical and financially ruinous. "Hot" fashion generally builds on earlier silhouettes, and the "new" looks are usually expressions that, while plunging into uncharted territory, still reverberate with echoes of runways past. And so it is this season, too—new directions add zest to many tried-and-true themes.
We usually expect daring stripes, jolly polka dots, and lady-like florals when spring comes 'round, and for the looks of Spring 2012, those stripes and graphics do not disappoint. But they have morphed a bit more into architectural grids, tribal prints, and bold graphic

s. The ethnic influenc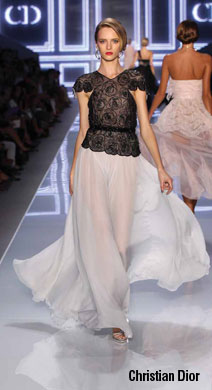 e was major at many shows—Bottega Veneta, Donna Karan, Michael Kors, Marni, de la Renta, Burberry Prorsum, and Proenza Schouler. Florals erupted in cascades of both striking blooms and sedate buds at Christopher Kane, Diane von Furstenberg, Altuzarra, and Peter Pilotto, among the many.
Solids also reigned this season, with lots of snowy-white (not a huge surprise for summer) from the likes of Versace, Vera Wang, Max Mara, Carolina Herrera, Reed Krakoff, Haider Ackermann, Chloé, Akris, and Marc Jacobs. Even blush-pink and sorbet-toned strawberry had a strong showing in the collections, and the combo of jet black and downy white, in a chiaroscuro fantasy, was rendered in countless silhouettes...from slinky '20s-inspired flapper dresses to sporty suits to grand ball gowns. And regardless of the silhouette's shape, lady-like touches abounded, in smashing daytime suits, subtly sexy dresses, and feminine trouser outfits.
Still holding a strong place on the runways is the color orange, which has been surging every year in popularity —poppy, carrot, persimmon, and pumpkin—and that, too, is no bombshell: The Pantone Color Institute selected "a spirited reddish-orange" as its color of the year, dubbing it "Tangerine Tango." Even designers who did not use a ginger-tinged palette in a big way for entire garments shot jolts of clementine colors into their runway ensembles, in belts, shoes, handbags, hats, and trims.
A spirited season it is. When you start shopping for your spring wardrobes and for those show-stopping additions to your closet staples, you will find plenty of "ooh-la-la!" on the stores' racks.
To view the pages in pdf form, click here.