The gleefully blasphemous musical about Mormon missionaries in Africa that scooped up nine Tonys last June owes a certain measure of its celebrated infamy to a trailblazing musical that was among the first to take a pin to Christianity's traditional balloon, and win: Godspell, John-Michael Tebelak and Stephen Schwartz's 1970s retelling of The Gospel According to St. Matthew.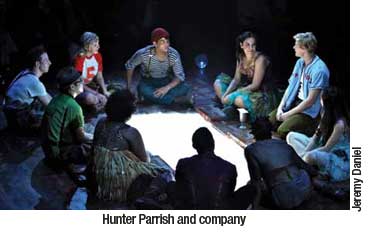 Now, thanks to the success of The Book of Mormon-as well as Sister Act, another hit musical comedy wrapped in fractious religious trappings-Godspell is giving the current Broadway lineup of shows a Holy Trinity (at least until March, when Jesus Christ Superstar arrives and turns it into a Holy Quartet).
Much like the brouhaha surrounding the profanity built into Mormon by its notoriously profane creators, Trey Parker and Matt Stone of South Park fame, when Godspell arrived Off-Broadway 40 years ago, there was buzz that heinous sacrilege was lurking beneath its surface. And of course, nothing could be further from the truth. Tebelak, who was responsible for the show's concept, wanted to reignite what was seen at the time as a flagging of faith, particularly among young people.
After an encounter with a dry Anglican Easter service in 1970, Tebelak (described as "an ultra-hippie" in Carol de Giere's Defying Gravity: The Creative Career of Stephen Schwartz from Godspell to Wicked) was moved to revisit the Gospels on his own terms for his master's degree thesis: "I wanted to make it the simple, joyful message that I felt the first time I read them and re-create the sense of community, which I did not share when I went to that service."
And so the idea was born to combine the genuine spirituality of Biblical parables with music and experimental theatre: clown characters who, as Tebelak suggested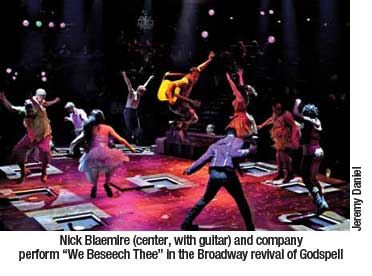 , "would weave God's spell over the audience."
Eventually, during a brief Off-Off Broadway trial run in the East Village (under the title The Godspell), a 23-year-old Stephen Schwartz caught the final performance and signed on to transform the score into what de Giere calls "a full-scale musical, complete with song-and-dance numbers." Which he did without hesitation, despite his Jewish roots.
In Defying Gravity, multi-Oscar/Grammy award-winner and six-time Tony nominee Schwartz noted that his ignorance of the New Testament proved advantageous: "I was reading some of these parables for the first time, and the hymns that I set with new music... are all from the Episcopal Hymnal. I basically was responding to the material fresh."
The collaboration and subsequent New York production were, of course, blissfully historic. [In his review, Clive Barnes of the New York Times encapsulated part of the musical's spirit when he wrote, "People wanting to see the contemporary relevance of the Christian ethic should not be surprised to find it here."]
Fast forward to 2011. Blessed timing, an idyllic young cast (led by Hunter Parrish in the role of Jesus), and the perfect theatre-Broadway's Circle in the Square-converge to launch Godspell's revival.
As for the 1970s script vs. that of today, prepare ye for some serious updating including headliner celeb references to folks like Lindsay Lohan and Donald Trump, a hip-hop dance number, and a major league tweak to the once de rigueur clown attire and makeup: it now reflects a more contemporary vision of the avant-garde. But the message remains intact-"a timeless tale of friendship, loyalty, and love"-as does the revered score.
Moreover, the existence of the Internet (barely an embryonic concept 40 years ago) provides an appealing website (godspell.com) that, in addition to general show info (cast bios are especially fun), serves up a most excellent blog courtesy of producer Ken Davenport, who counted down the show's 100 Days to Opening Night. Very fun.
And speaking of the cast and how they feel about Broadway's latest religious excursion, Texas-born Parrish (Weeds on Showtime; Spring Awakening on Broadway) notes in his bio:
"I love any story that encourages the strength of love in community. I seek to embody the teachings of Jesus, and that's what Godspell is all about. It's a story that reminds us to embrace our family and our friends, and to use love to live virtuously...and, it's all in song and dance! What's not to love?"